Not My Favorite Color
Grey winter days can be challenging. I hate grey. It doesn't matter if it is the color of a comfy pair of corduroy pants, grey depresses me. Grey skies that go on for days at a time, coupled with extreme cold that keeps me in the house, will eventually drag me down.
For this whole first week of January, not only has it been grey, but the night time temperatures have been down in the single digits, as low as -1 degree Fahrenheit yesterday. During the day it has been hovering in the teens. One day there were winds gusting to 40 MPH from a storm the weather people were calling "the Bomb" which dumped snow all along the East coast. It brought snow to Florida and Georgia, with Charleston, South Carolina getting a foot. We only got about 2 inches of the (at least pretty) white stuff, mostly we just got grey.
Out in the Barn-Chickens
It is amazing to me that my chickens do not seem too bothered by this cold. They have heated water buckets, and I spread hay for dry bedding, but still. I feel my nose hairs freeze as soon as I walk outside to do chores and I have to breathe through my fleece collar. When I open the barn door, the younger chickens are all spread out like a down filled, 84 piece, patchwork quilt.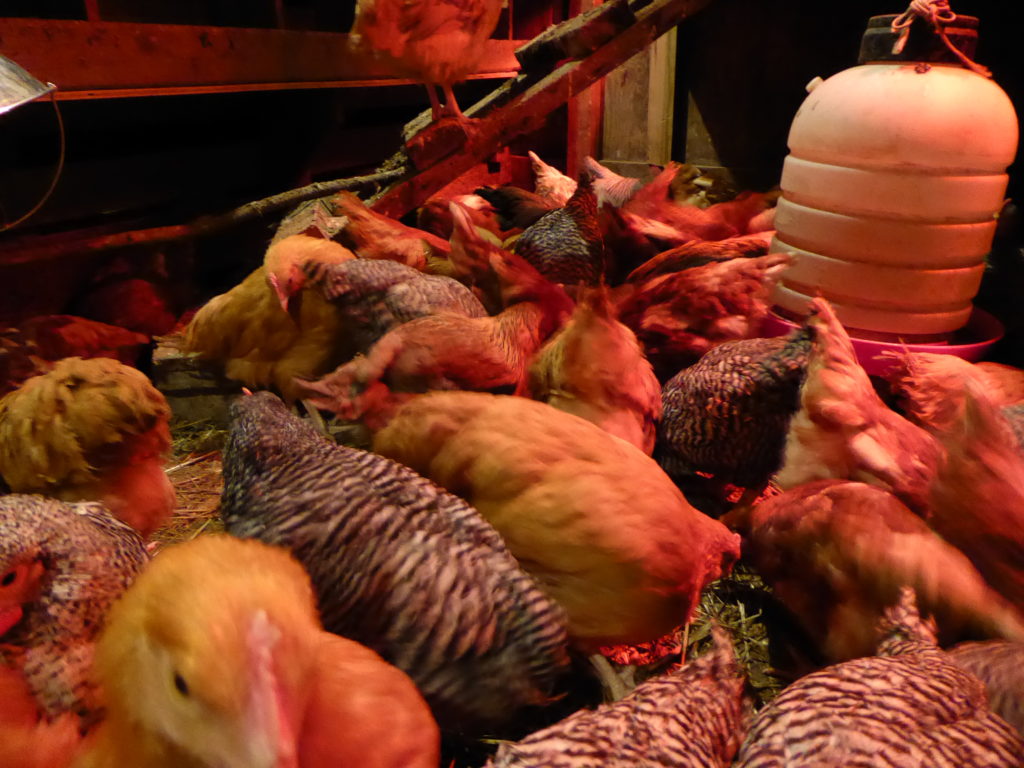 They are all talking up a storm as I wade through them and refill their feeders.  Barred Rocks, Araucanas, Buff Orpingtons and Golden Comets all scramble  over each other as I toss some yummy 5 grain scratch on the floor. Then all grows quiet as they work on scarfing it all down. The pan of sprouted wheat and barley I give the laying hens disappears faster than water drops on a hot griddle.
The chickens prefer the long pulls of water they can get from open water, but the one-gallon plastic ice cream buckets quickly freeze solid. The heated waterers have little metal nipples the chickens have to press in with their beaks and they only get a drop or two at a time. Water is better than ice at washing down breakfast though, and the clicking sound of beaks hitting nipple waterers tells me they are drinking.
A Natural Type Horse
My horse, Mara, comes and goes in the barn as she pleases. Her meals of hay and grain are served there, and she has her own heated water bucket, but she mostly prefers to be outside. Her favorite spot is out back with her butt parked up against a big multiflora rose bush.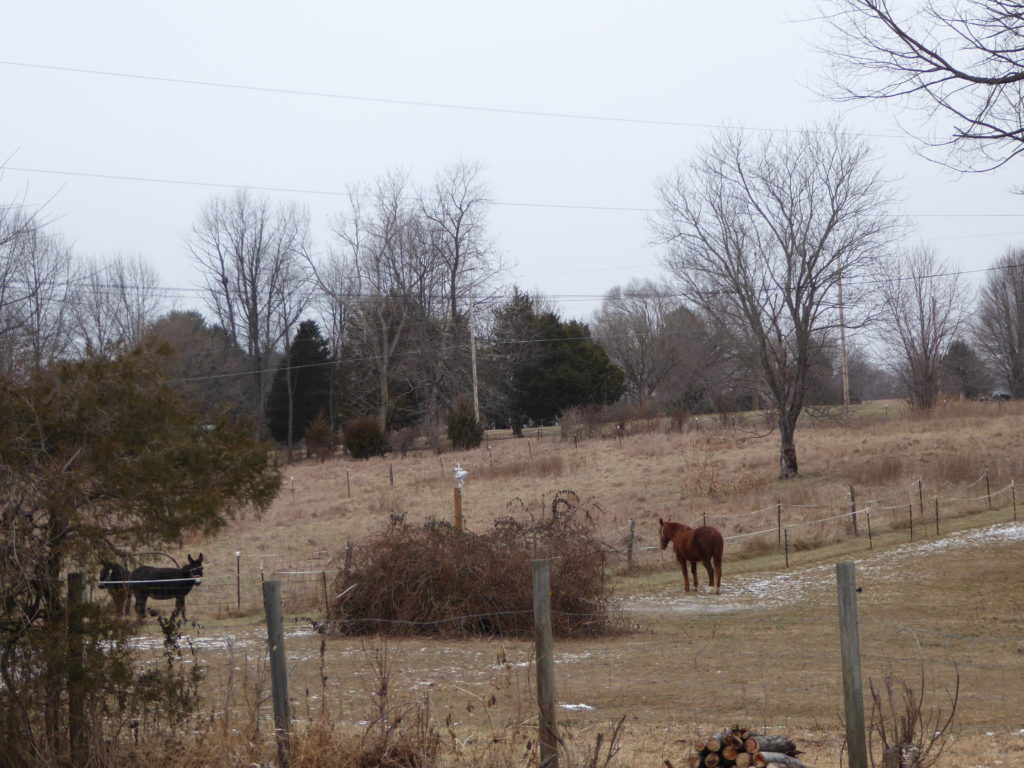 The morning sun, if there is any, can reach her there and the bush blocks the west wind. She grows a thick coat of fur every winter which does a good job keeping her warm. The only time I lock her in the barn is during  ice storms or when we are expecting rain and then a quick deep freeze. There have only been a few times when she stupidly stood outside in the rain, right before a cold wind storm, and I needed to dry her off with a towel so she would not get cold. Usually she regulates herself fairly well, moving naturally between the shade of trees and the sunny open pasture.
I have seen Facebook posts declaring it cruel to not put winter coats on horses. That is ridiculous and must be coming from people who have no actual experience tending livestock. A horse blanket, or coat, prevents a horse from growing a good natural coat of fur and can do more harm than good. Imagine what it would feel like to wear a soggy, wet coat outside in the winter. Supplying a run in shed where your horse can stay dry and out of the wind is what works.
I can see using a fresh, dry blanket to warm them if they occasionally manage to get wet just before a sudden temperature drop. In that case you need to rub them down, dry them off, and get them warmed up quickly. That is why you have to sometimes lock them in the barn until the wet stuff stops falling. I don't think a blanket should be substituted for shelter.
My horse will occasionally stand outside and get covered in snow just to see if I care, I think. She knows I will go out and brush her off and give her extra hay in the nice, dry barn if I see her at risk of getting cold. She does not like to be locked up in the barn though, so unless it is really bad outside, I let her decide. Last year when we had 42 inches of snow all at once, I locked her up, and the snow sliding off the roof created walls on the open south side. I had already stapled plastic up on the east side, because the storm was blowing in from that direction, so the extra snow wall made it nice and snug in there. Usually our winter weather comes in from the  northwest and the barn has solid wood walls on those sides.
White Snow v. Grey Skies
The bad thing about a deep, deep, snowfall is worrying about the weight of all that snow on the roof. A wet snow can be really heavy and could collapse the barn, or the house. I keep a ladder out by the barn so I can get up on the roof and shovel it off if I have to. In the last twenty five years, I have only had to do that twice, but I slept better knowing the barn would not crush the critters overnight. So far this winter we have not had a substantial snow, but we have a ways to go yet.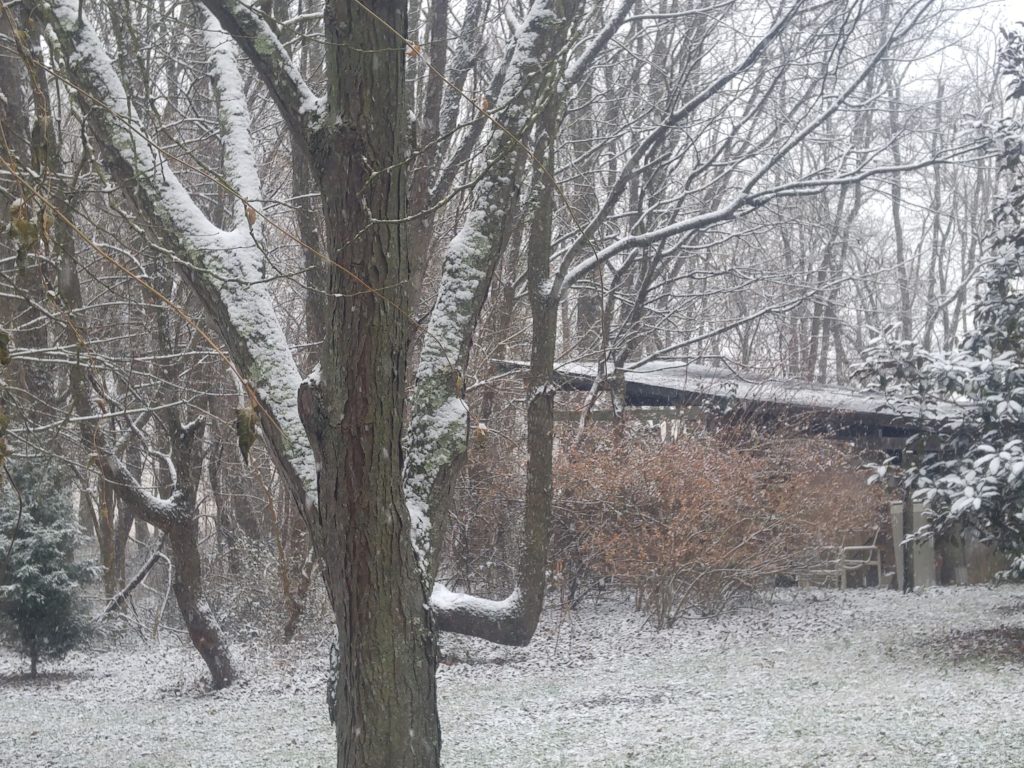 Today, it is not only a dreary grey, they are calling for freezing rain. The temperature has gone all the way up to 26 degrees F and would probably feel almost balmy, if the sun was out. So I am inside, by the woodstove, doing inside things like cooking, writing, and drinking hot tea. It is not windy and I am starting to see a few snow flurries, which would be way better than freezing rain. Maybe we will have a fresh layer of bright, white snow and the sun will come out tomorrow highlighting a clear blue sky. Here's hoping.
-Wendy lee, writing at Edgewise Woods Gardens and Critters