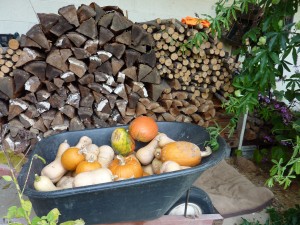 I started homesteading when I was 17  on 80 acres in Ritchie County West Virginia, having moved there from the Pine Barrens of New Jersey. I wanted to grow my own food and make pottery for a living and basically go back to a "simpler" time. I learned a lot about myself and about what simpler means in terms of the day to day grind in the process.
Six years and a baby later, I moved to Nelson County Virginia and started over on 23 acres in an area where there was at least the possibility of occasional paying work. I worked as an Estate Gardener for three years and then started Garden Restorations, a landscape design and maintenance  company, working mostly in Charlottesville , Virginia , which was successful from the start and kept one other person  in work full time as well.
Twelve years,  two  children , and a new husband later I started over yet again near Shepherdstown West Virginia and moved my landscaping company to the Northern Virginia area, working around Great Falls and  Middleburg, and later,  closer to home. I eventually got burned out on the hard physical labor and I chose to go full time at Shepherd University rather than grow my business big enough to support a crew to do all the work. My two younger daughters also attended Shepherd and we all graduated on the same day. They both got great jobs right away but it took me, as an older woman, another year and a half. I finally got a government job running a research greenhouse and am trying to save up for retirement without totally losing my mind.
Meanwhile, I am down to 6 acres  and a very nice house, but still grow a big organic fruit and veggie garden, while trying to outwit the invasion of Stinkbugs who wreck havoc on my sweet corn, tomatoes and green beans. I keep about 30  free range laying hens and supply friends with eggs, excess veggies  and manure. The blueberries and strawberries are my favorites at the moment and I am about to plant more  I am down to one horse,  who I ride on the neighbors farms about once a week, two dogs and a cat.
Last year we bought 14 acres and a cabin out in Pendleton County WV and go out there a lot to hike in the woods, kayak, cross country ski, and just chill out where the cell phones and internet have not reached yet. We might try tapping our Maples for the local sugar shack  and maybe grow some ginseng  as well. Jeff and I have been married now for over 21 years and the three kids all have families of their own, two nearby and one in Australia, with six grand kids so far. Life is good.
The plan is to share my homesteading/ gardening knowledge with folks to help make  their homesteading journey a little easier and  less intimidating.  I hope to write a book eventually so I can share my stories and this Blog is a start in that direction.
-Wendy Lee