Giving Up On Bees
I have finally decided to give up on ever becoming a decent beekeeper. I have taken numerous classes, tried various methods, spent all kinds of money on equipment, food and new queens, and I am now officially done.
Some people find caring for bees to be relaxing. I am not one of those people. Stress is not something I handle well and the bees have done nothing but stress me out. I am tired of feeling guilty for not being a better beekeeper. I was always wondering if I was doing the right thing at the proper time. When I asked other beekeepers, I got conflicting answers. I hate feeling incompetent.
I had wanted to keep bees so I could supply myself and maybe a few friends with good healthy honey and enjoy the benefits of their pollination as well. It turned out I could not do that organically because of the mites and beetles that attack them.  I tried. This year I managed to get all six hives almost through the winter, and then lost three to Nosema disease, just before Spring arrived.
Heavy Lifting
I had to re-queen one of the hives in May and was still hopeful that they would be able to make me some honey. Then one of them swarmed and I had to re-queen another hive.  It all seems kind of pointless when the queens can't even seem to survive. I gave them each a deep body full of honey that the three dead hives had made, thinking that would enable them to draw new comb for a honey super. I think it worked, but three deep boxes are too high and heavy and hard work to move when I needed to check them.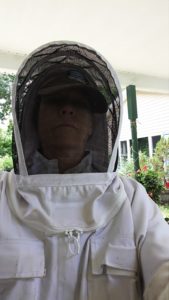 The idea of having to suit up and go out there in the summer heat again was beginning to weigh on my mind. Plus I got stung a few times and each time the swelling seemed worse. Then we set up our swimming pool and the bees decided to take it over as their private water source. They could have continued getting their water at the water garden, or in the bucket I provided right next to the hives, but no. It is hard to enjoy cooling off in the pool when you are being harassed by honeybees flying at your head.
Bees Anyone?
I thought about donating everything to the Wounded Warriors Project, which helps Veterans get set up with beekeeping, but the tax deduction would not be worth much. I messaged a fellow beekeeper family who has had good luck with their bees and they offered to take the whole shebang and give me a better deal.  It is a super good deal for them because they were already able to split my three hives into five today, and amazingly enough, one super is full of honey. Tonight, they are coming back to pick up all the hives and take them to their new home.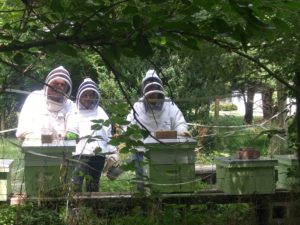 It is such a relief to find people who know what they are doing to want to take these bees. Plus they will give me some honey back, which makes me happy.
Room For New Projects
It is ridiculous how much space  my beekeeping equipment had been taken up in the garage.  Summer feeders, winter feeders, honey supers, extra hive bodies, screened bottom boards, and hive beetle traps were all stacked up in my pottery studio area.  I would rather have the space to make pots and now I do.
Goodbye bees, goodbye stress. Hello to more time for fun and maybe even some relaxing projects.
Wendy lee, writing at Edgewisewoods, Gardens and Critters