Food Starts with a Seed
This post was inspired by a writers group daily prompt and was supposed to be about food. I suppose it is, but it starts at the very beginning of a foods' lifetime. I am not a fancy cook. I tend to cook according to what is available to me now. Dinner will be found either out in the garden, on the canning jar shelf, down in the deep freeze, the pantry, or stored in pots in the garage. I grow a good bit of my food and it is only when I am feeling lazy that I plan a meal around a trip to the grocery store. I hate shopping.
So, to write about food, from the beginning, I started with my constantly growing pile of seed catalogs. It takes a lot of different catalogs to make good decisions about what to grow next. Some have better selections, more interesting blurbs, better photos, cheaper prices, better websites. My mind begins to wander to warm spring days and more interesting dinner choices.
Learn to Fly
It is so easy for me to get sidetracked. I planned to look for seeds to grow as sprouts and winter greens, but when I pulled the drawer out, the "Learn to Fly" magazine grabbed me first. I must have picked this up at the little Leesburg airport when I bought Jeff a flying lesson on his 50th birthday.  I sat there and read all about the necessary study materials, ground school, the cost of the instructor and airplane, the flight hours you would have to accumulate… Hmmm. The places we could fly! My dad was a pilot and I love to fly, but it is an  expensive hobby and would start us down an entirely different path.
Back to seeds and growing food. Oh, wait. A cup of tea would be nice while I sit by the fire. Better bring in some more wood…Okay, kettle is on. Fire is stoked. Feet are up.
A Scattering of Seed Catalogs
I sort my catalogs into piles. One for fruit trees, and berries, one for poultry, one for fencing and farm supplies, one for perennials and bulbs, and one for garden seeds.
With 21 laying hens, about 45 pullets that will start laying in March and 38 roosters ready to eat,  I have more than enough chickens, so those  can go back in the drawer.I am  looking for sprouts, greens and garden seeds now.
Ahh, the kettle is tick-talking over on the wood stove- time to fill the        teapot I made recently.  A slice of that apple pie I cooked up last night will taste good with some Earl Grey.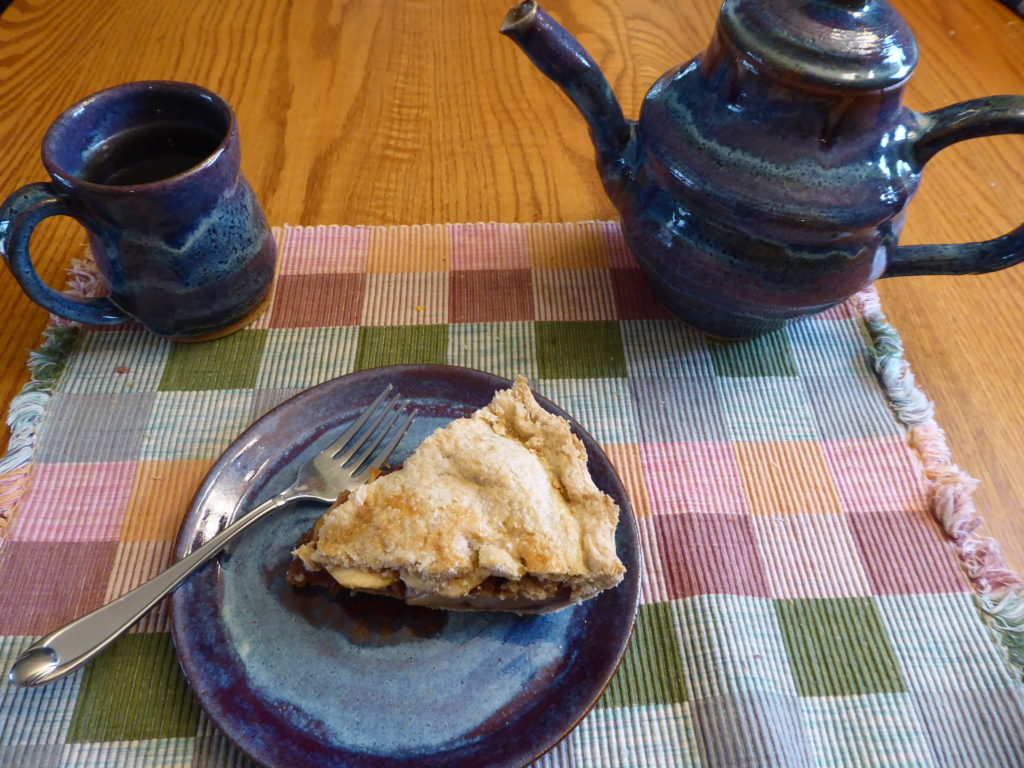 Seed catalogs are  great for researching the different seeds I can grow  on my fodder shelves. Currently I am growing barley and winter wheat sprouts so the chickens  can eat greens this winter. They love fresh greens and it keeps them laying.  I have 8 plastic bins in the sequence and it's an easy morning chore to feed one out, refill it with fresh seeds, and then rinse the other 7. I started buckwheat seed in the empty bin today, left over from the patch I grew for the bees last year.
We humans need some sprouts too, so I started a small tray of leftover Kale seed to soak this morning and I will start some alfalfa (in a jar with a mesh lid) soon. We could clip the wheat for smoothies but I have not done that yet.   It only takes a few days for each bin to sprout and then they start to grow tall greens, like little bushy lawns. The roots all mat together and you peel them out of their bin like a carpet. I have the grow shelves by the sliding glass door in the basement, looking east, and have not needed to add lights.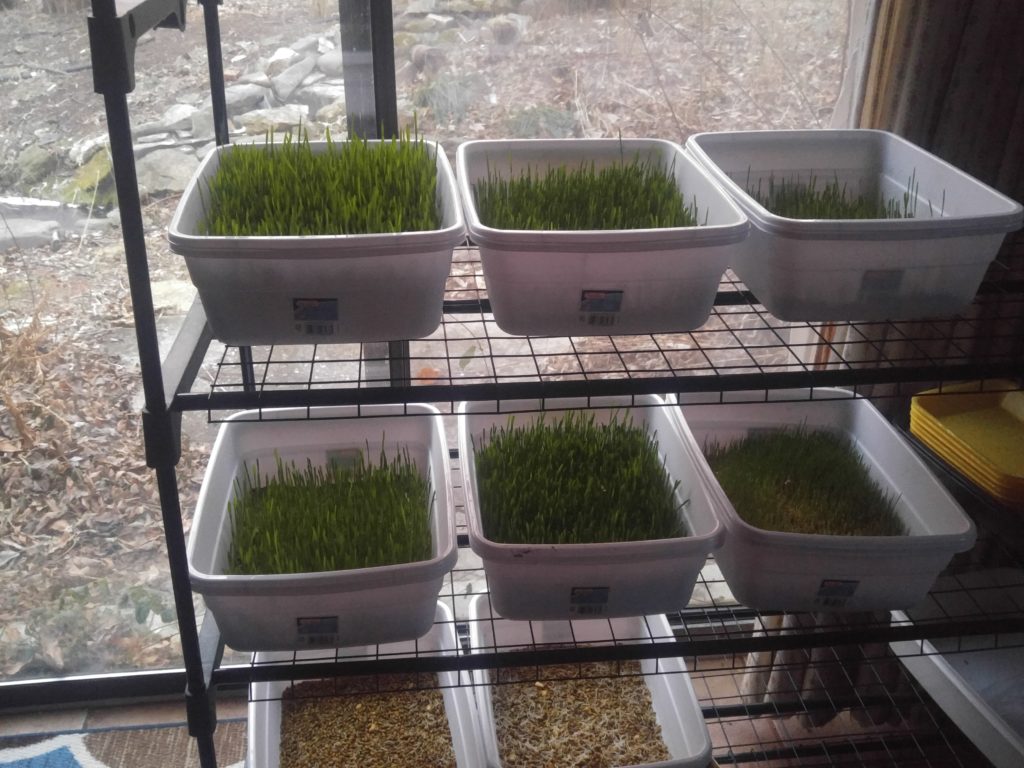 I spent the next few hours studying the Johnny's Selected Seeds catalog. They can be expensive but many of the seeds are organically grown, and they breed good varieties for flavor and disease resistance. I grow all my veggies organically although I don't always start with organic seeds. Cost is a factor, and quite often I end up buying my seeds at the local feed store, a few at a time, even though I pour over all these catalogs in the dead of winter. The catalogs are inspiring and make me think I  might actually grow something unusual. Generally, I stay pretty tame in the end.
A actually started reading the catalog in the middle and worked backwards, but here I will put my entries in Alphabetical order.
From Johnny's Selected Seeds Catalog ,A-G
I planted 150 Asparagus plants the spring before last and should have a good harvest this year. One bed will last for years. I have to get out there, cut the stalks down, and then put some manure on them when I clean out the barn.
I want to grow some kind of Pole Beans that are good fresh, canned and dried. Last year I grew Fordhooks  on the (baling-twine-woven) hoops of my mini greenhouse frame. No more bending over to pick bush beans for me! I think I might try a round, brown seeded (Fortex) and a flat white seeded variety (Northeaster) this year. I want to grow an old heirloom variety for dried beans too.
There is a deep red Beet called Moneta that is touted as a mono-germ (one embryo per seed) so it will not have to be thinned as much. You can eat both the greens and the root.
Arcadia Broccoli is good for fall and winter, tolerant of cold and makes a lot of side shoots too. I like to go out and just pick a few shoots for dinner salads.
Diablo Brussels Sprouts are fun to grow and I might try some this year. The little baby cabbages grow from the bottom to the top up a long stem and look  alien. The hard part for me is remembering to start them in July so they will be ready in November/ December. They are so good, roasted in the oven with a little olive oil.
I may grow some Cabbage (Storage #4) this year, one that keeps well. I might go back to making my own sauerkraut too. The seed needs to be started in June and I will probably have to grow them under row covers to keep the cabbage moths out. That is why I don't usually bother. I need to let my chickens in to the garden once I see the worms. It is hard to figure out how to do that and not have them scratch other things up. I see some kind of movable panels in my future. Winter meals of ham, cabbage and potatoes, or pork,  sauerkraut and mashed potatoes would be much tastier with home grown cabbages.
Carrots can be a pain to grow because they have to be zealously thinned and weeded, but once they get some growth on them, they are worth it. Bolero is good for storage and looks like a good solid choice. I don't need anything fancy, or colored, just tasty and a good keeper.
I might grow some Romanesco type Cauliflower this year. Puntaverde is green and does not head to be blanched (leaves tied to cover) when heading up, but it may not be happy when it gets really hot here in August, so I might pass. We don't use that much cauliflower.
Celeriac (Mars) might be fun to grow this year. It tastes like celery but grows like a beet, and stays tender, which is easier to deal with. I have not grown it since the 70's.
Sweet Corn is a must and this year I hope I can grow some tomatoes early enough to eat them together. I have been starting my corn under row covers, in early April, the last few years, to avoid the major plague of Stinkbugs, which usually arrive about July 15th. They were not too bad last year though. I think they have hightailed it on south. Regardless, I will plant corn, maybe the Extra Tender and Mautauk,  both bi-colors, at least twice and will certainly have tomatoes ready for the second harvest, if not the first. I like the super sweet varieties because the sugars do not turn to starch as quickly. We can put 3 dozen ears in the fridge and it is still good a week later. The old types of corn lasted less than a day.
Right about now is when I tell myself that I should downsize the garden a bit. I have a hard time keeping up with all the weeding and thinning, and then in July it gets really hot, and we go on vacation and it totally gets away from me. Every year. Luckily, even when the weeds look bad, I still get great harvests and manage to put up a lot of food. It is not always pretty out there, but I never run out of things to do. Last year I expanded outside the garden fence, instead of downsizing. I guess we will see. Planting is the easy part.
Diva Cucumbers look like a possibility- and they are seedless and non bitter. I could grow them on the perimeter fence…
Orient Express Eggplant looks good. Long and narrow. I wonder if I could keep the flea beetles away with row covers? Hmmm.
Ah, finally got to the micro greens and sprouts section of the Johnny's catalog.  Looking at the prices, though, I think I will have to search around some more.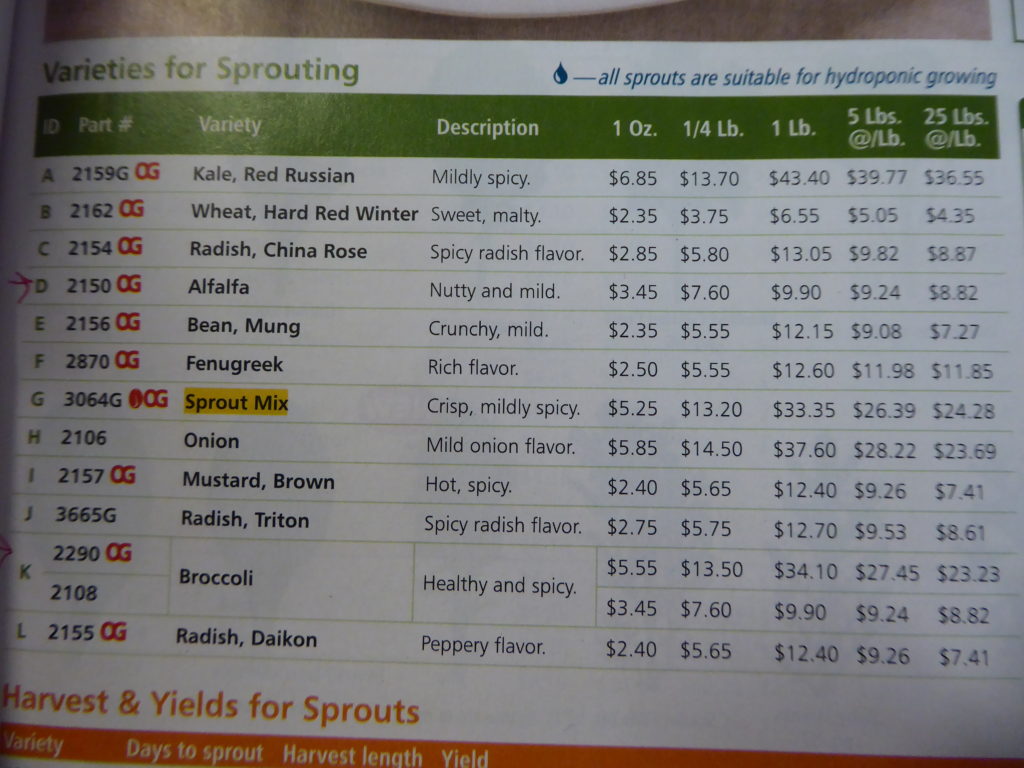 I will keep using all the leftover seeds I can find and search around in my cupboards for other possibilities, like lentils, or quinoa. I can clean my cupboards out at the same time. Experiments in mass seed sprouting commencing…now.
And on that note, I am out of chicken feed and need to get to the feed store before it closes…
-Wendy lee, writing at Edgewise Woods, Gardens and Critters