Usually the leaves in Pendleton County WV reach peak fall color around October 14-21, but  the whole month of September into October was so dry this year that many leaves have dried up and fallen before obtaining their normal vibrant colors. There are still pockets of color to be found though, especially in the valleys, so you  still catch some color, if you don't wait too long.
On October 14th, at Spruce Knob Lake, the usual magnificent reflections of color on the water were not to be had, but with the sky such a beautiful, clear blue and the temperature at 70 plus degrees,  there were no complaints from us.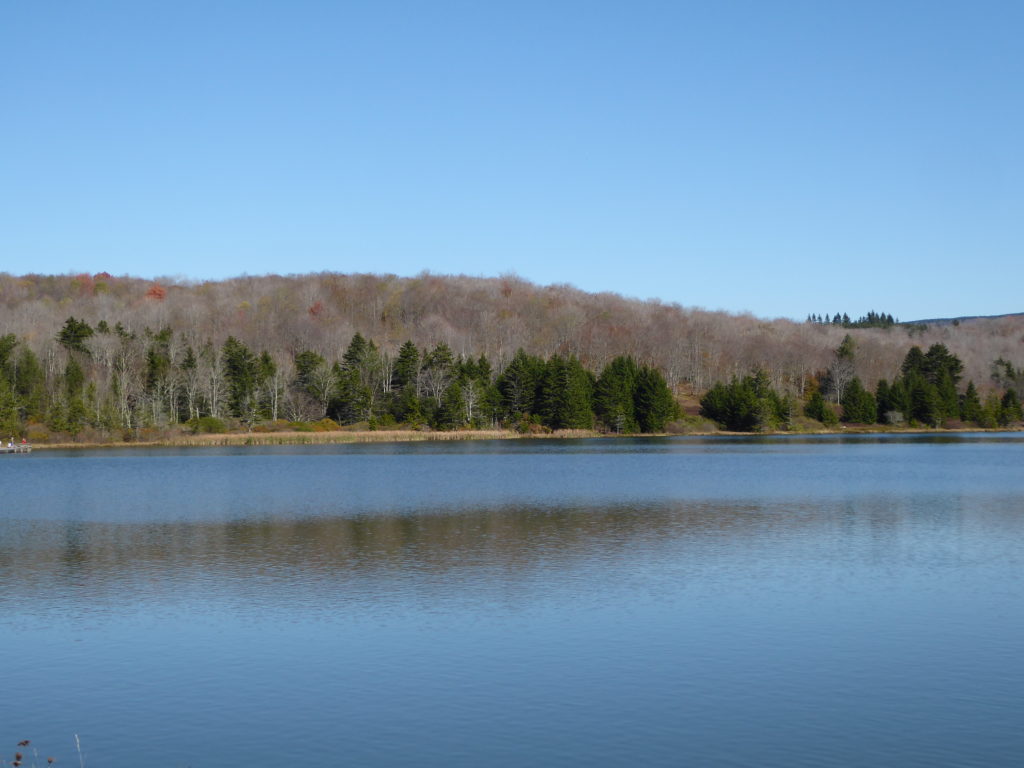 We have never seen so many folks fishing at the lake as we did this past Saturday, as we walked the easy, level trail around the lake, taking photos and enjoying the balmy weather.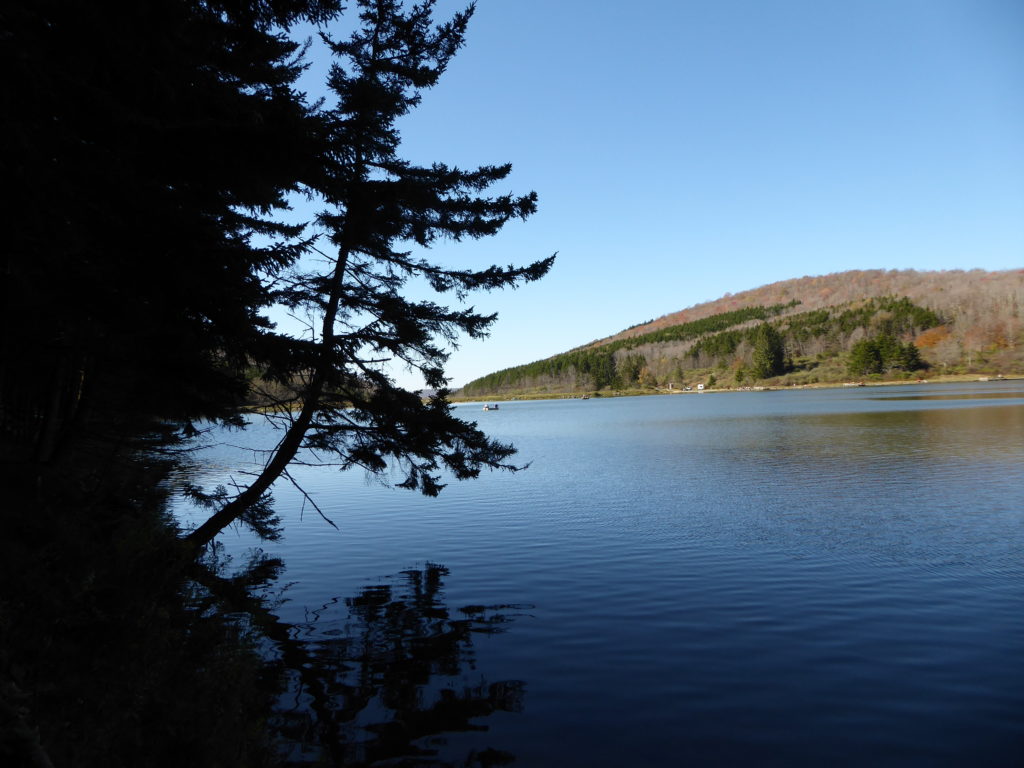 I found that the lack of leaf colors caused me to look more closely at everything else as we walked.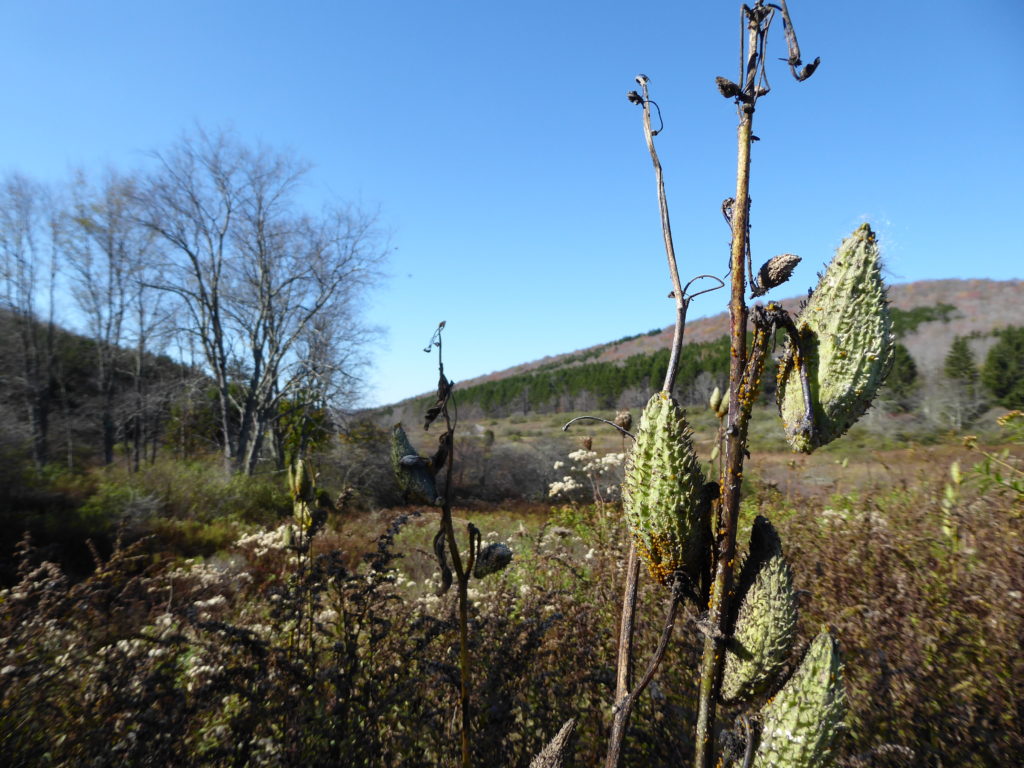 Interesting textures and the odors of warm fall earth, still water and decaying plants  became more important.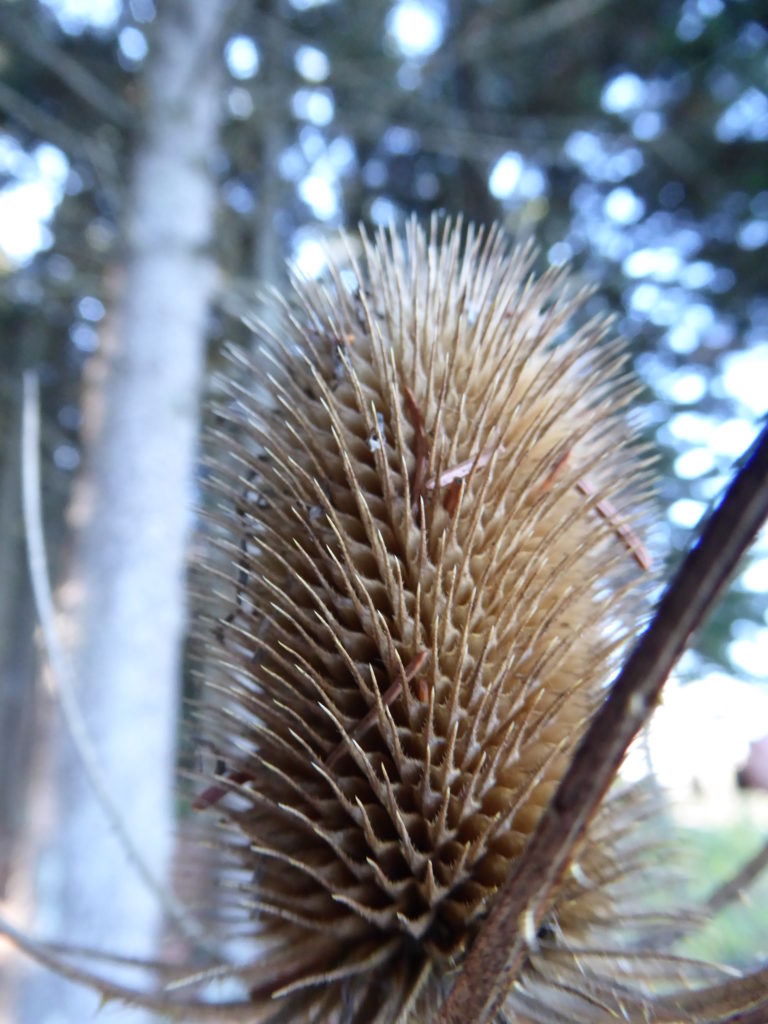 After leaving the lake we drove up the partly gravel road to Spruce Knob, the highest point in the state. We were a little sad to see that most of the trees towards the west  had already lost their leaves. The wind was not bad and it was a gorgeous view of the West Virginia hills, regardless.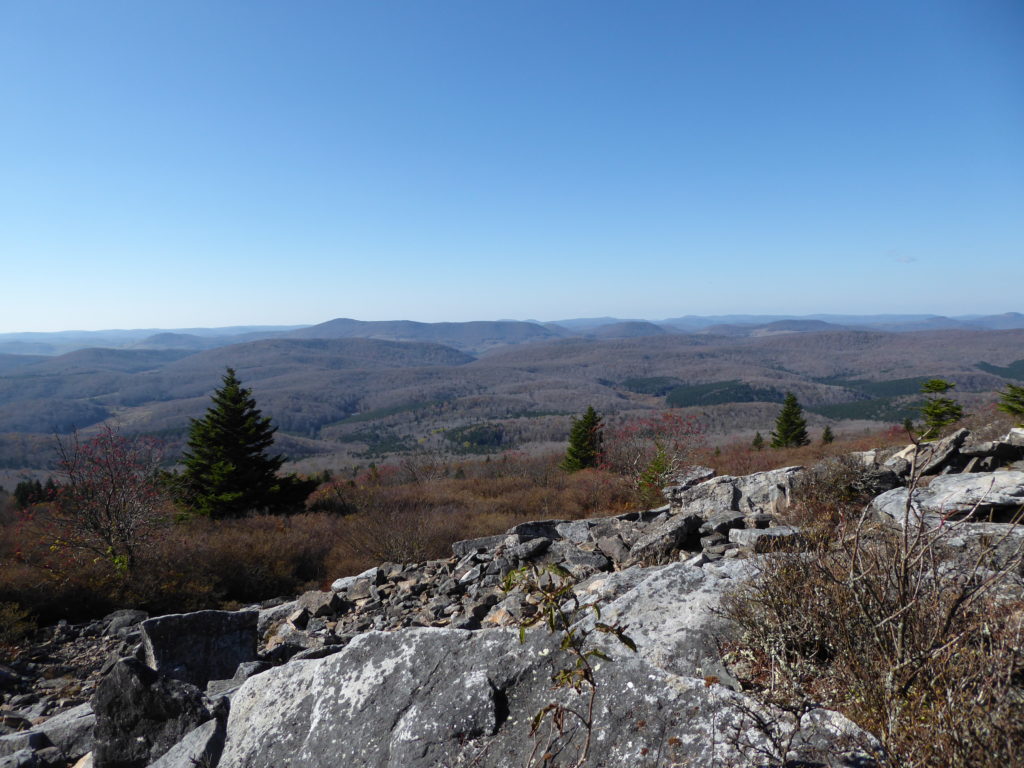 We followed a trail down  from the lookout tower that goes through some loose rocks onto a small  level meadow. The views to the east and South were excellent from there.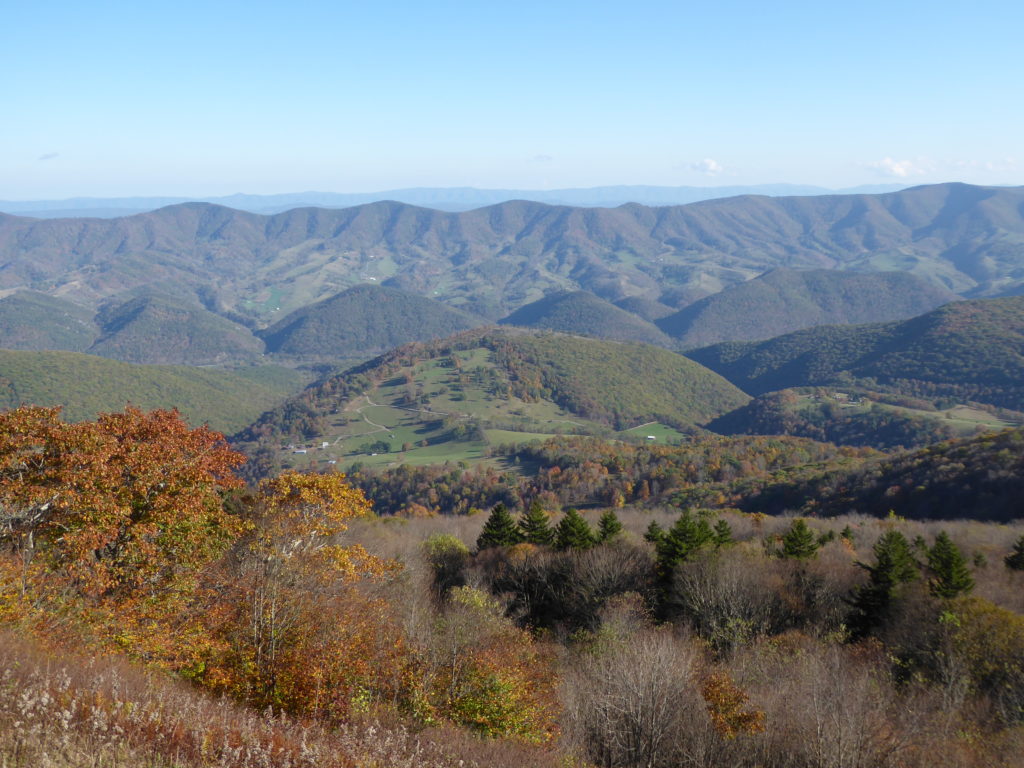 A few huge boulders you can climb on walked the meadow.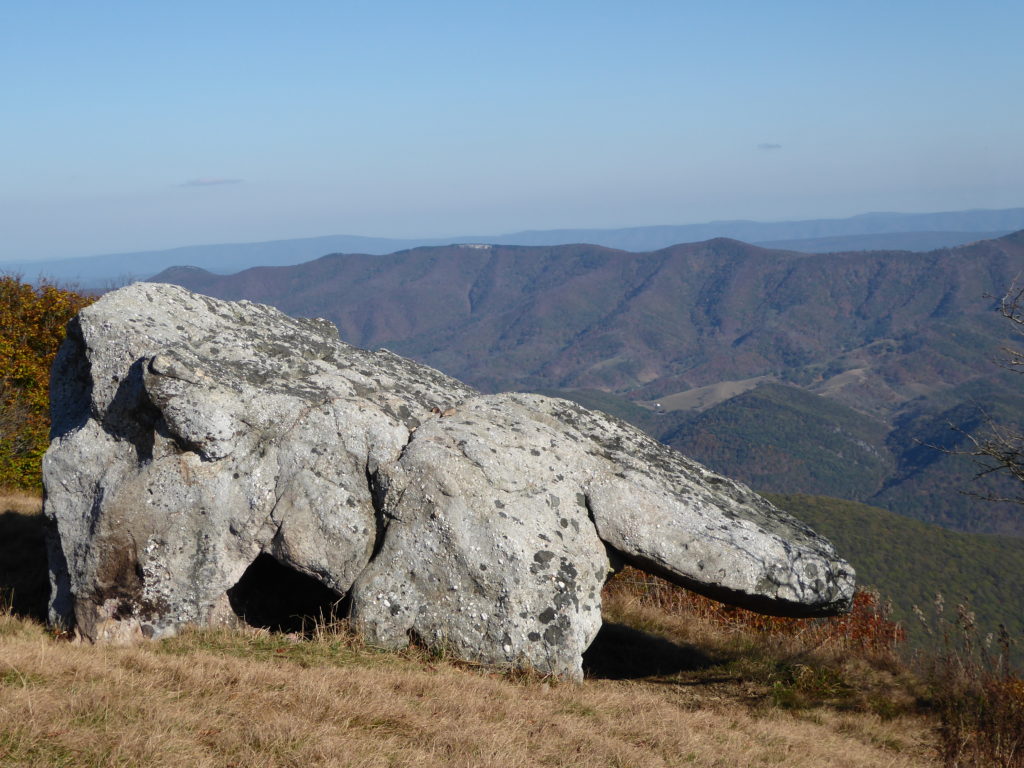 I thought this one looked like a lumbering short legged creature from the stone age. I did climb up and sit on top pretending  it was a horse sort of thing.
There were Mountain Ash on top of the mountain, with brilliant scarlet berries, dark green Spruce trees leaning out of the constant western wind, and the wonderfully textured sandstone aggregate rocks to admire.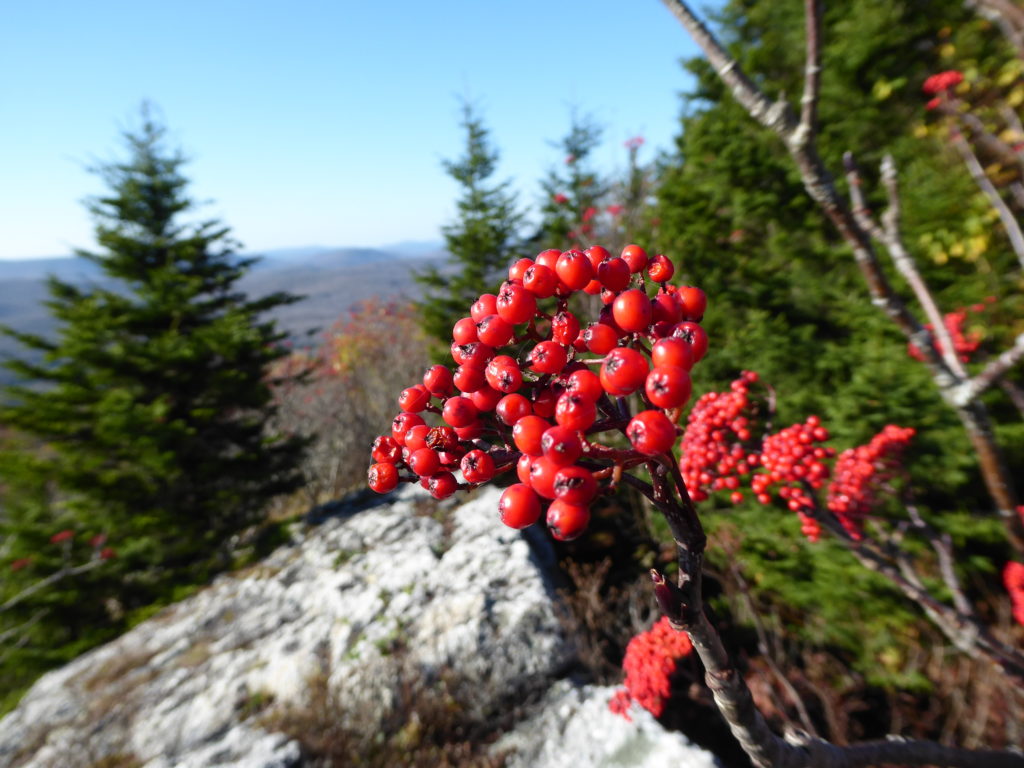 You can never go wrong with a trip up to Spruce Knob and the drive back down on the east side is paved. Route 33 East to Franklin has the Germany Valley overlook as another highlight.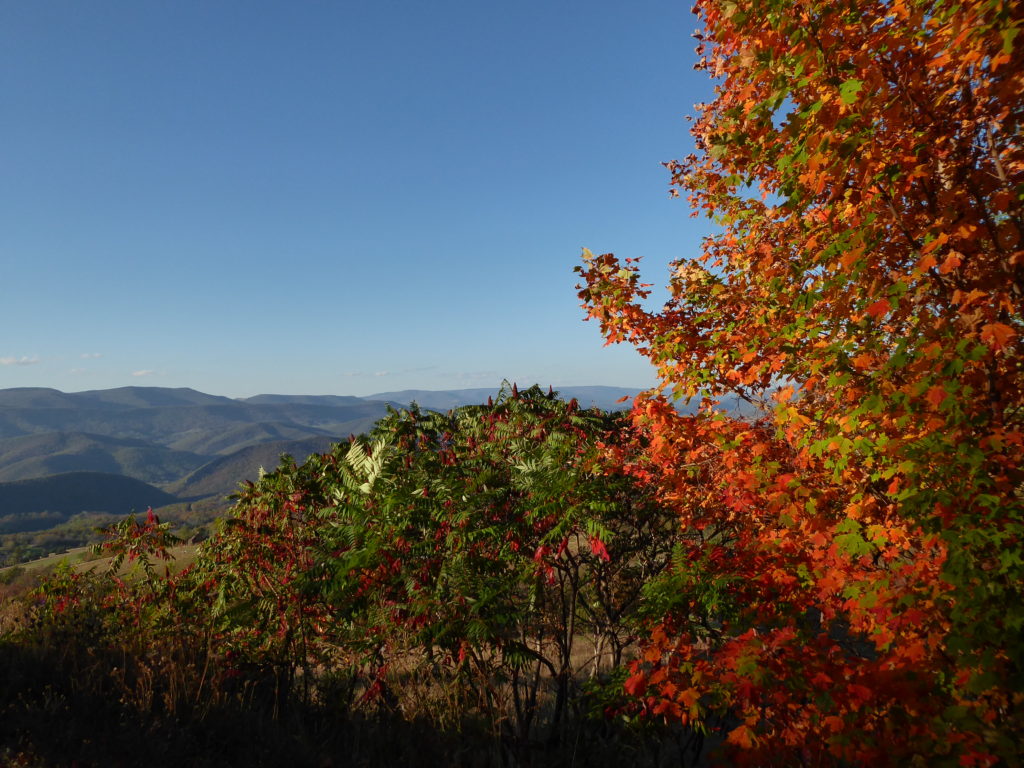 This maple was one of the few colorful trees we saw up close and it looks great with the sumac and Germany Valley beyond.
The Potomac Valley and other lower elevations should be pretty in the next week, especially since we finally got a rain last week. Even after the leaves fall, Spruce Knob, in Pendleton County, West Virginia is a magical place to visit. (Click on the Link for photos from 2016)
-Wendy lee, writing at edgewisewoods.com