Dear Gretchen, (the best Dachshund ever)
Do you remember the patchwork blanket Grandmom made for you? And the patchwork PJ's she made for me out of little 4 inch squares of flannel? How about the time we got a blue ribbon at the county fair when I dressed you up homemade Thumbelina doll's Santa Outfit ? You were an awful good sport about it. What about the little deerskin booties we made for you to swim in, to keep your nails from scratching us, with your flailing doggy paddle? And the time you ran through the screen door and tore your itchy stitches out and I had to sleep with you in that scary dog box to keep you from crying all night?   I couldn't stand to hear you crying but we couldn't let you jump up on the bed until you got healed.
And I know you remember that horrible day when you were hanging out under the kitchen stove and the hot bacon grease flashed on the stove and then spilled down onto your poor head. I had never heard anyone scream in that much pain before. It was awful. You ran,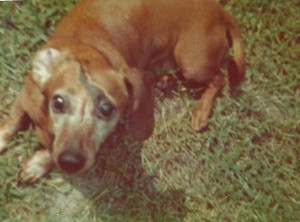 yelping and screaming, all the way down the stairs into the basement and tried to hide under the couch. I had to drag you out so we could get you to the vet, you poor thing. After that you had an inch wide hairless, black skin, scar that ran from your left eye all the way to your right ear and you couldn't see out of that eye anymore.
You used to dig up all the mole tunnels in the yard and turn them into Dachshund sized ditches instead. And you brought home antlers bigger than you and chewed on them for ages. And there was that time you killed a mama bunny and brought home all her babies and nursed them with your precocious milk. You must have wanted your own puppies pretty bad to go through those false pregnancies, even getting milk and then to steal baby bunnies. It was cute though. And we had to blast you with a soapy water pistol to try and break you from chasing cars down the road after they paved it. You were way too small to be chasing cars, you know. It was really dangerous. You liked to ride out in front on the sailboat and your ears would flap in the wind. You kept me warm at night, sleeping under the covers and letting me use you as a knee pillow. Even your head was under the covers.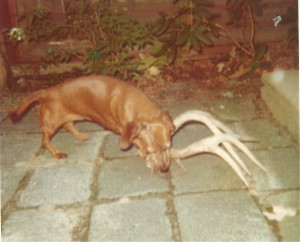 It was hard to leave you behind when I left home but I couldn't take you to West Virginia when I moved. You were old and half blind and mostly deaf by then. I was afraid you would follow a ground hog down its hole like it was just a little mole and get all torn up.
Dad brought you home for me when I was eight years old, after Aunt Peg came back from Tripoli and wanted her Dachshund Shotzi back.  We had kept him for more than six months and I had fallen in love with him . I had to give him back and could not bear to be alone again. There is nothing else like having a best-friend dog who loves you no matter what. I really appreciated Mom and Dad allowing me to have you since you were not exactly a hunting dog like the Irish Setters they raised.
You lived to be thirteen years old, which is pretty good for a Dachshund. I was not there for your last two years and I feel I let you down in the end. I wish Mom had let me know when she decided to put you down. I didn't even know until months later. I wouldn't never have wanted you to suffer though, and I have to trust that Mom did the right thing for you. You were in pain and unable to function anymore. You were my closest friend and such a good dog. Thanks for being you.
Written by Wendy lee, blogging at http://www.edgewisewoods.com