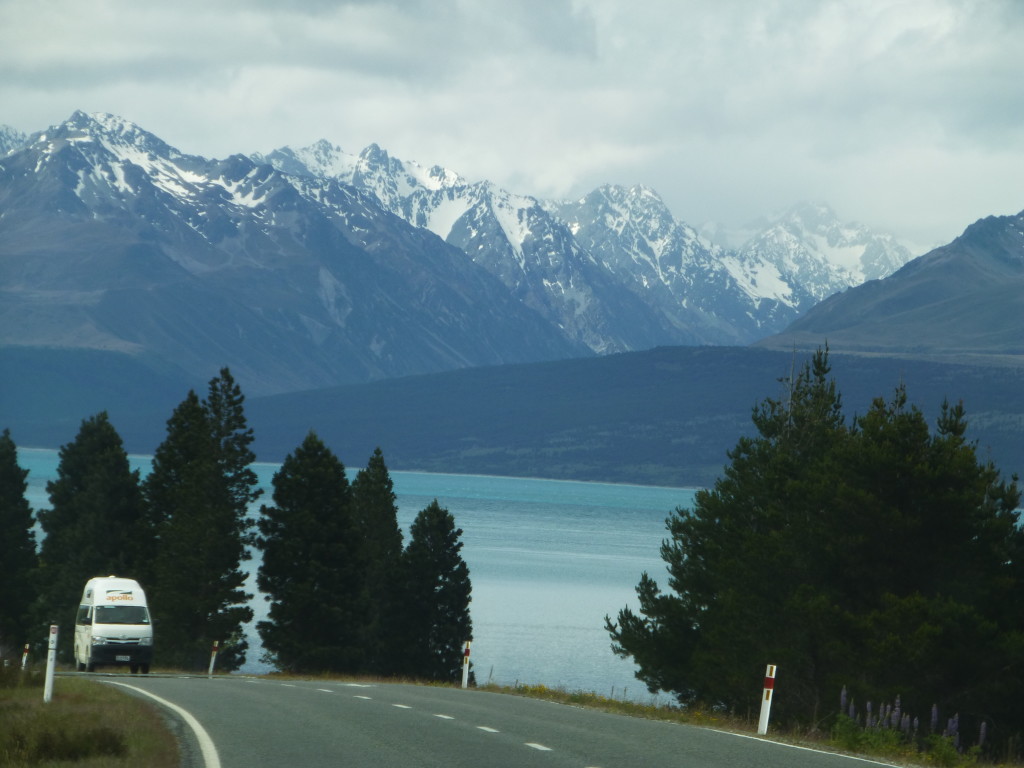 4 Weeks in New Zealand
We both finally managed to get enough time off, and enough money saved up, to travel to New Zealand, a major piece of our bucket list. The flight is long and expensive and the two islands deserve at least two weeks apiece if you want to see enough to make it worthwhile.
We left Dulles airport, outside of Washington D.C. at 8:00 A.M. on November 27, flew United to San Francisco, had an 8 hour layover there, and then boarded a brand new New Zealand air jet to Auckland and then a hop further south to Christ Church, for a total travel time of 31 hours.
What saved me from a serious case of jet lag was the Air New Zealand "Sky Couch" we sprang for on the 13 hour leg across the Pacific Ocean. It cost us an extra $600.00 and was worth it. Basically, we bought our two seats plus one in the middle, and all three had a foot rest that leveled the seats out into a bed, with a bed cover, blankets, and pillows enabling me to lie down and sleep for long stretches.
Jeff is used to sleeping upright on a train and so he did not lay down, but he did use the footrests to lounge on. They say two people can fit laying down but it would have been really tight and you have to lay on your side because even three seats together are not long enough to lay flat. There was zero spare room once the folks in front of us reclined their seats but all I wanted to do was sleep so I did not mind. The kids behind us, on their sky couch, complained (quietly) when I first reclined our seats, and since I empathized with their mother, I waited until they were settled before I set ours fully back. Economy class is tight, but even paying extra for the sky couch, much cheaper than Economy premium, plus we had three seats and a window.
Back before 9-11, when I first flew to Australia, there were always spare seats available and you could lay across them without paying extra, but these days, they fill every flight. Thankfully, both Air New Zealand and Quantas, my other favorite airline,  encourage people to get up and move around during long flights. They even show you exercises you can do in your seat to help prevent cramping and blood clots.
Caravan Camping
We began our vacation on the South Island, at Christ Church, because that is where we were able to pick up a Beta model Spaceship caravan, a small Toyota minivan decked out for camping. I once had a Volkswagen camper bus about the same size which was organized a little better. I would like to try a VW next time.The first few days I thought I would lose my mind trying to find things and get a routine going. I am sure we had friends at home taking bets on whether we would survive being cooped up in such a small space for 4 weeks but we got used to it pretty quickly. It was so much better than dealing with a tent.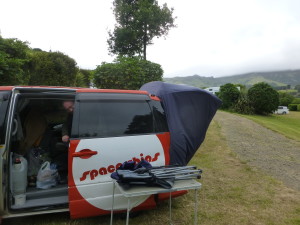 The campground facilities in New Zealand are excellent. Since we were not "self-contained", meaning no toilet on board, we were only allowed to stay where there was at least an outhouse available, which was fine by us. New Zealander's do not want people "freedom camping" unless they are assured you will not be leaving nasty waste products behind. There are so many people caravan-ing around that it was getting to be a health hazard, not to mention gross. The locals I talked to were glad to hear that we paid attention to this rule.
We enjoyed taking hot showers, and the ease of cooking in the fantastic group kitchens, at almost all the campsites. We stayed rough only a few nights  in remote spots with just an outhouse. We did not want to  deal with driving a big lummox of a camper because  then you can't get down the back roads so well. It was hard enough getting used to driving on the left side of the road, although Jeff had it down after about three days. We were glad we were in a small van that used less fuel too.
Our Spaceship came with a comfortable foam mattress which extended out the back.  At night, we slid the bed out and slipped the canvas tent over the top of the raised tailgate.  We slept with our heads by the screened tent windows, and although it rained lightly on a few nights, never had to pull back inside to stay dry. We saw lots of other campers without this ventilation feature and they were all fogged up by morning.
There was a lockable storage compartment under the bed where we kept our clothes and anything not needed during the next day. The camper came with a two burner propane stove (which we only used twice), a stainless steel cooking pot and fry pan, a tea kettle, utensils, and four plates, mugs and bowls. There was a compartment under the bed for all this as well, but it was hard to get to and I ended up keeping it all out in a food box on the back seat.
Initially, my rolling duffle bag was used as the food box but I eventually found a cardboard banana box instead. I was worried that the sniffer dogs at the airport were going to go nuts when they smelled my bag, what with apples and nuts having been in there, but I guess the amazing sniffer dogs could tell they were no longer in it. They kept going past me and nailed the idiots carrying a bag of apples.
Another thing our Spaceship came with was an extra 12 volt battery so we could keep the little built in Eski (a 1 cubic foot fridge) running, charge our camera batteries, cell phone, kindles and laptops, run the interior lights, and not worry about draining the main starter battery. We brought with us a really useful, 12V to 110V to USB converter, that plugged into the lighter type connections, so we were able to keep everything charged. The van also had a DVD player and a couple of movies with it, but we never once turned it on. When it got dark around 9:30 at night (it was summer there) we were exhausted and ready for sleep.
New Zealand campgrounds are called Holiday Parks and a lot of them have tiny cabins you can rent, along with powered sites, non-powered sites (which we used), and a camp kitchen; with washing up sinks, instant hot water dispensers on the wall, work benches, tables and chairs. Coin operated laundry rooms, hostel rooms, and WiFi are common as well.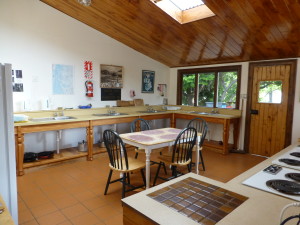 It was kind of fun to meet all the other folks while you shared the kitchen at breakfast and dinner time. Only a few times  was it just too crowded. Then we opted to cook outside on our own stove or wait until the rush was over.
Apparently we timed our vacation perfectly, as far as crowds go, because we were told time after time, that it was a good thing we came before Christmas, because they were booked solid after that. Everyone in Australia and New Zealand takes their summer vacations during Christmas and January. As it was, we never had to make a reservation anywhere and had no problem finding places to camp. Having to make reservations every night would have been a lot of added stress.
The average cost for our un-powered sites was $25.00 New Zealand but since the American dollar was strong, 66 cents American bought one dollar New Zealand. Considering how expensive fuel was, it was a good thing.
We put over 6000 kilometers on our rental van over twenty seven days and spent $878.00 U.S. dollars on gas. The price of gas ranged from $1.62 -$2.15 NZ per liter (3.78 liters = 1 gallon, times an average of $2.00 per liter = $7.56 per gallon New Zealand or $4.87 per gallon U.S) We got 20.6 miles per gallon in our Spaceship, which is obviously not great mileage but there were a lot of mountains and back roads involved.
Our Route
We zigged and zagged all over the South Island, from Christ Church south along the East coast, into the middle mountains (where it snowed), back out to the Catlins coastal beaches and a whale watch boat.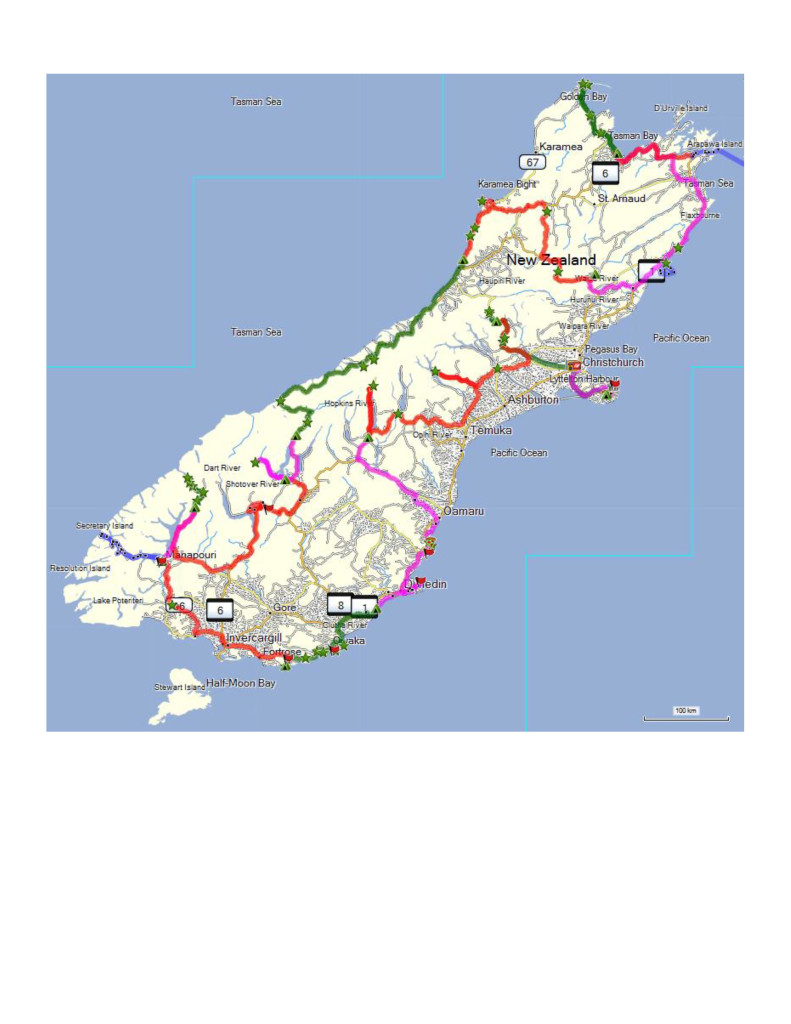 Then we headed westward to the Fiordlands and a Doubtful Sound cruise, northward to Nelson with sea caves and seals, and then across the top to the three hour ferry ride to the North Island.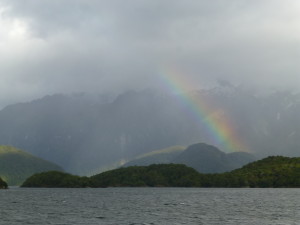 We mostly avoided cities and heavily populated areas because that is just not our thing.
On the North Island there were a lot of volcanic hot spots, a hike up a volcano, a sailing trip, and a few more caves to explore. We did as much as we could and needed more time.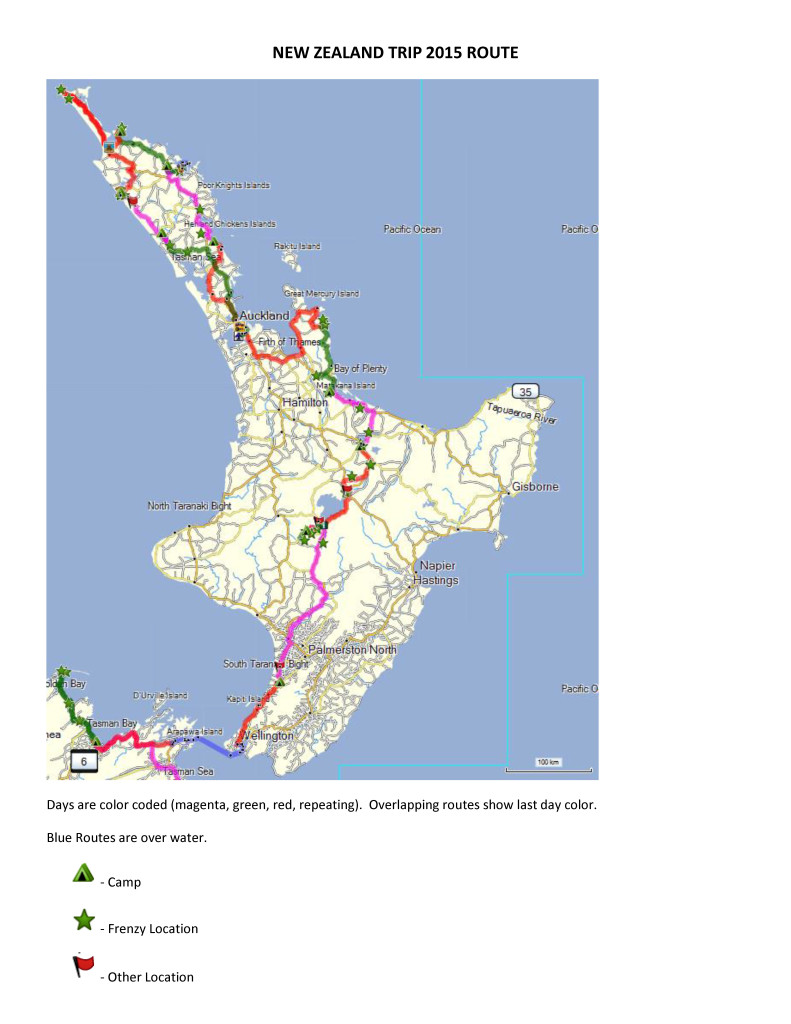 On the South Island, the weather was a little chilly,  with daytime temperatures averaging 18 degrees C (64 degrees F) and it was almost always windy. I guess that is why they have planted giant tree hedges all over, to break the wind.
The water was way too cold for swimming, even for most Kiwi's (who wear shorts even when they have jackets on), so we did not get in any water until we hit the hot springs up on the North Island. The air was also warmer up north, but not by much, and the ocean was still too cold for us. In January it all gets much warmer.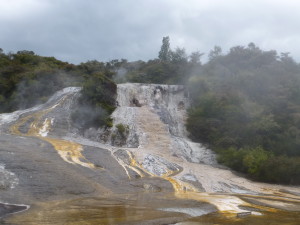 Our route was determined as we went, by reading the "New Zealand Frenzy" books by Scott Cook, that came as a free download with our van rental from Spaceships.
We read Scott's descriptions of whatever was nearby and planned according to what kind of day we wanted. Quite often, we got to see places others missed because they were just a little more off the beaten track. One of our goals was to avoid tour buses as much as possible, which sometimes meant timing our visits earlier than theirs. The Frenzy books make this fairly easy to do, at least in December, when we were there. We also managed to find some of the and friendlier funky sort of camps that did not advertise this way. We had the books downloaded onto Jeff's Kindle Fire which made them easy to get to.
I recommend a trip to New Zealand if you can possibly manage it. The people are wonderful, the scenery is fantastic and you will have a great time.
To follow our route  go to New Zealand Travel Map  https://www.edgewisewoods.com/new-zealand-travel-route/
-Wendy lee, writing at  https://www.edgewisewoods.com