Farewell Spit-Day 15
As we leave Wharariki and the Puponga Farm Park I say,
"Stop the car! I see a face"
There is a an old man's face in a natural rock formation  across the valley. I managed to see this without realizing it was there, which made it that much more fun. There are signs for those that need them.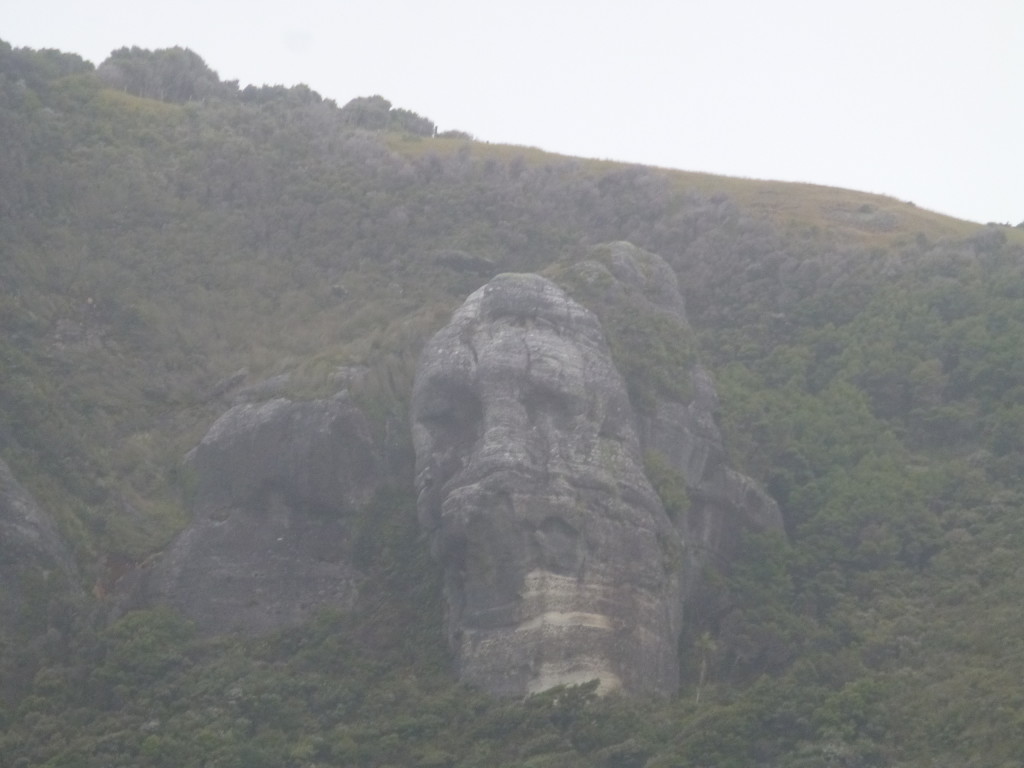 We soon feel the need to take a small detour to a visitor center located on the hill above Farewell Spit. There is a sign at the center saying it is no longer in operation, it is for sale, but you can still walk the track, plus there is a skeleton in the yard. I believe it is a Pilot  whale from one of the many strandings that occur in this shallow bay.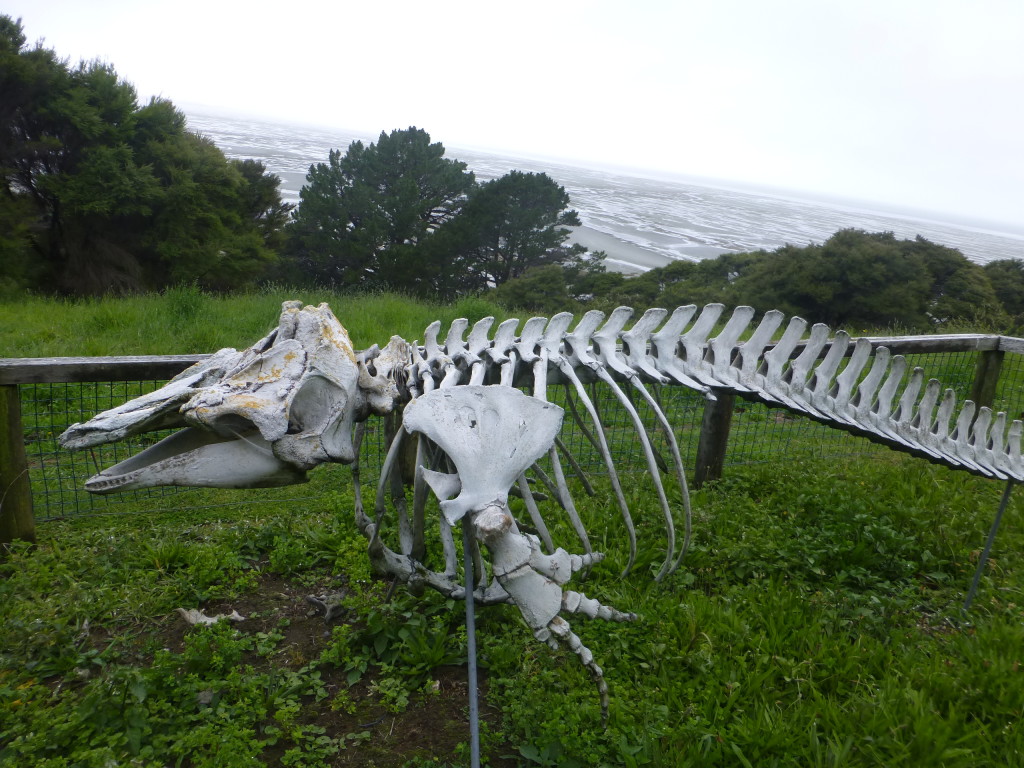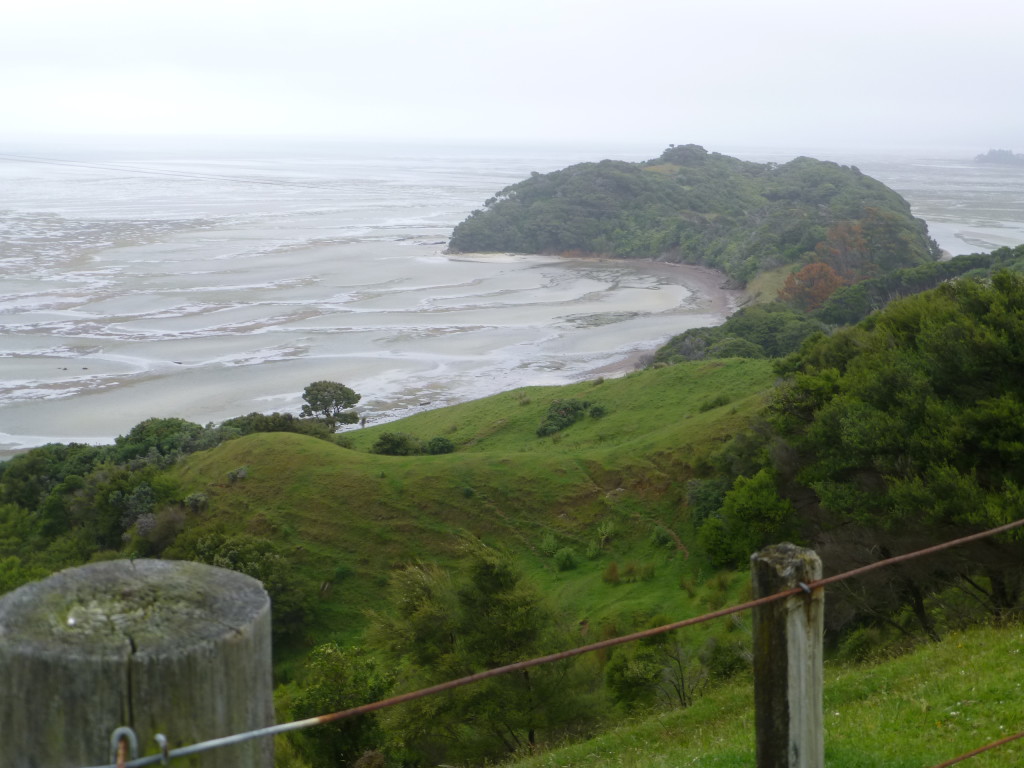 We climb the hill for this view to the north. The tide is out and the mudflats are huge here. We look the other way, towards the west and see the spit. From the air it looks like a slender scythe blade, curving around a bay.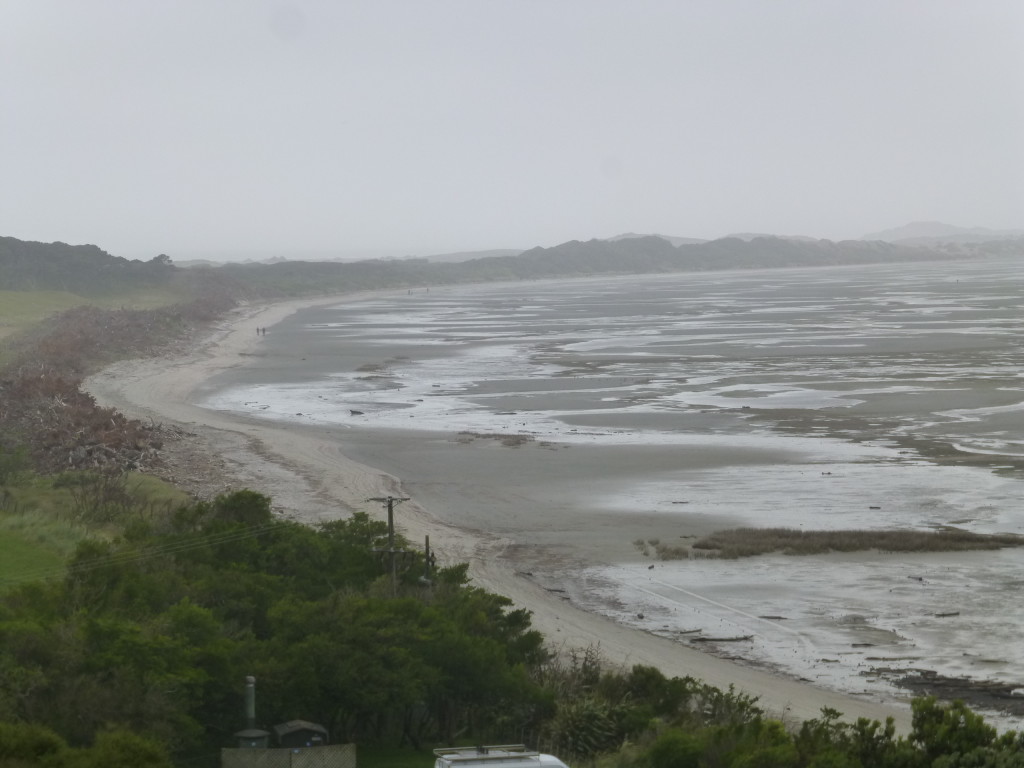 If we were staying longer I would like to walk the spit to the end, but that is not going to happen this trip. There are so many multi-day tracks to do here it is a little frustrating when we have to leave each place. So many places to go…
We get back in the van to retrace our route back, stopping at Takaka town for groceries. When we come out, in the pouring rain again, we have a totally flat tire. Great. We call the Spaceship people for advice as we are supposed to but there is nothing they can do. It is Saturday night, everything is closed. Shops are closed Sunday as well. We eat some cheese and crackers and wait for the rain to let up, which it does, eventually. At least we are in a parking lot with lights and not on the side of a shoulder-less mountain road. After reading the tire changing instruction card, we manage to install the temporary tire, and get back on the road. We have way more kilometers to go than the limit of 90 km stated on the tire, and we have to go back over that steep mountain with all the switchbacks yet, which makes me really nervous. On the way we see evidence of the coming Christmas. I think today is December 12.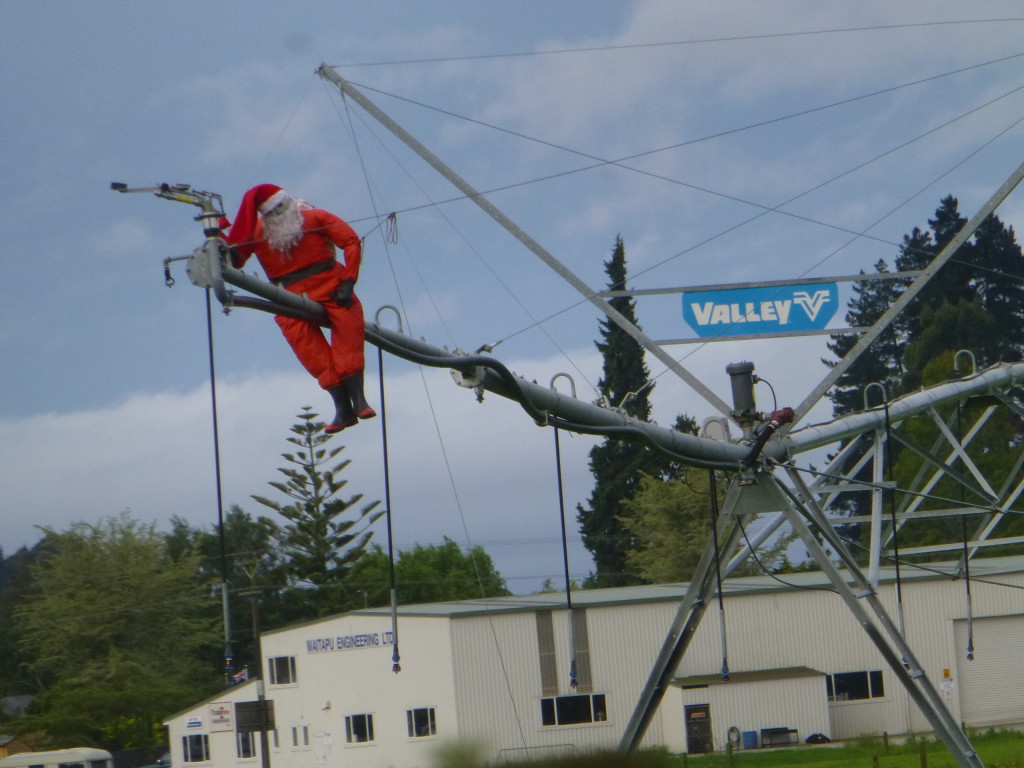 New Zealander's seem to have a sense of humor when it comes to things we see along the side of the road. Apparently Santa rides  his irrigation line in where he can't find reindeer.
We made it over the mountain, with little fog and no rain, and all the way back to the Mapua Holiday Camp by about 10:pm.  We parked in the same spot as the night before, and didn't even bother to tell them until the morning. They had a nice laundry house so we washed and dried our clothes before we left, and played with Joey, the bird. Onward to Picton!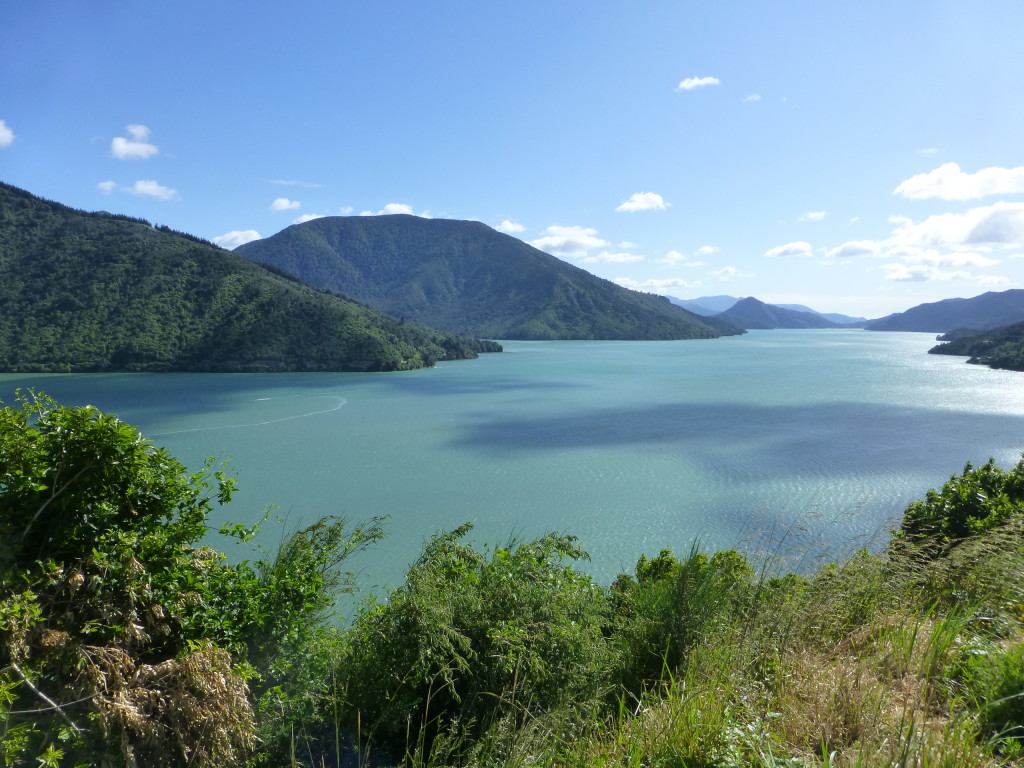 The sun has actually decided to come out and warm us up! There are all kinds of bays, islands and peninsulas on the way.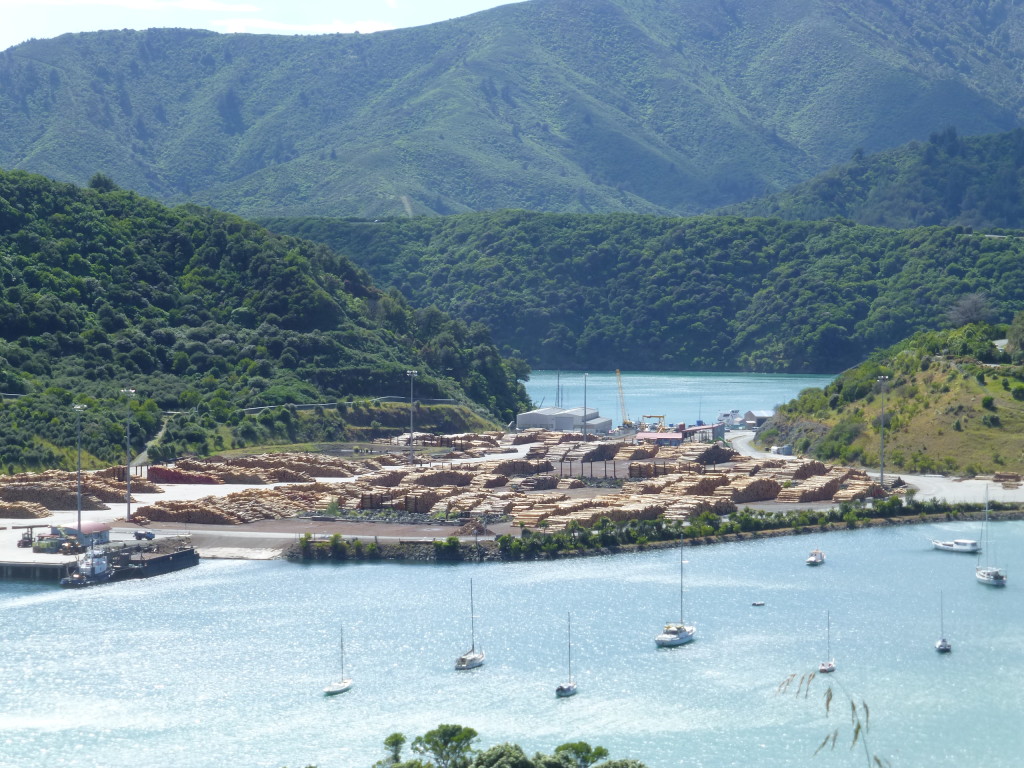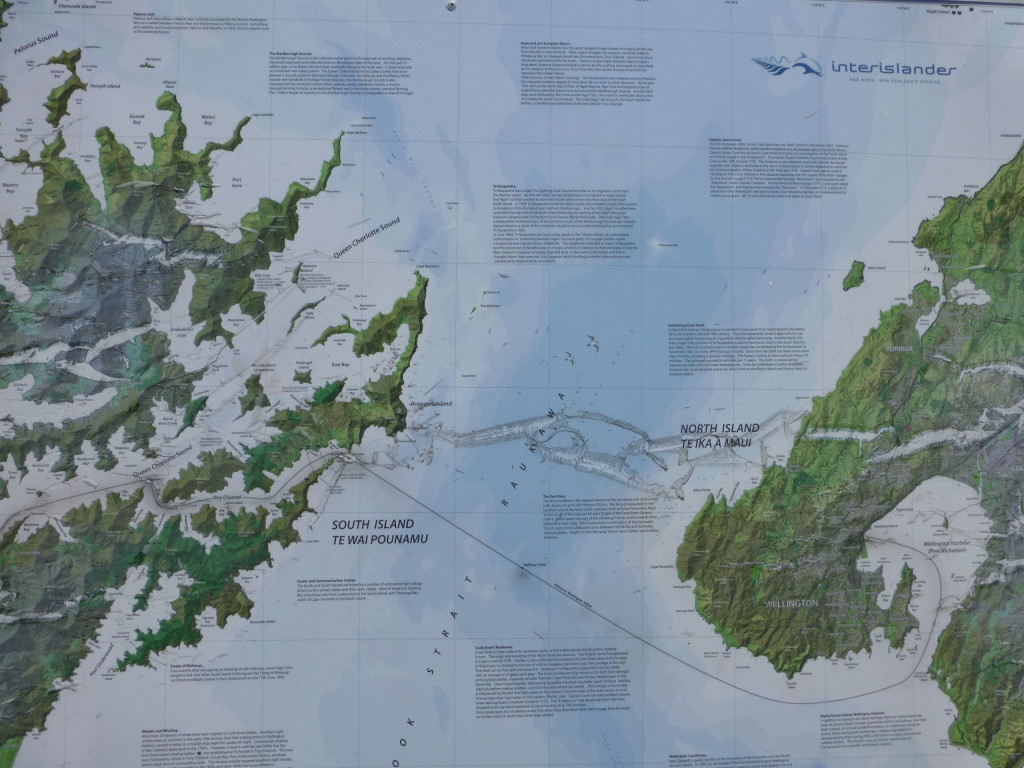 We bought our ticket for the Inter Island ferry Line for $152. I think that if you plan ahead and know when you will want to sail, you can get discounted fares. We didn't plan like that.
While we waited for our departure time, we found a service station that was actually open (on Sunday) and he fixed our tire up right. Then we spent a little time in the Aquarium ,right on the docks,  which had live animals.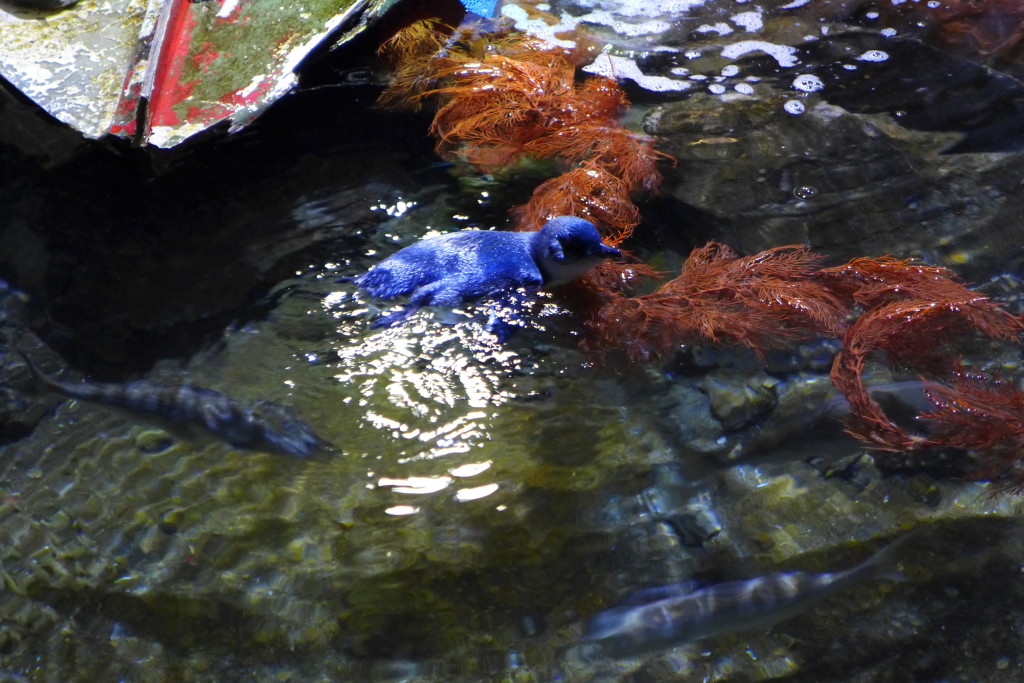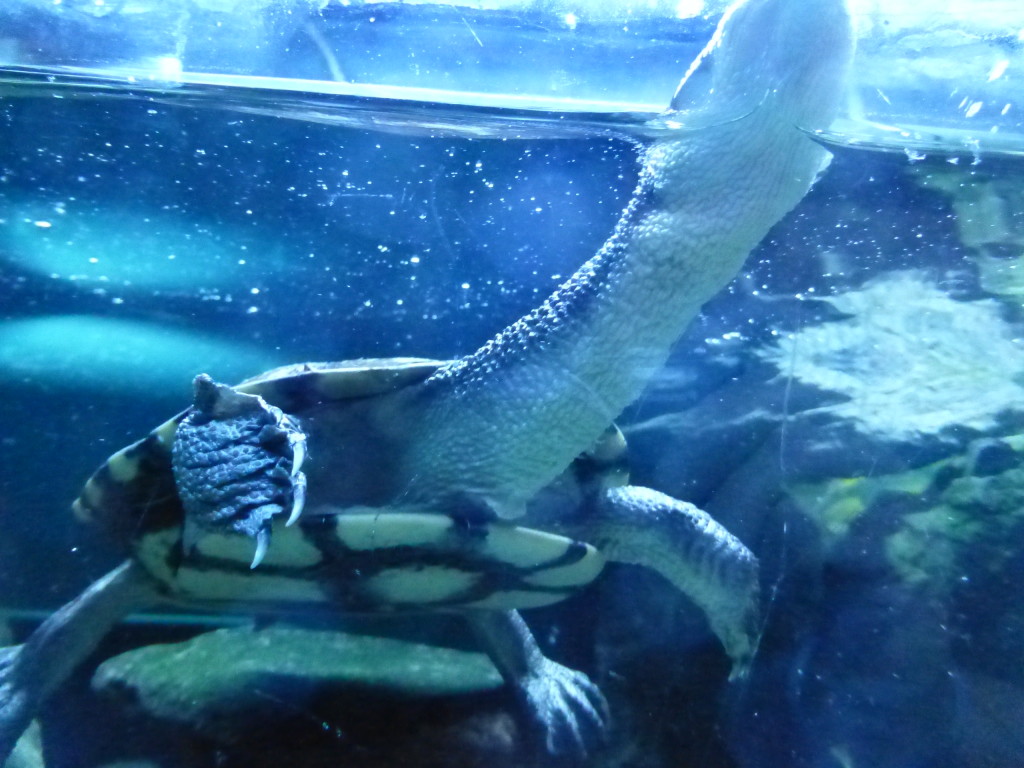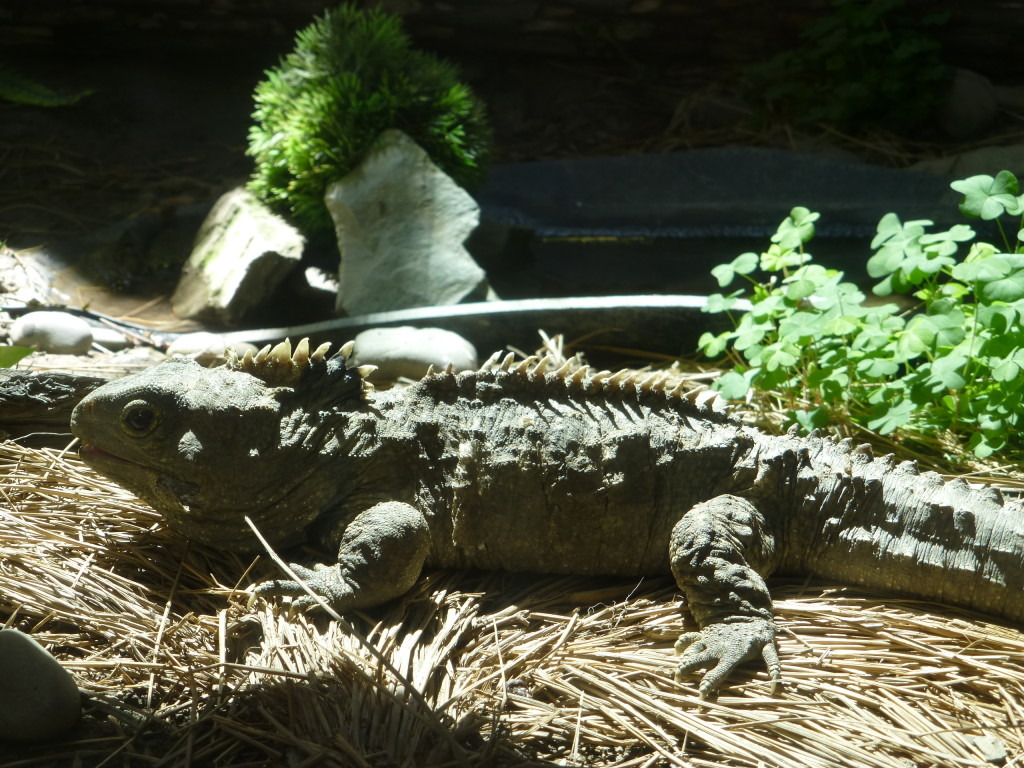 There was also the Edwin Fox Museum, which houses the oldest surviving merchant ship on earth, next door. We had to go line up our van for the ferry though. We were out of time.
It takes 4 hours to cross the Cook Strait and it can be a rough ride. The ferry we were on was so big it had 10 levels, held 1600 passengers, had movie theaters, food, recliners, you name it. We did not feel the water at all, but we spent a lot of the time on the top deck and it was super windy up there. It wasn't cold though, and it wasn't raining either.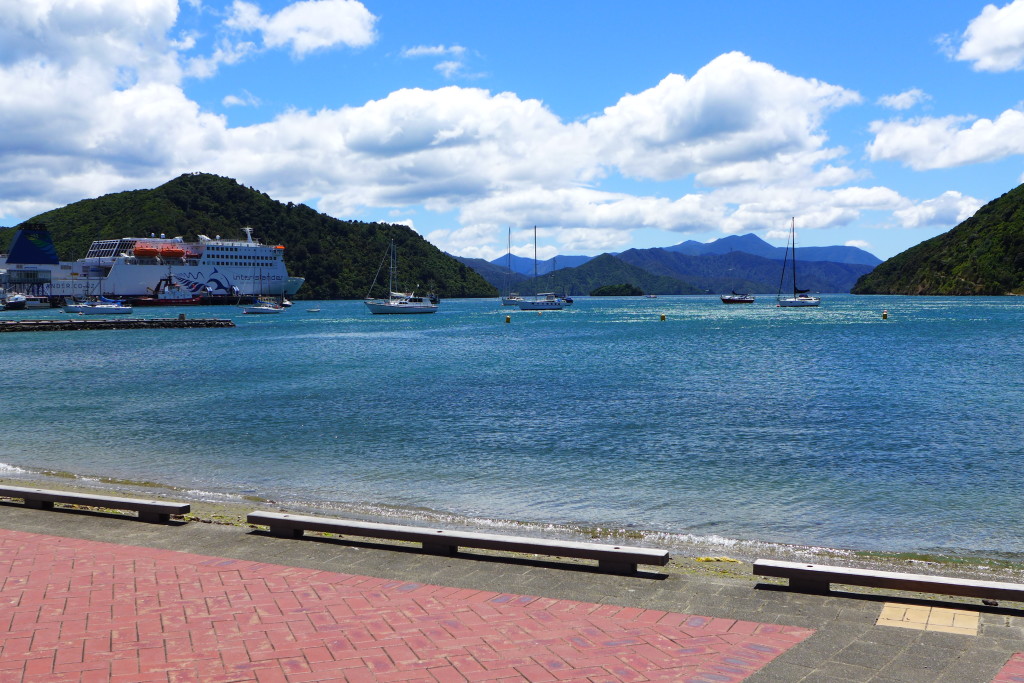 We couldn't stay inside and relax. We had to wander the top deck the whole time, going from side to side for the best views. Occasionally we hunkered down behind a bulkhead to get some relief from the wind. There were Salmon farms, Mussel Farms, mountains, sailboats…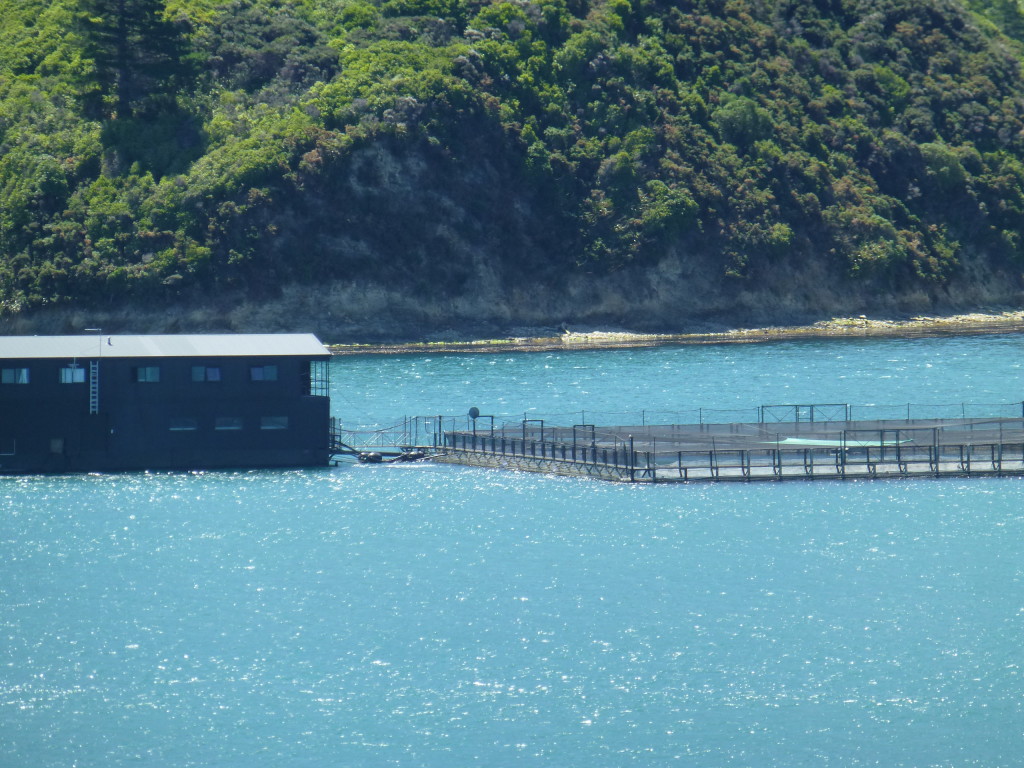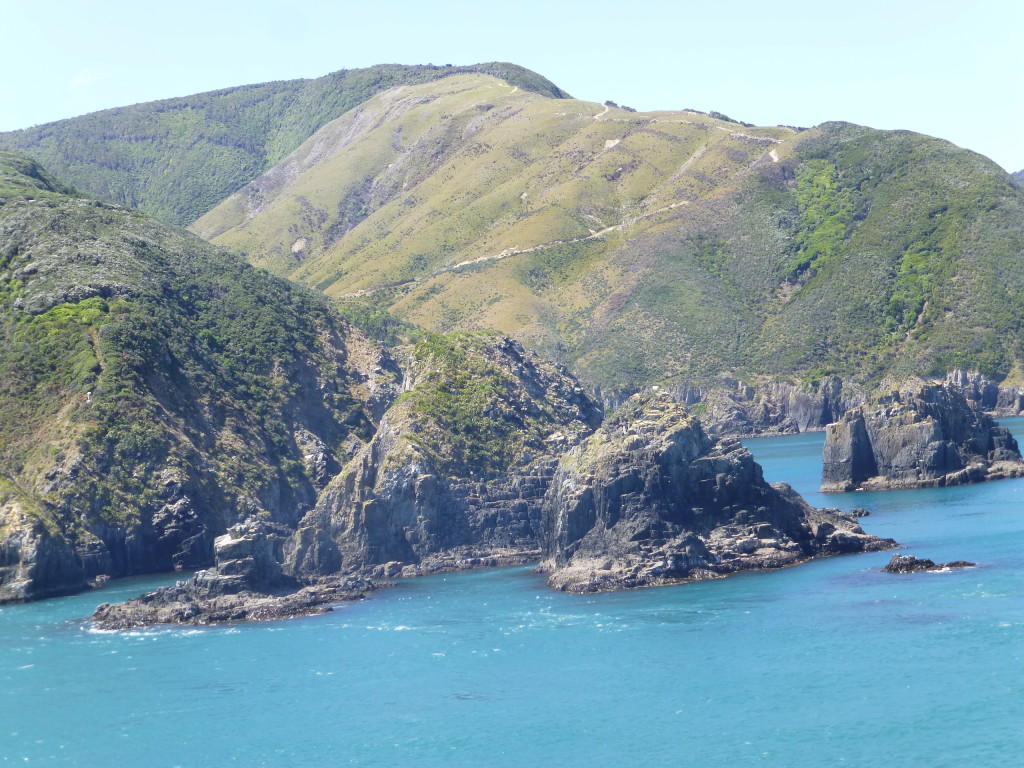 You could always see some little piece of land. The mountains are big enough to see from very far off. There are windmills strategically placed in the windiest spot. I am surprised we did not see more windmills on the South Island, but they generate most of their power from water melting off the mountains.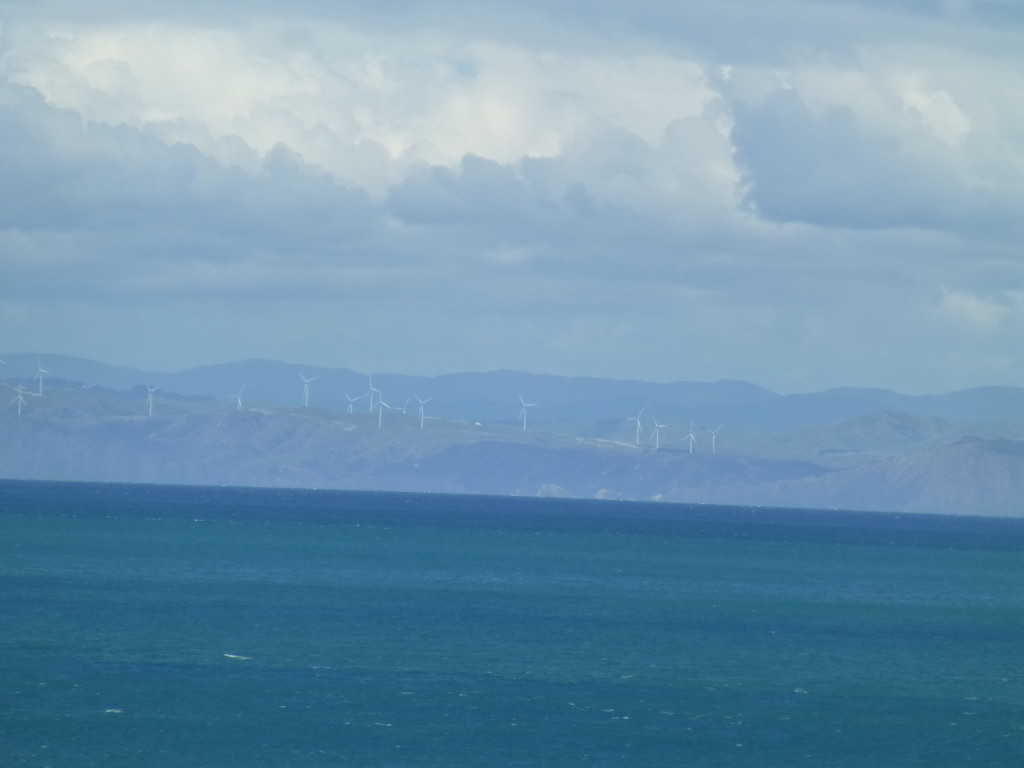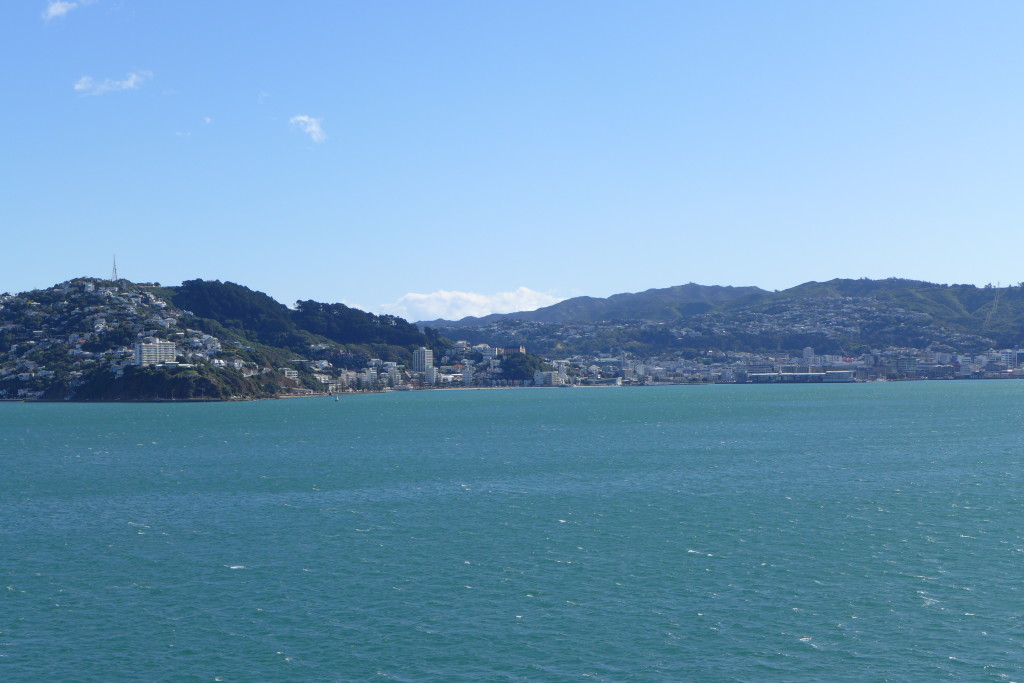 As we enter Wellington harbor we see it is surrounded by what looks to be quite a large city, so we  drive off the ferry and get away as soon as we can. I know there are good museums there but now the sun is out again and I do not want to be inside.
The road hugs the west coast for a bit as we head north, with flat coastal farmland on our right. There is a whole lot of beach , more traffic than we are used to, and we keep driving until we reach the little town of Levin, where there is a camp site for us.
There is also a Rosemary Hedge taller than me outside the very nice kitchen block.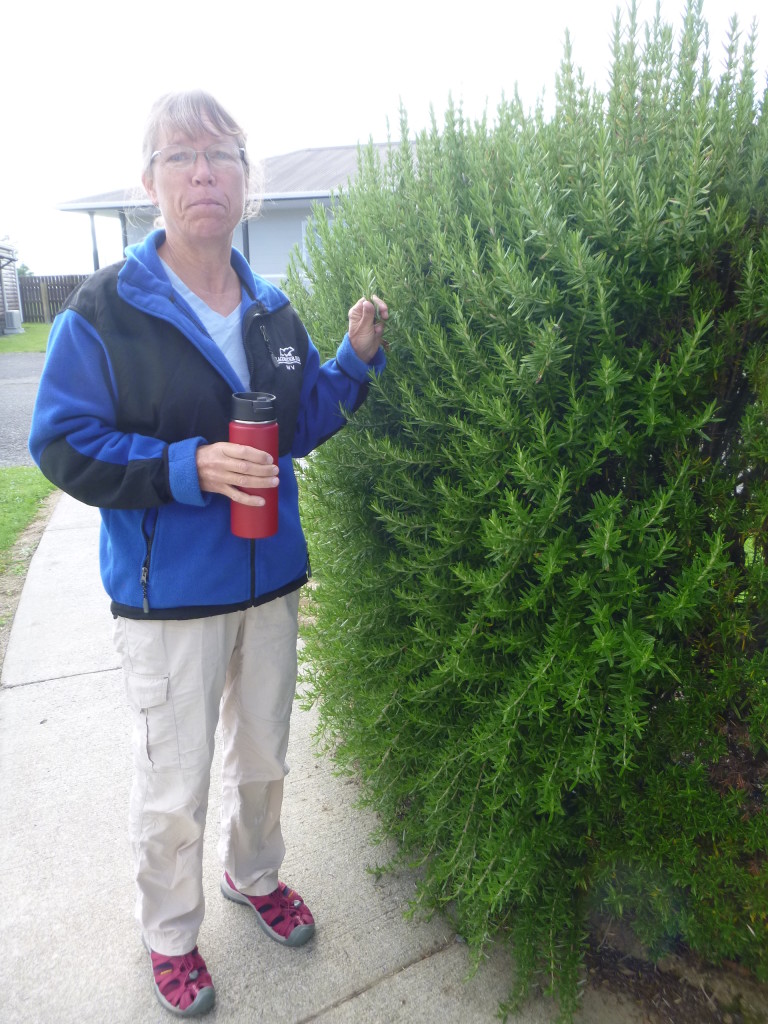 Foxton-Day 16
We had a good nights sleep and continued on our way in the morning with the sun still shining. I spot a big Dutch windmill as we drive by the village of Foxton and we stop to check it out.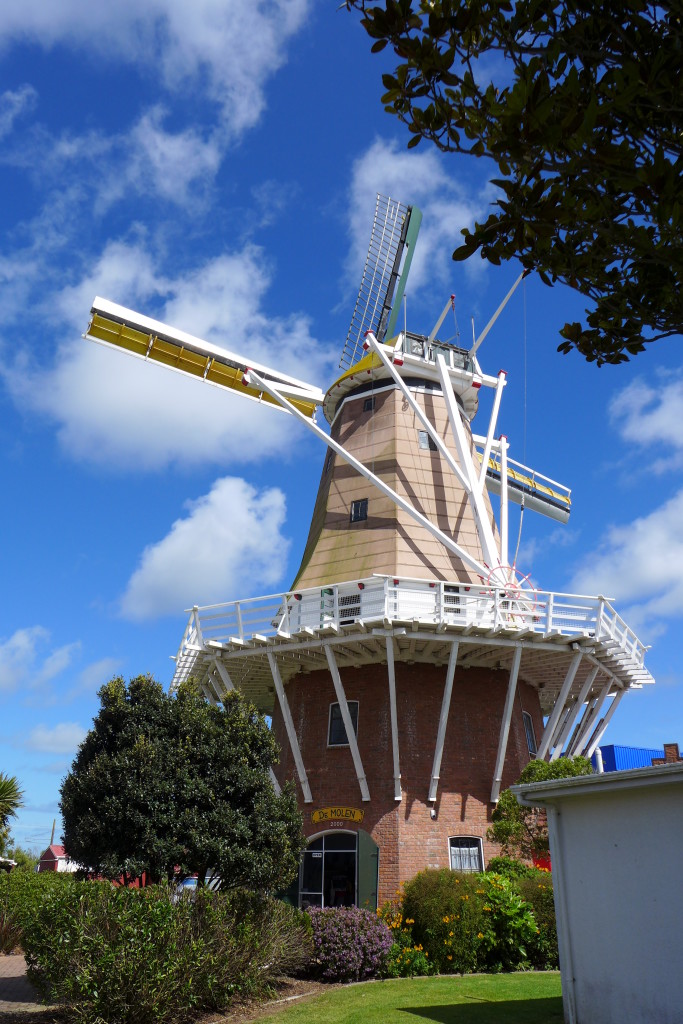 We took the self guided tour through three levels and then went around the outside on the upper deck. This working flour mill  was built in 1970-72 using high quality craftsmanship  and impressive handmade wooden cogs and gears.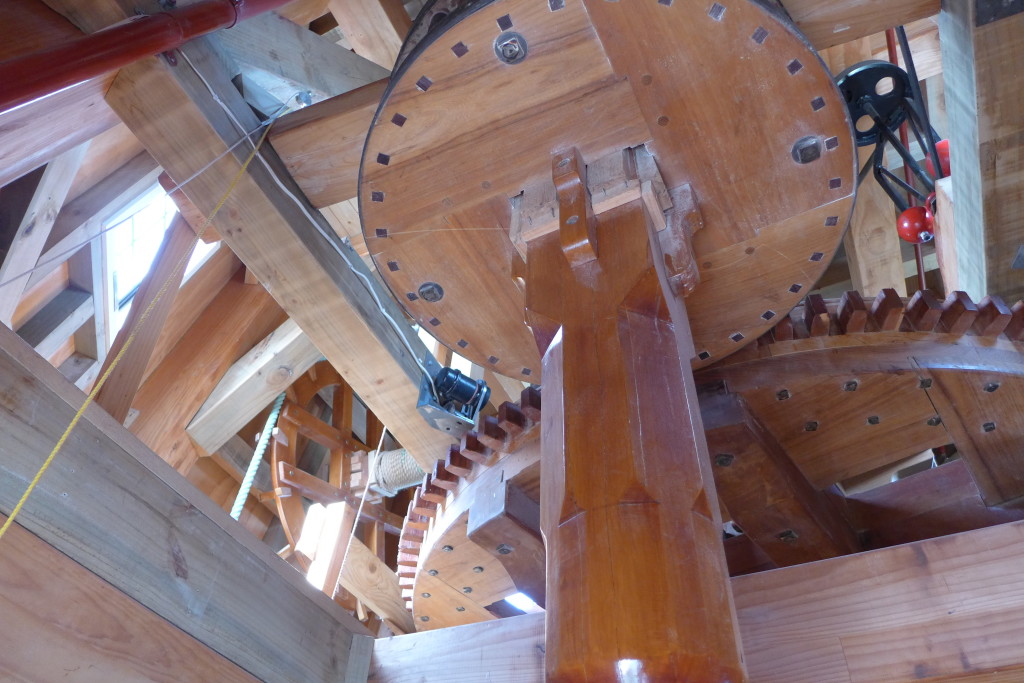 It also housed a little museum of sorts for a local soda pop, The Foxton Fizz, which has a humorous advertising campaign worth clicking on the link for.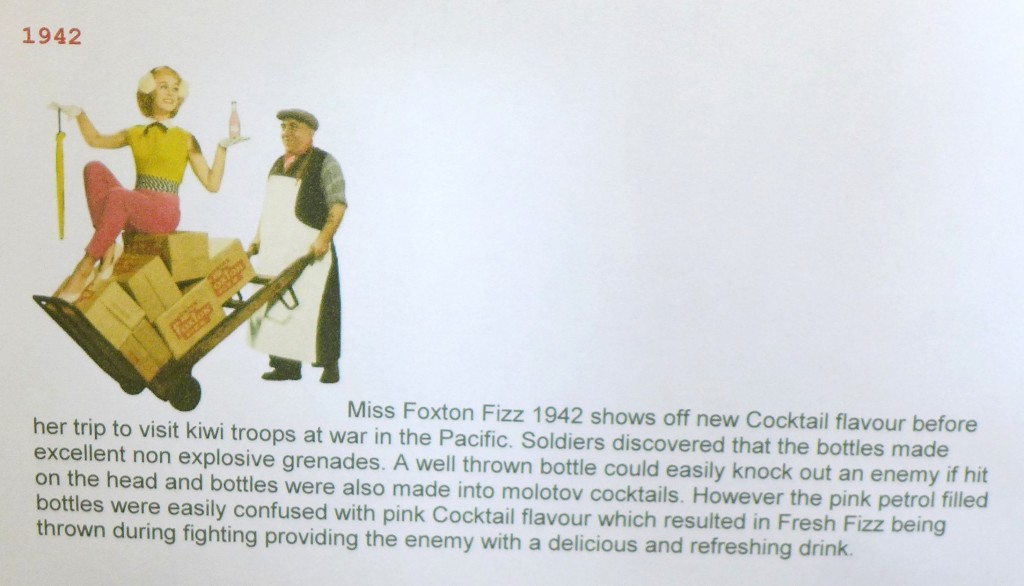 We bought a small bag of freshly milled flour, had a piece of carrot cake down in the adjoining shop and then started noticing all the murals.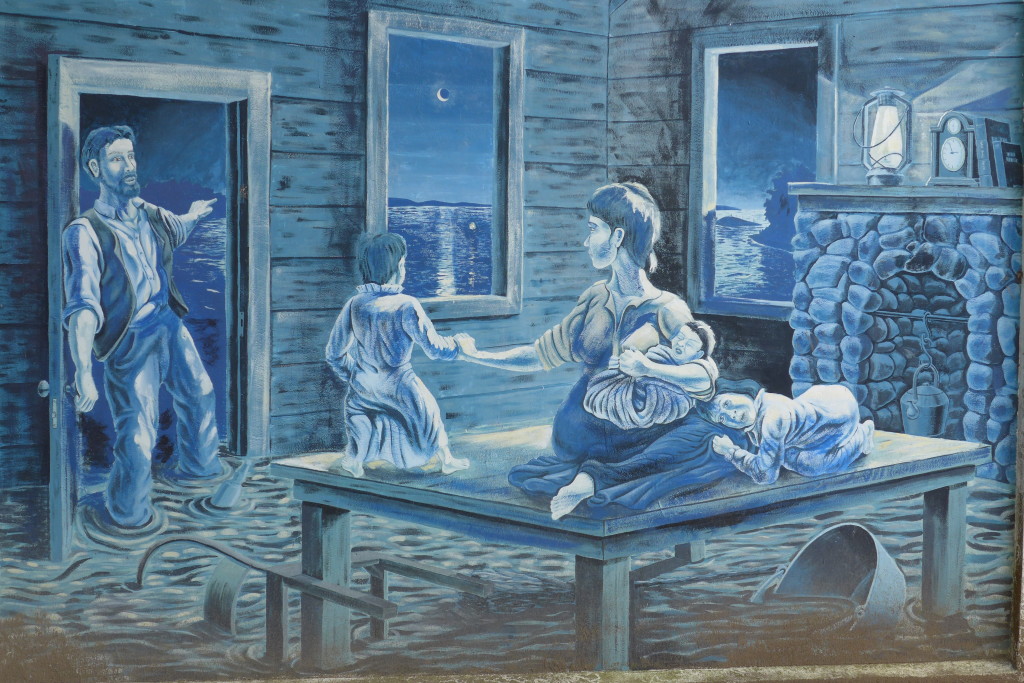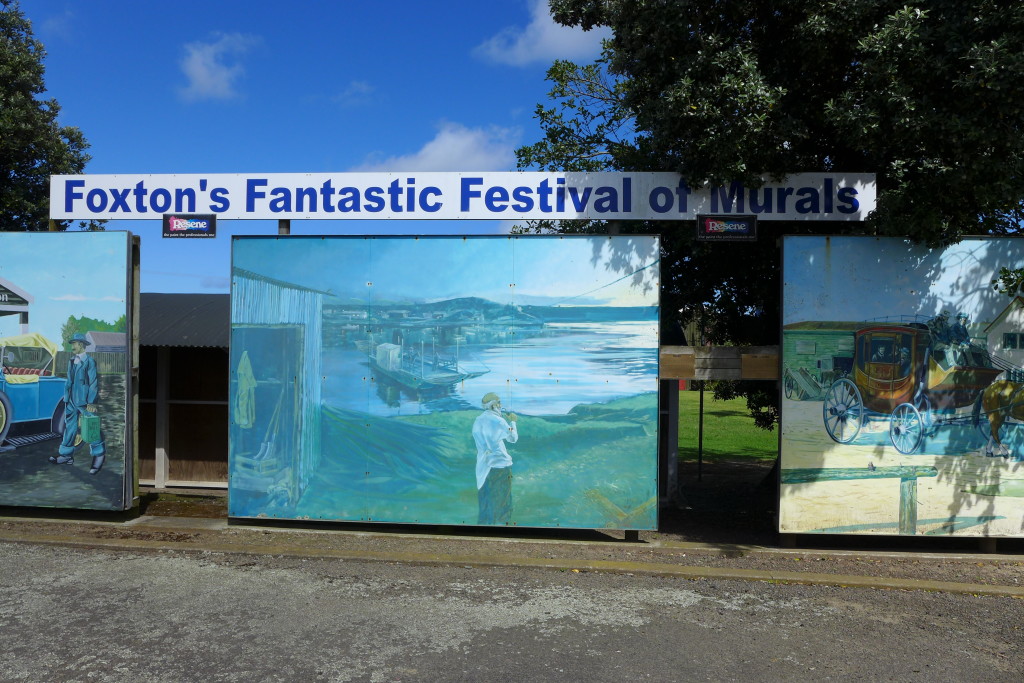 Some of the Murals were about  earthquakes. Foxton and all of New Zealand, gets earthquakes regularly. I don't know how we managed not to feel any while we were here.  Click the green link to get the latest on that. Apparently Foxton has experienced  29 quakes (above mag 1.5) in the past year and Christ Church just had a 5.8 magnitude earthquake a few days ago, on February 14. That is a little unnerving.
There is a blog by KiwiDutch with some more good photos of the Foxton Murals and other travels as well.
The Town of Bulls
I had forgotten about this little town called Bulls. They have a big sign as you enter that says "Welcome to Bulls-A Town Like No Udder!"
A little Kiwi humor for you.
Volcanics
So, onward towards the volcanics!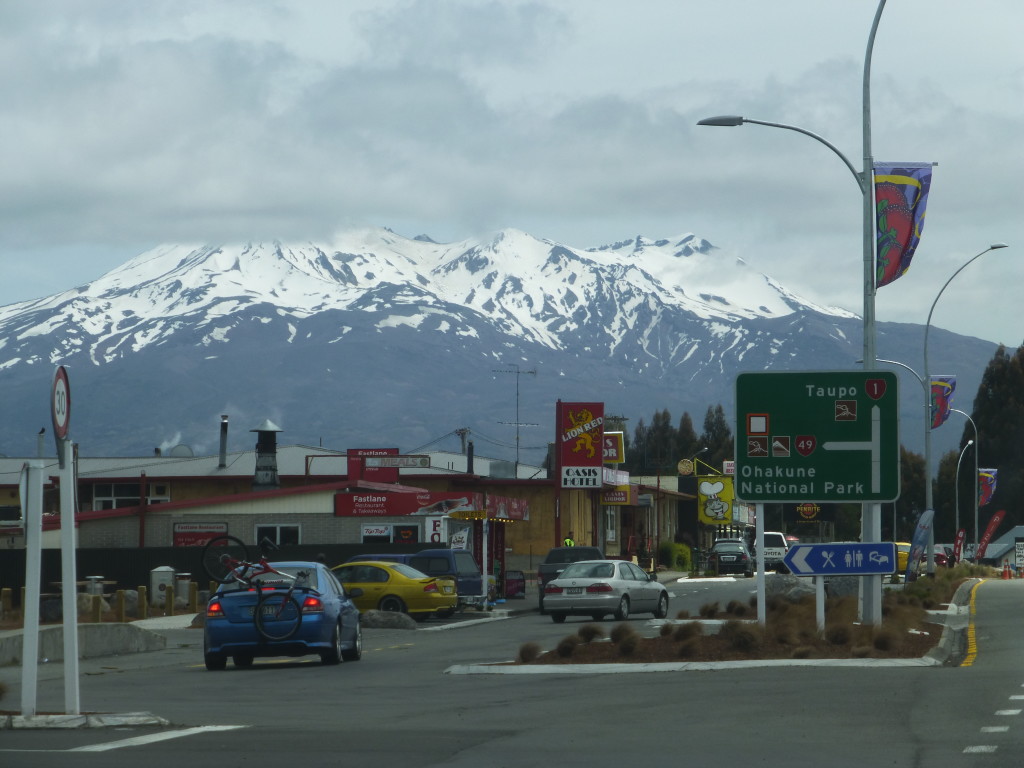 Sorry. I had to include some real world ugly roadside with the gorgeous mountain in the background. There was an I-site here and we made reservations for a hike on the Tongariro Track tomorrow, along with two nights at base camp and a shuttle back and forth from the trailheads. I am not really looking forward to this seriously exhausting  hike but I am trying to be positive about it.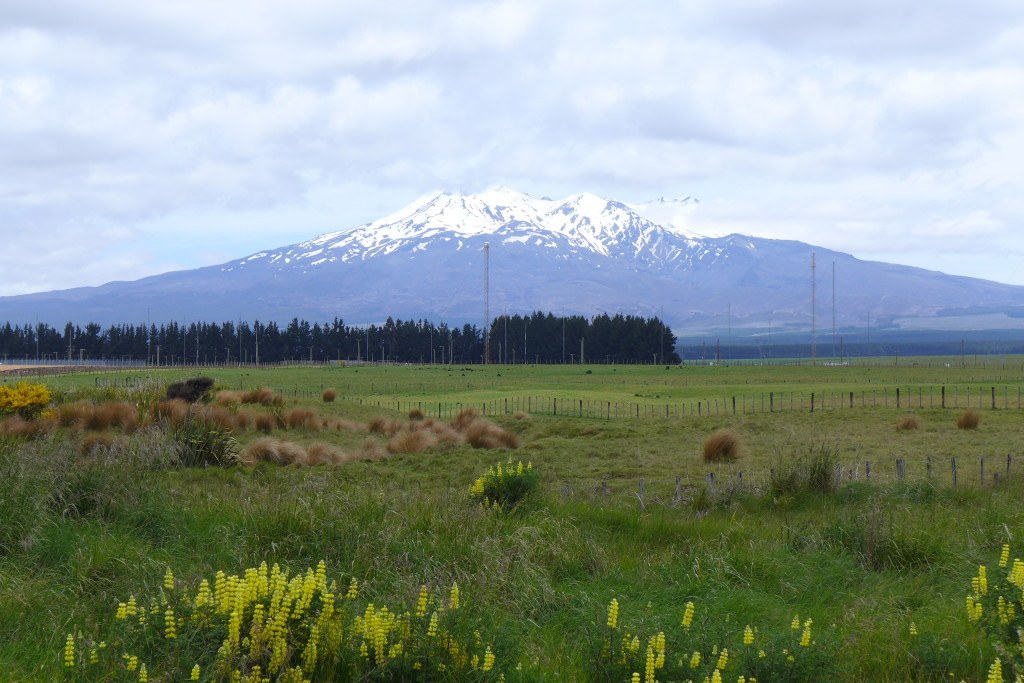 Jeff got a speeding ticket through here but we didn't find out about it until after we got home. The road was really straight and the scenery was a bit distracting.
We  made a quick stop at at  a bridge over a crevasse called Tree Trunk (video link) where  really good kayakers manage to run Waikato gorge .  We looked down at it and thought NO WAY, but obviously we are just novices and chickens besides. Oh, well.
Tokeanu Hot Springs
We went on up the road and stopped at our first thermal pools instead.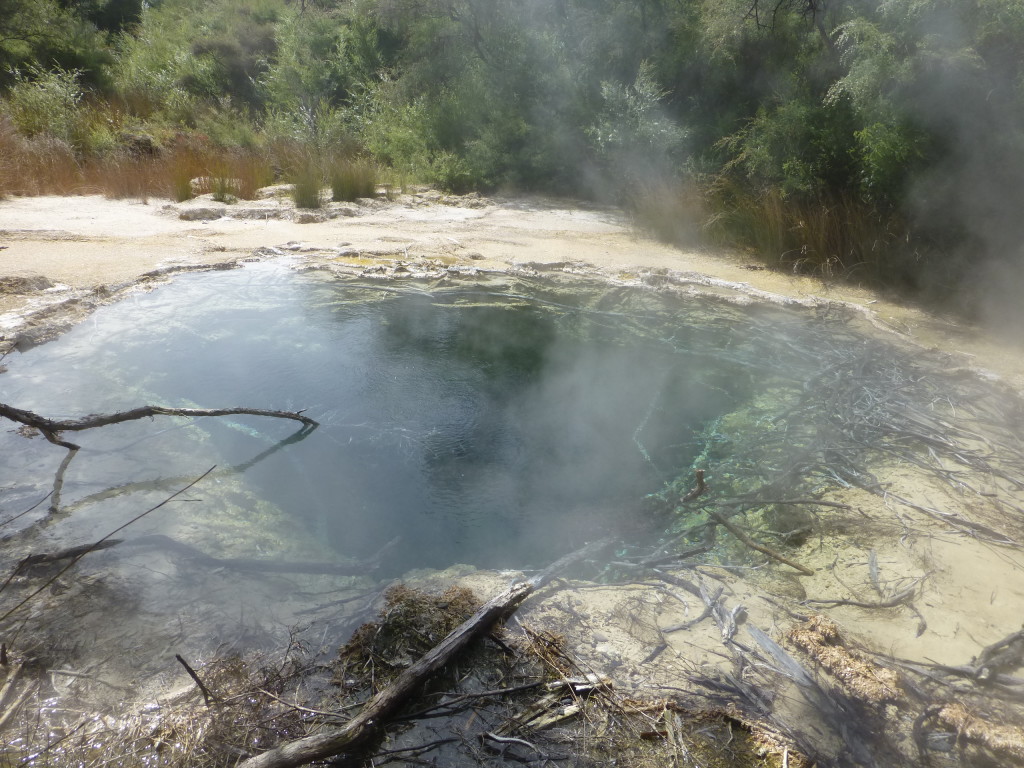 NZ frenzy says you can get into some diverted hot pools here but they look totally uninviting- dirty cement bath tubs with hardly any water in them-that you have to sneak onto private property to get to.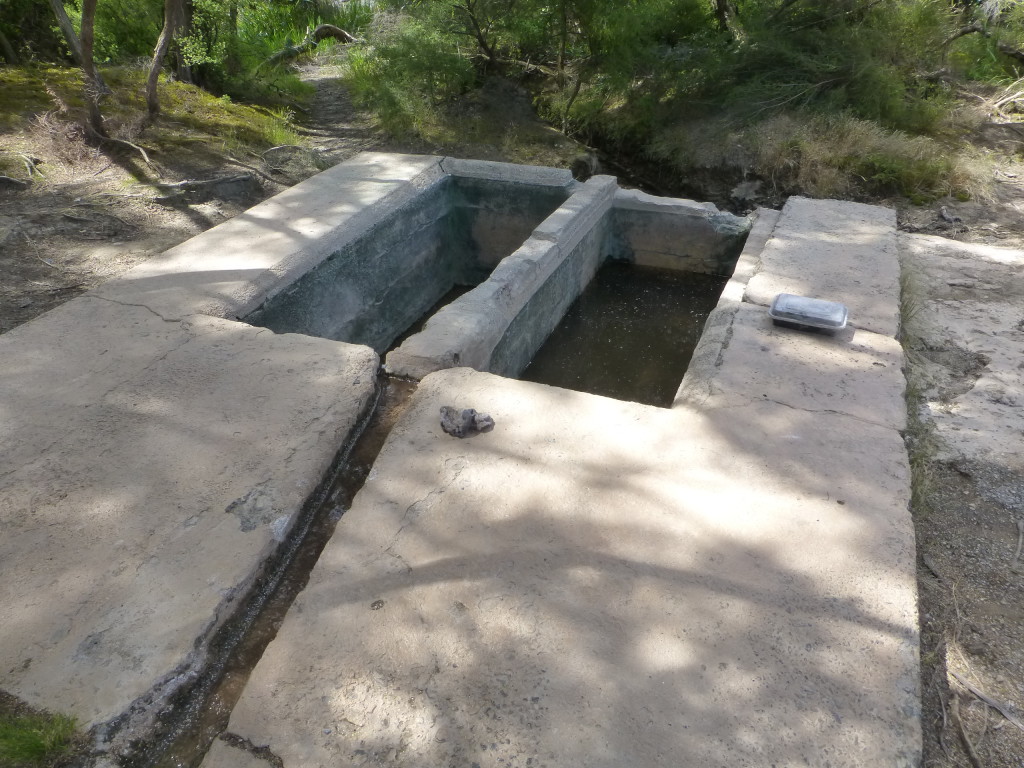 So we did the walk path around, checked out all the bubbling mud pots and hot springs, and then went inside the building there and rented a really nice (private, clean, and open to the sky above) hot pool  for 20 minutes. It was heaven and more than 20 minutes would have cooked us to mush. You don't get pictures of this…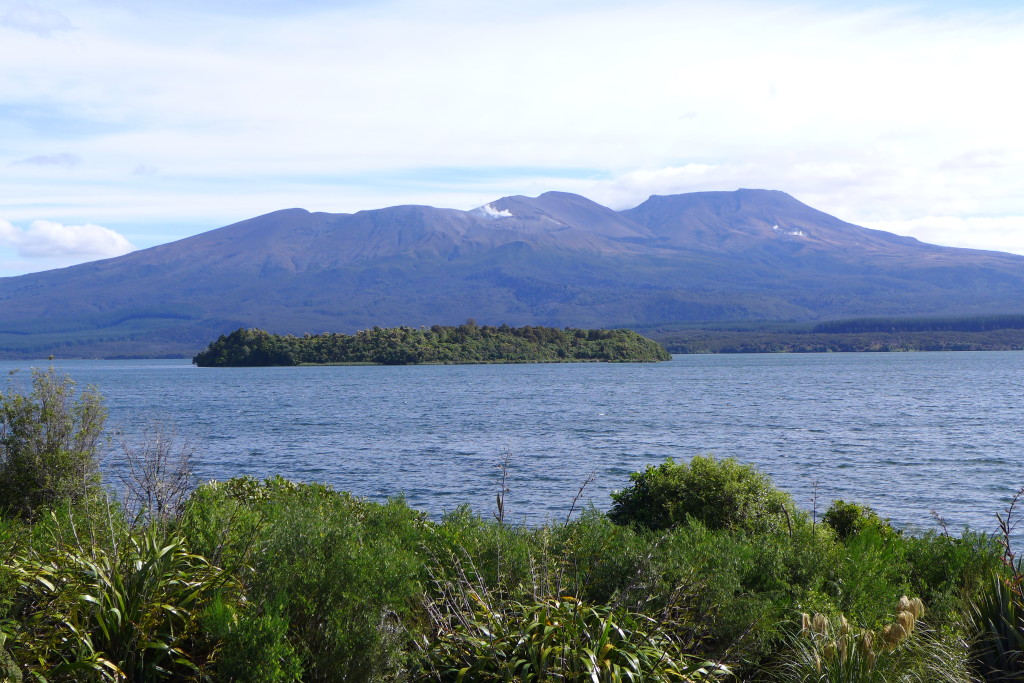 There were two Maori historical sites we visited. One was Opotaka village/ campsite and the other was a battlefield where they first used firearms to kill each other. The island in the lake is a sacred site and the mountain in the background is where we will be hiking up to the volcano tomorrow.
There were some friendly ducks and pretty flowers at the Maori site.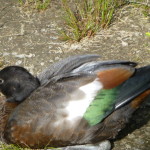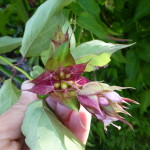 We are staying near Lake Taupo and there are black swans and small lava rocks floating on the edges. Pocket size and not heavy. Steam vents are visible on the hills all around the lake.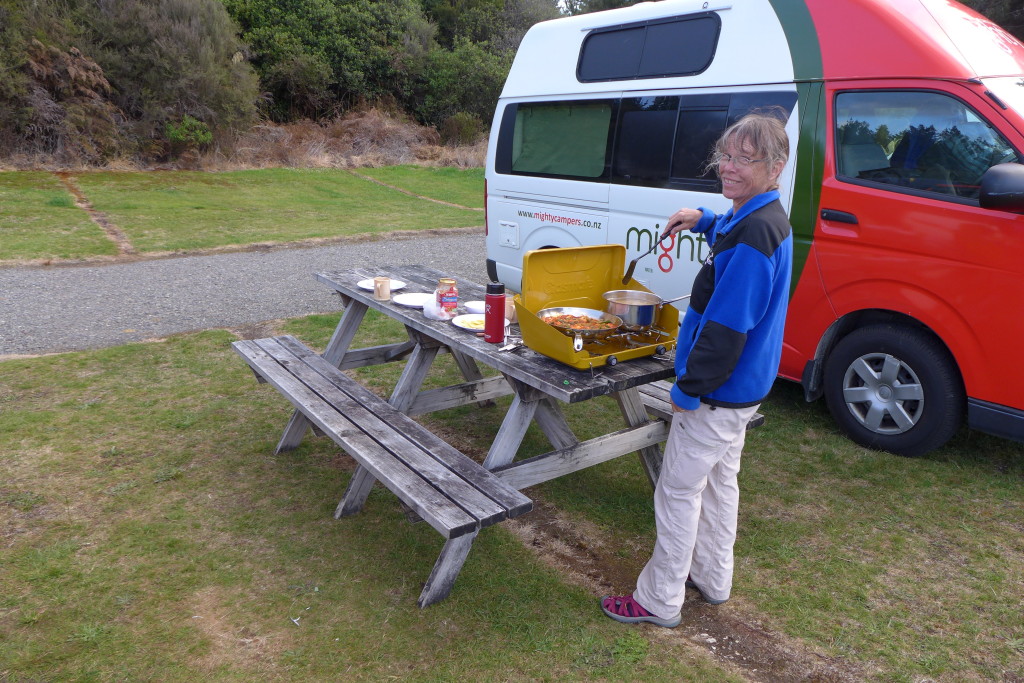 Tomorrow morning, bright and early, we have to be fed, packed and ready for the shuttle bus. The camp kitchen is packed, so I am cooking on the Coleman stove tonight. Our friendly German neighbors  are  also going on the Tongariro  hike and we all turn in early.
Wendy Lee- Writing at Edgewise Woods Gardens and Crtitters