Lake Wanaka to the Glaciers and Beyond- Day 12
After emerging from the long road to Rob Roy we drove down the entire length of Lake Wanaka, which got less and less inhabited, and stopped at Boundary Creek for this late afternoon view.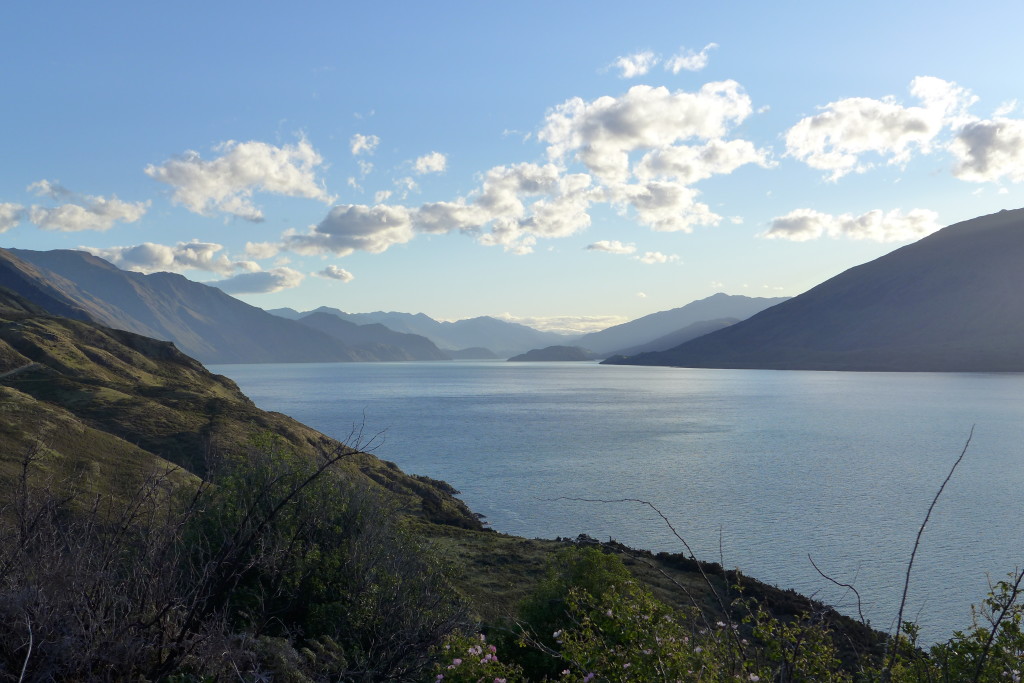 We were traveling up towards the Haast Pass, following the river valley, and  pulled into the Makaroa Camp as night fell. There were a fair amount of hikers but none of them seemed very friendly.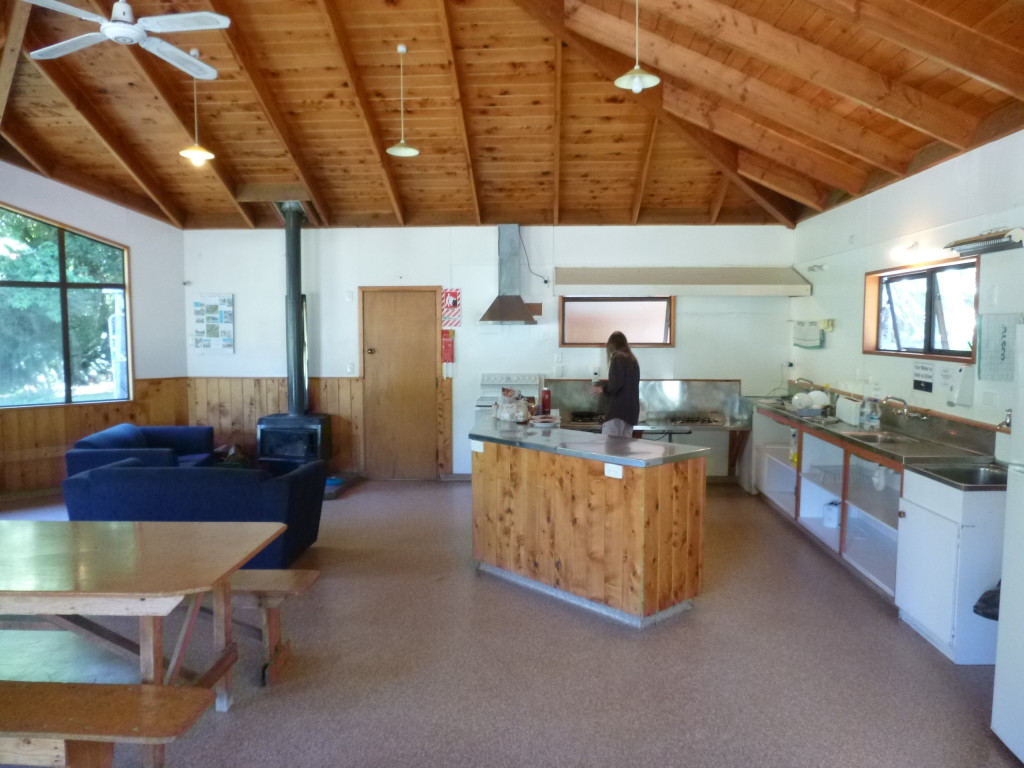 The kitchen/ dining building was a  great space  and the showers were appreciated. I cooked up some Ramen noodles with fresh veggies thrown in, had a glass of wine, and went to bed.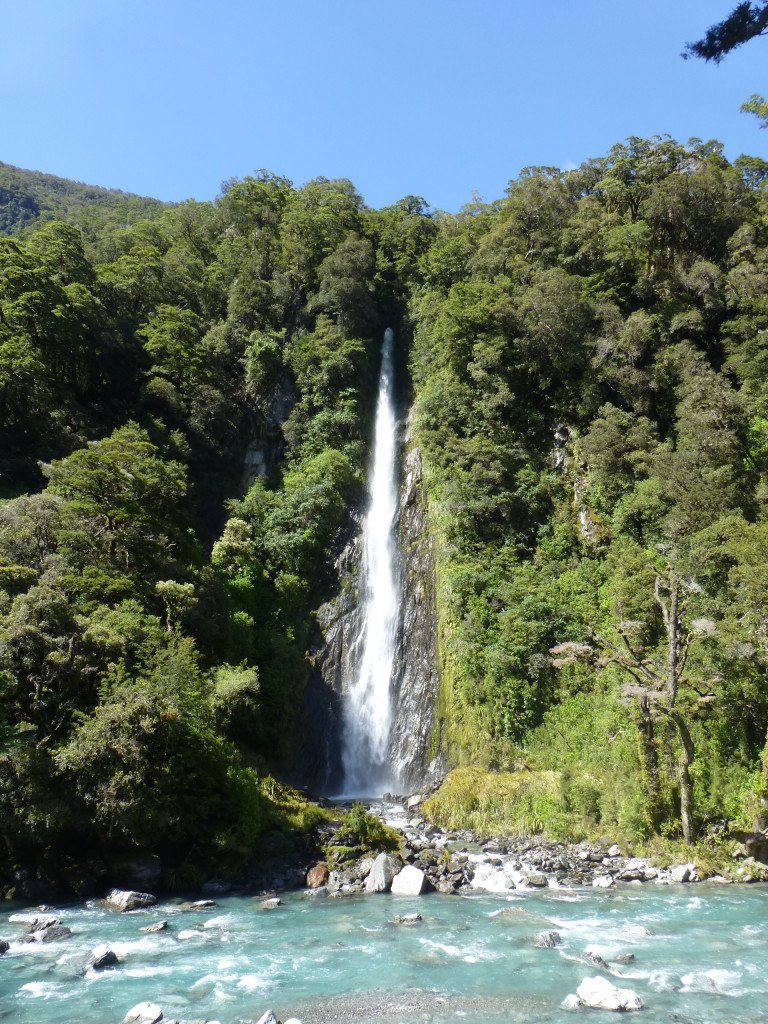 In the morning we packed up and started up the valley to the Haast Pass.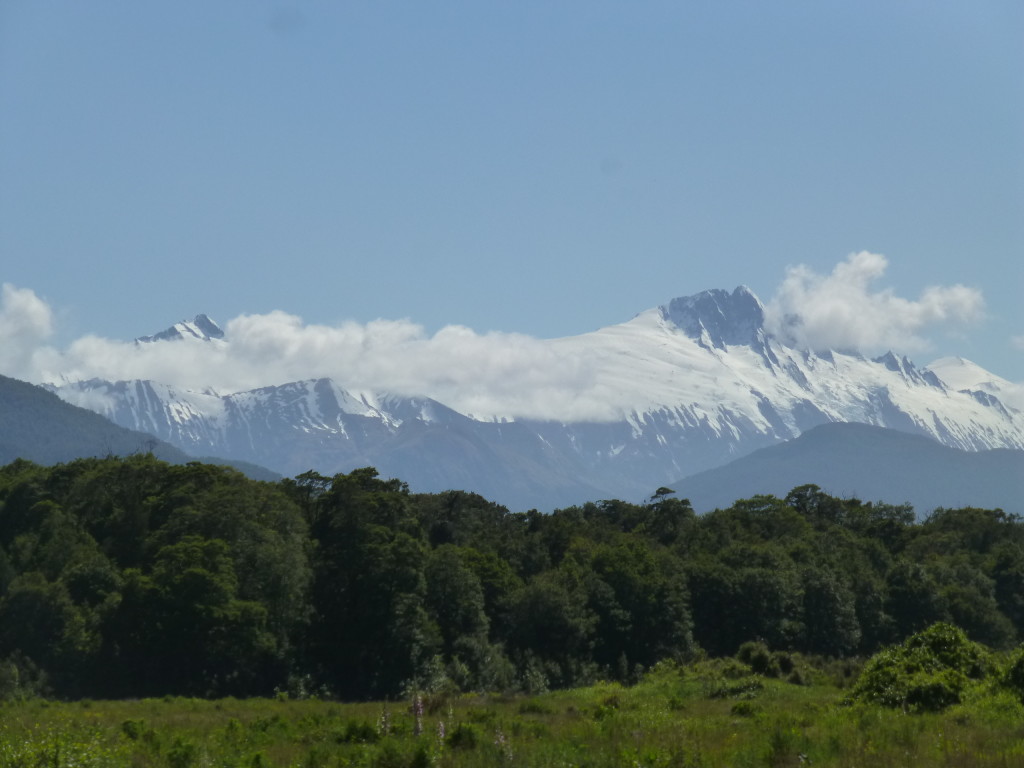 The clouds hugging the peaks looked cold but it was nice and warm in the valley.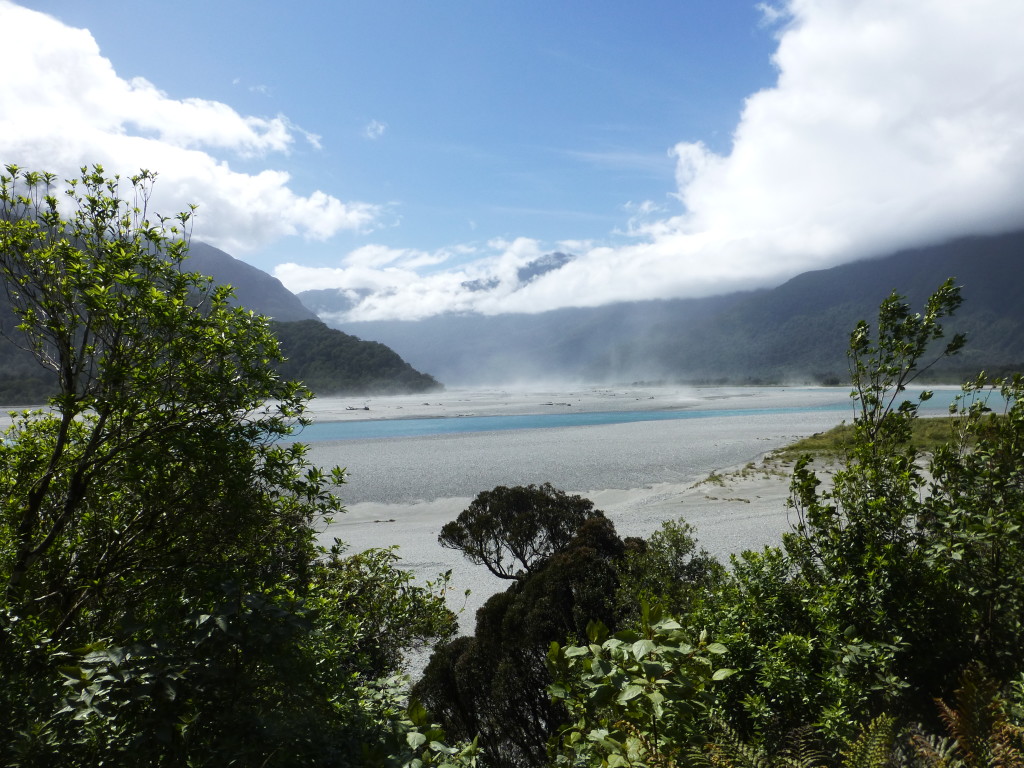 Melting Glaciers and snow pack from the mountains up ahead make for some seriously cold water. This valley floods in a big thaw but we are past that time now.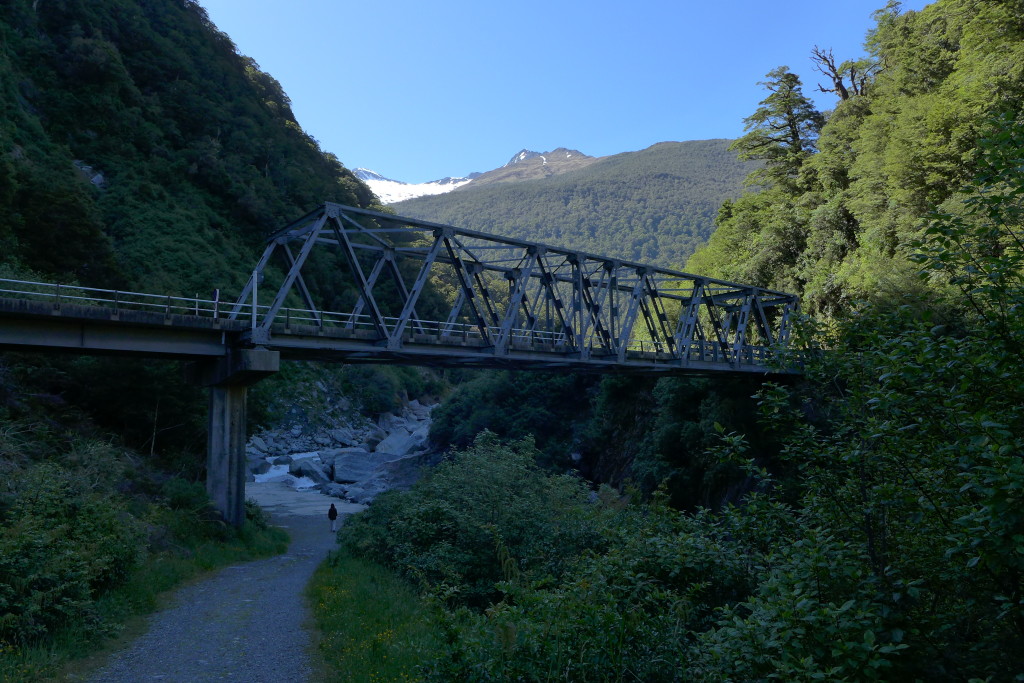 We climbed the last peak and everything started to flatten out, the types of trees changed and we crossed the Haast River one last time.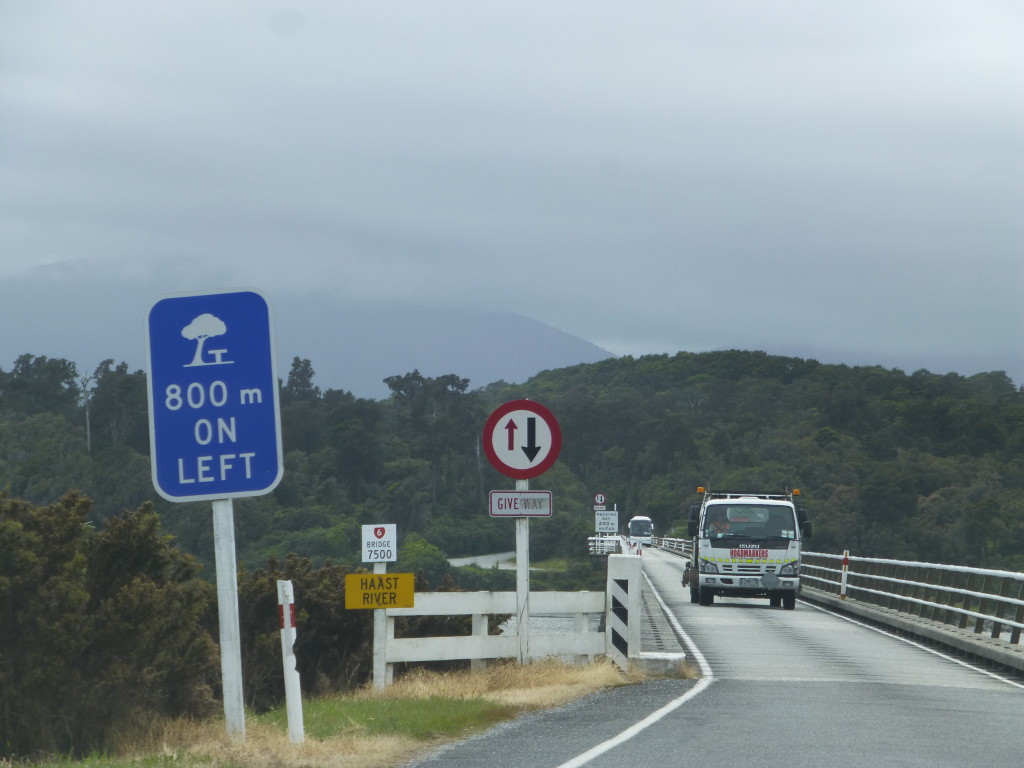 We appreciated the clear  signage on all the single lane bridges. This one means those on the left heading towards the coast must stop (small red arrow) and yield to those coming at them Big Black Arrow). This was a rare bridge with a lay by in the middle in case you got caught out there.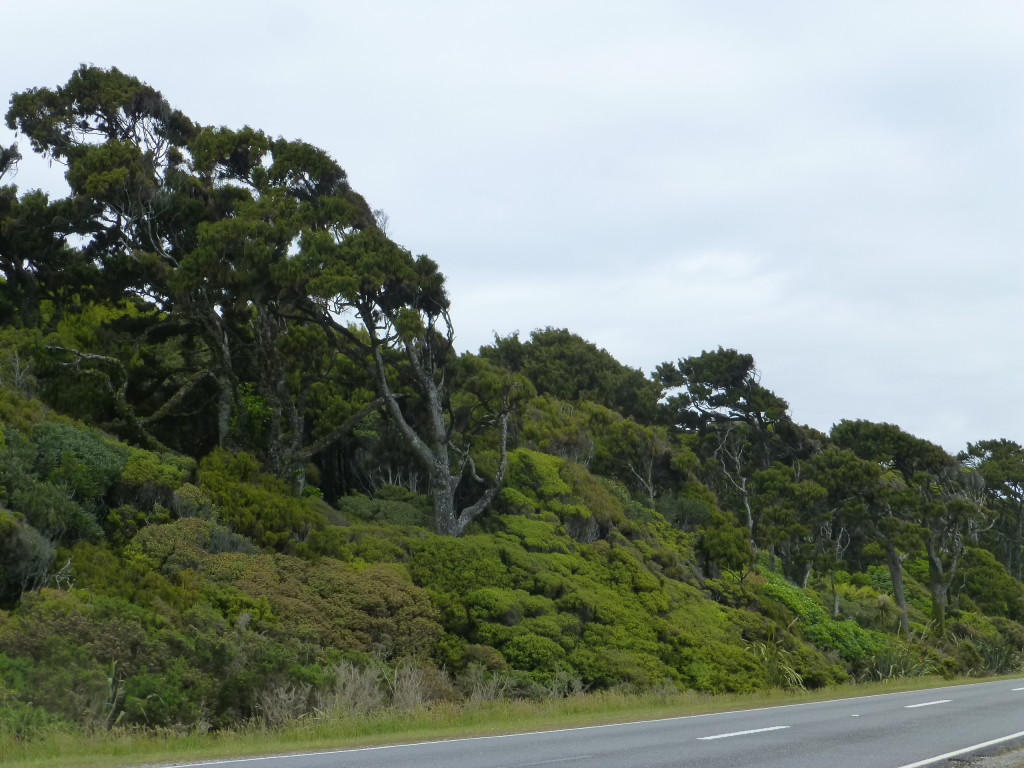 The West coast loomed up suddenly and the trees changed again, into salt tolerant layers that leaned away from the wind.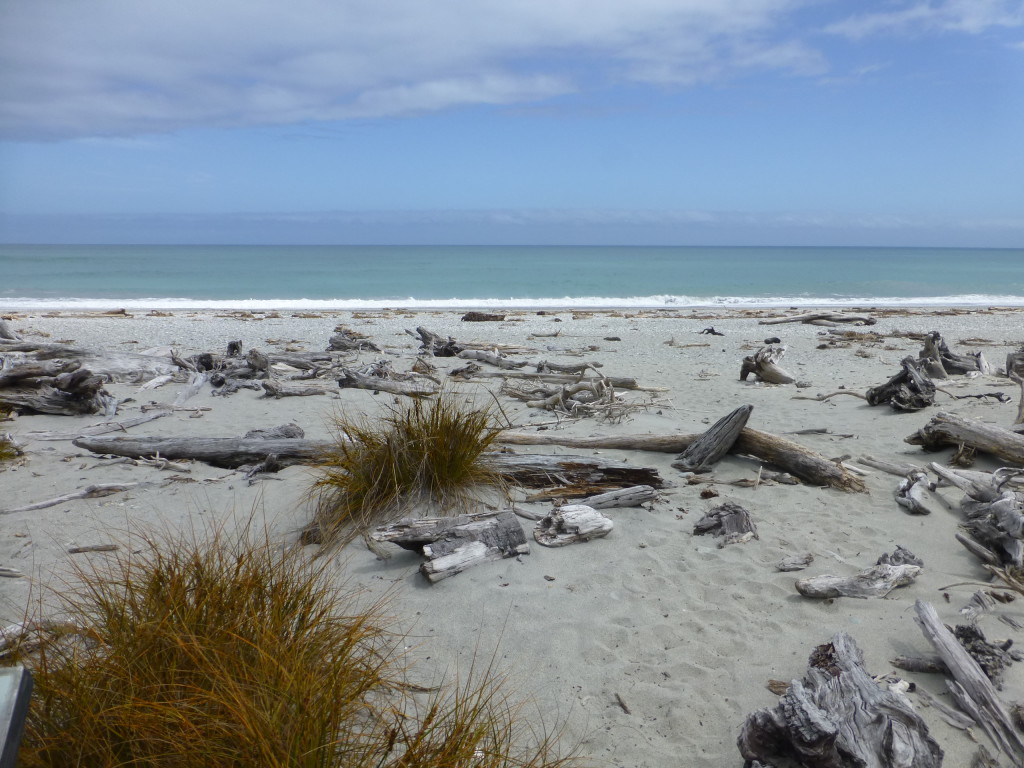 The sky cleared off as we followed a walking trail through the dunes and reached a white sandy beach covered in driftwood.
The sand turned to pebbles as we walked North towards the point.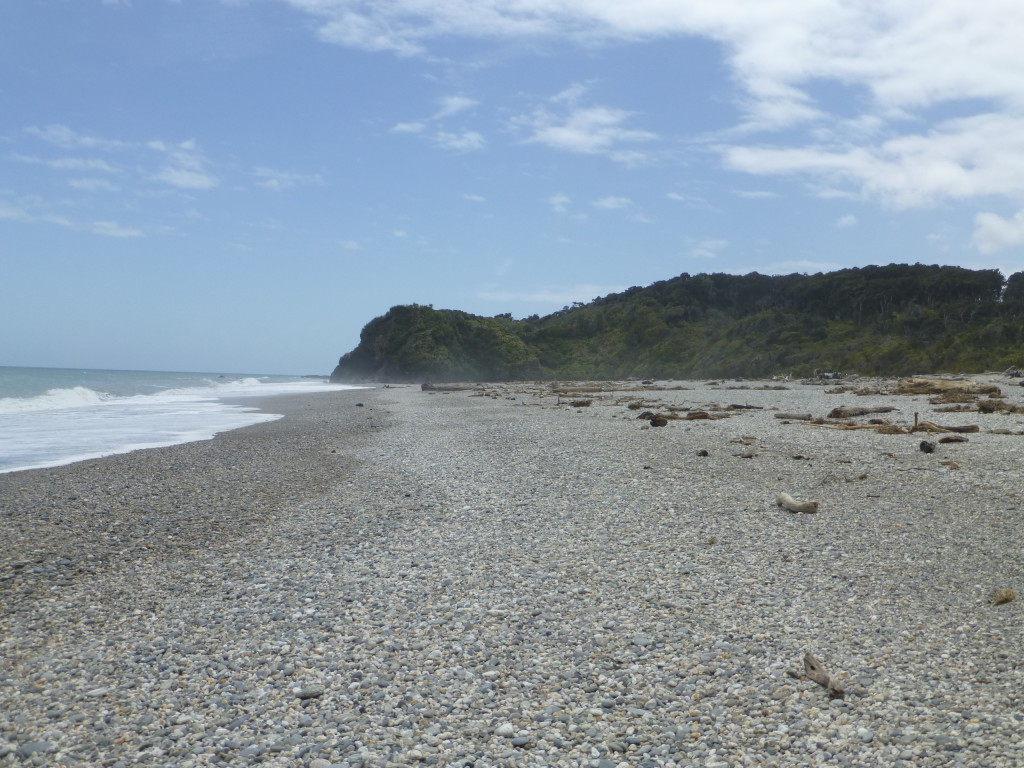 This beach was formed by runoff from the glaciers as they retreated into the mountains behind here. The stones on the beach have many different origins and have been worn smooth by first glacial grind and then ocean wear.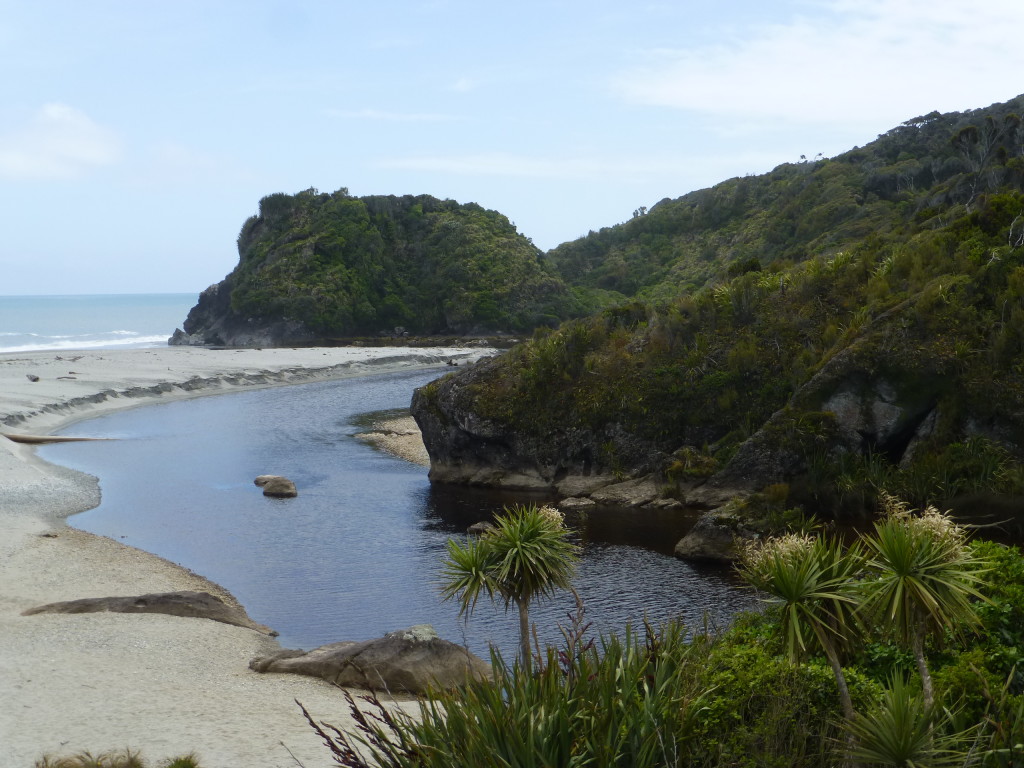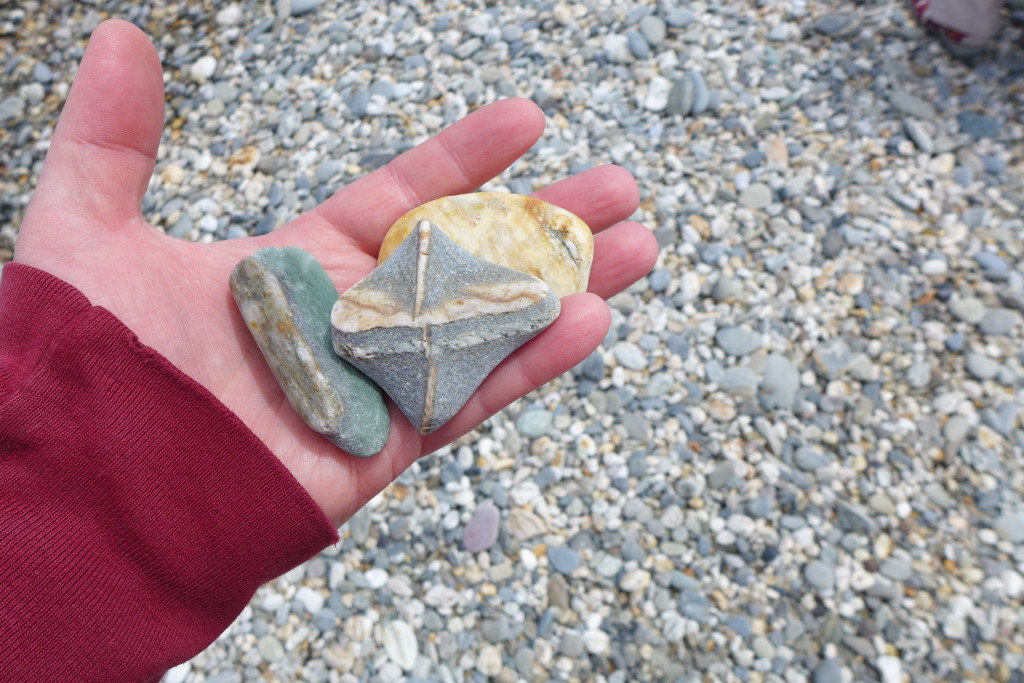 This whole area is now a Marine Preserve and a small kiosk at the car park tells of finding bits of wreckage of an old wooden sailing ship, the Schomberg, lodged in this creek.  The ship went down in 1855 just shy of Melbourne Australia, and parts of it floated 2000 km east, across the Tasman sea, to land here.
Next stop is at Fox Glacier, about 2 hours North.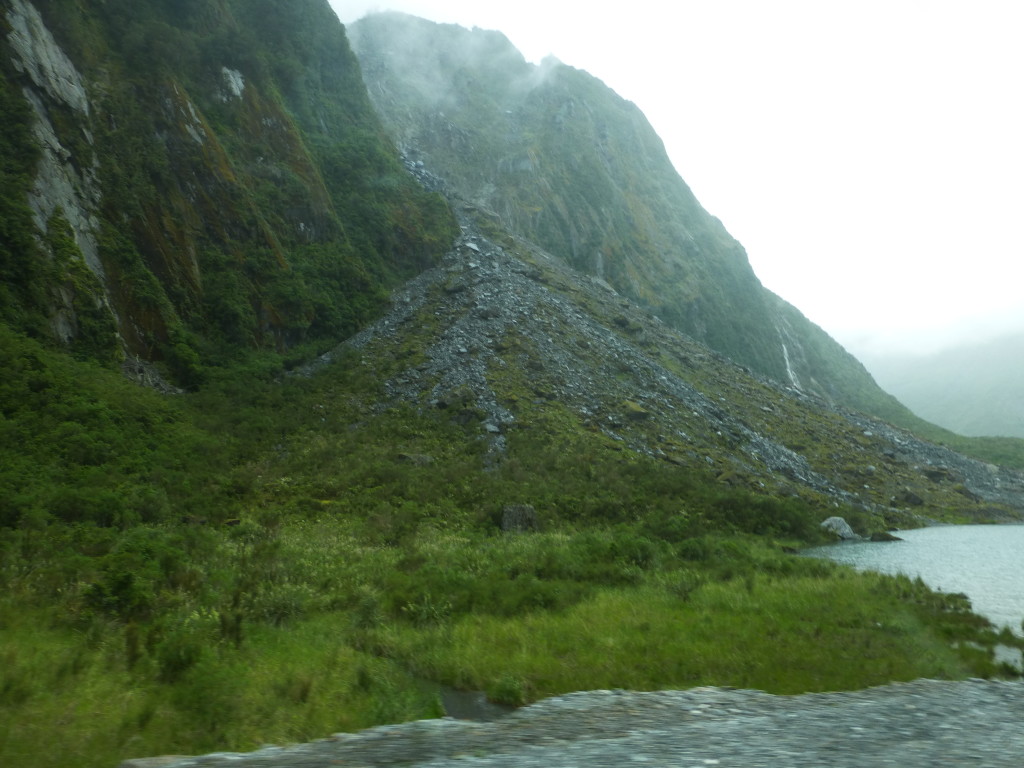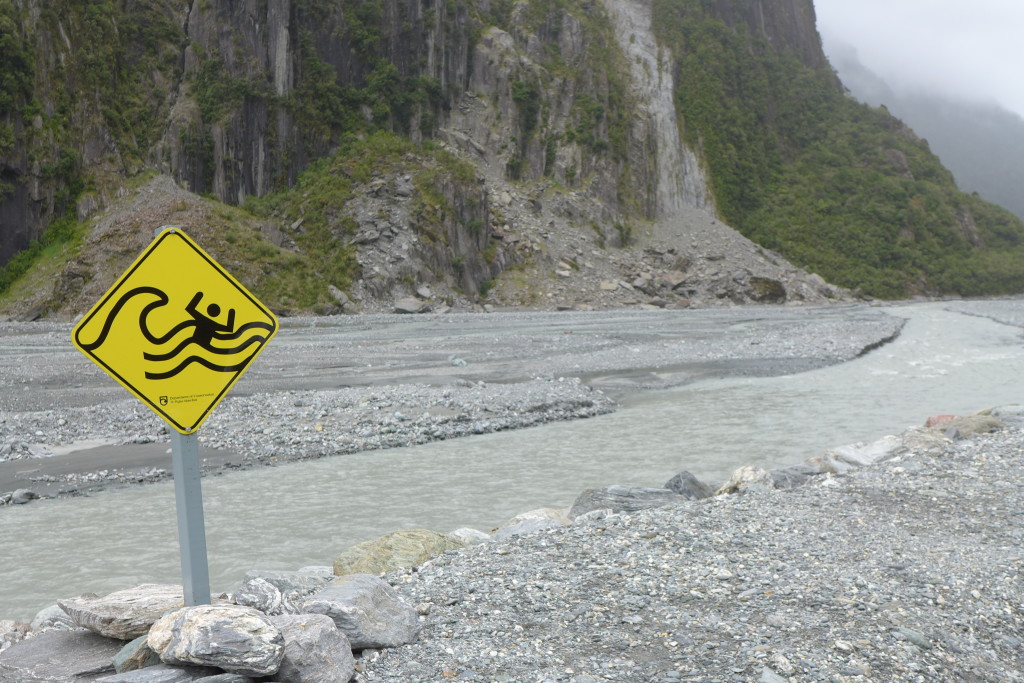 You don't need to be able to read to know what this means. Glacial runoff can be quite unpredictable.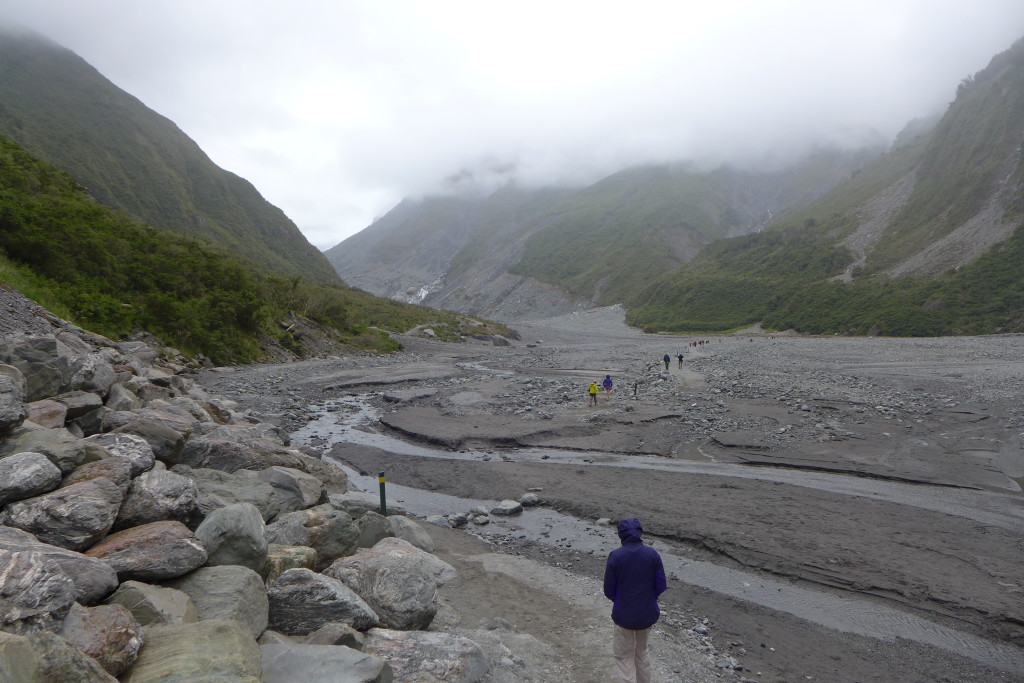 The glacier has retreated so far that it is a long walk up to it theses days.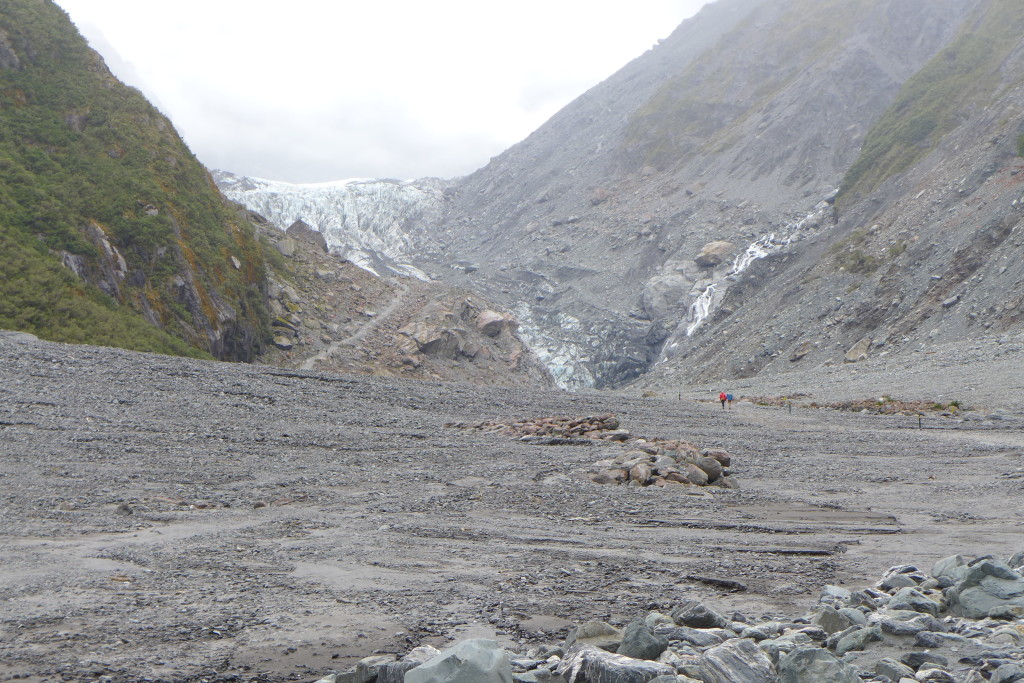 The glacier creates its' own weather and there is a cold head wind blowing off it as we walk in. The ground is all gravel wash.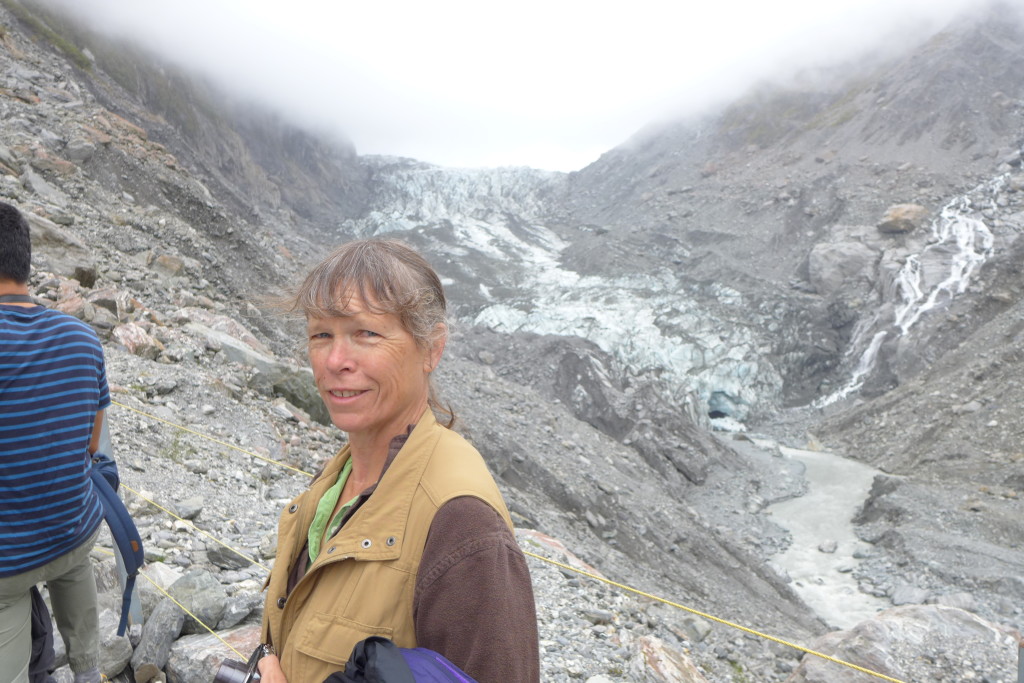 This is as far as you are allowed to go without a trained guide and special equipment. People die trying to get too close. Look at the tiny mouth of the drainage in the distance, zoomed in below. People actually try to get in there even though it is constantly collapsing.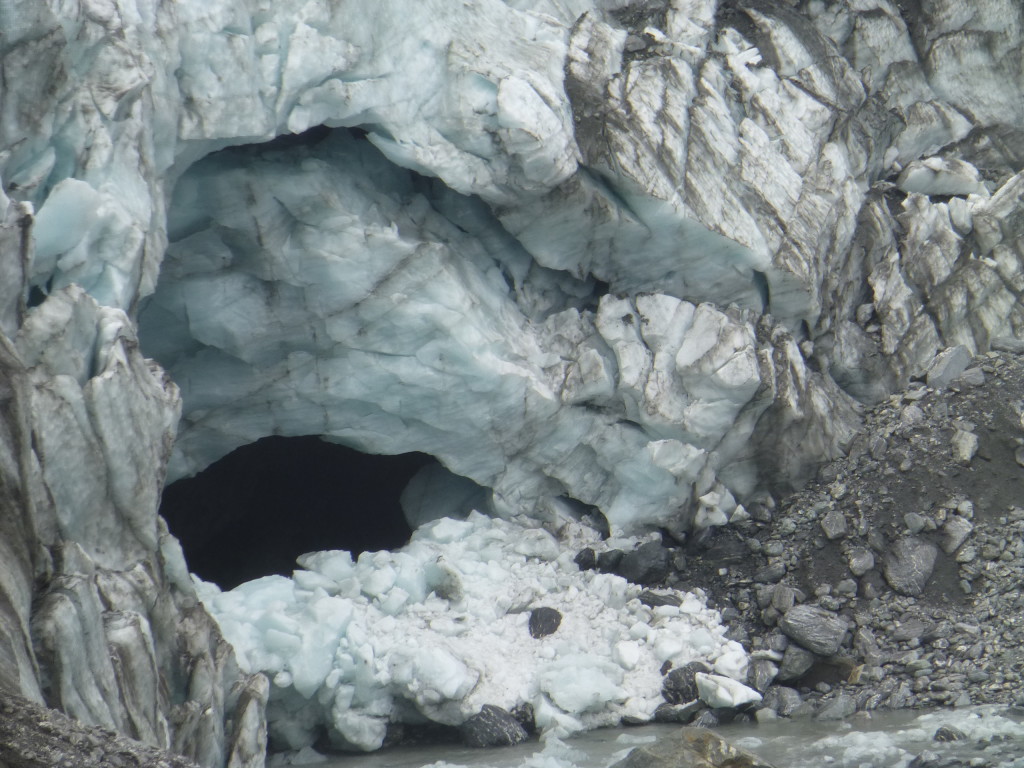 Even Jeff was not tempted to do that.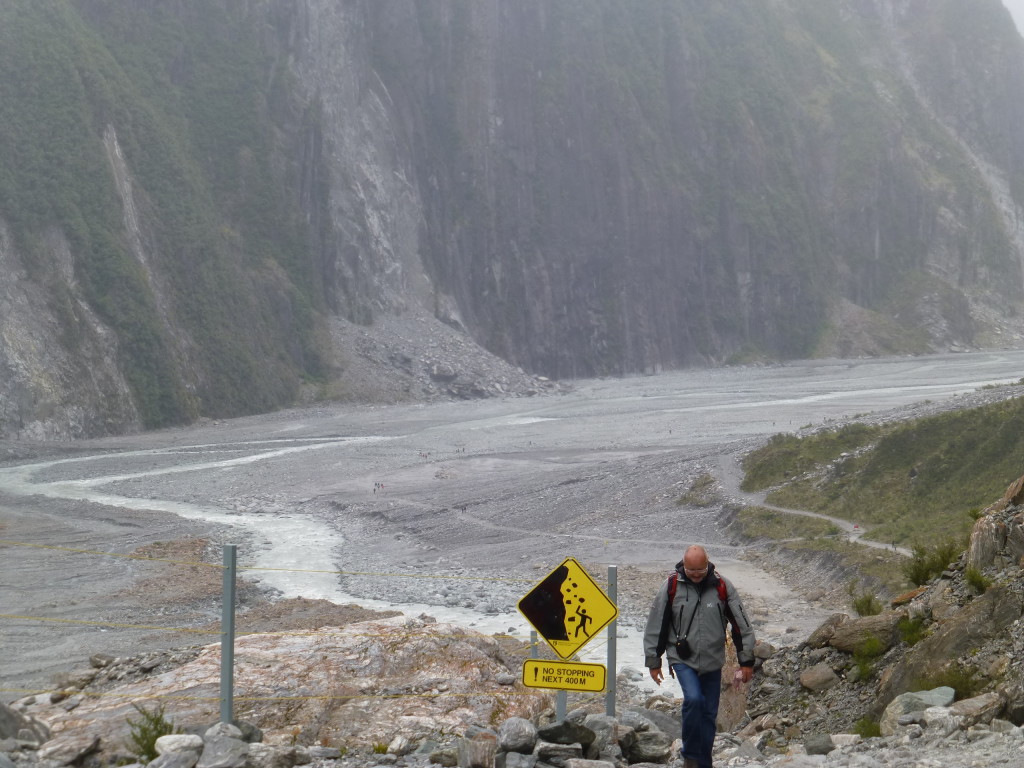 By the time you decide to visit here, the glacier may be totally gone. The only way to see what is left these days is by helicopter. They fly by every 15 minutes and are  loud and obnoxious.  You might want to arrive before they start flying for the day, or be in the helicopter yourself.
The next Stop is at Franz Joseph Glacier.
We are greeted by a sign.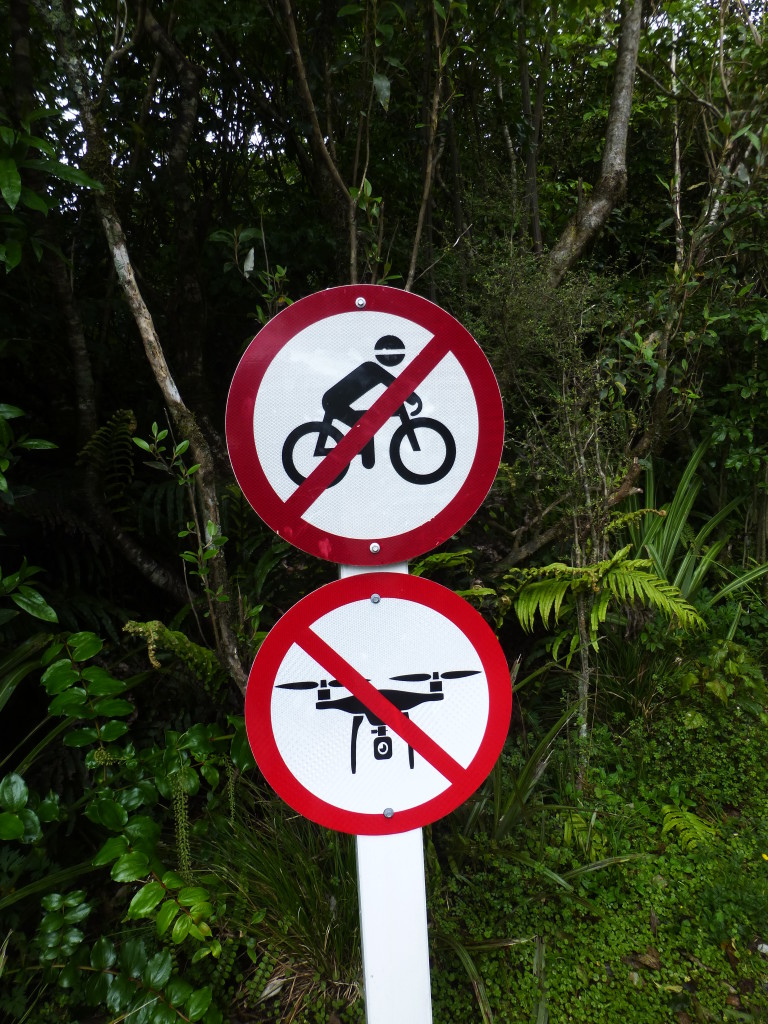 After walking down the trail to where it crosses the river, we get another sign.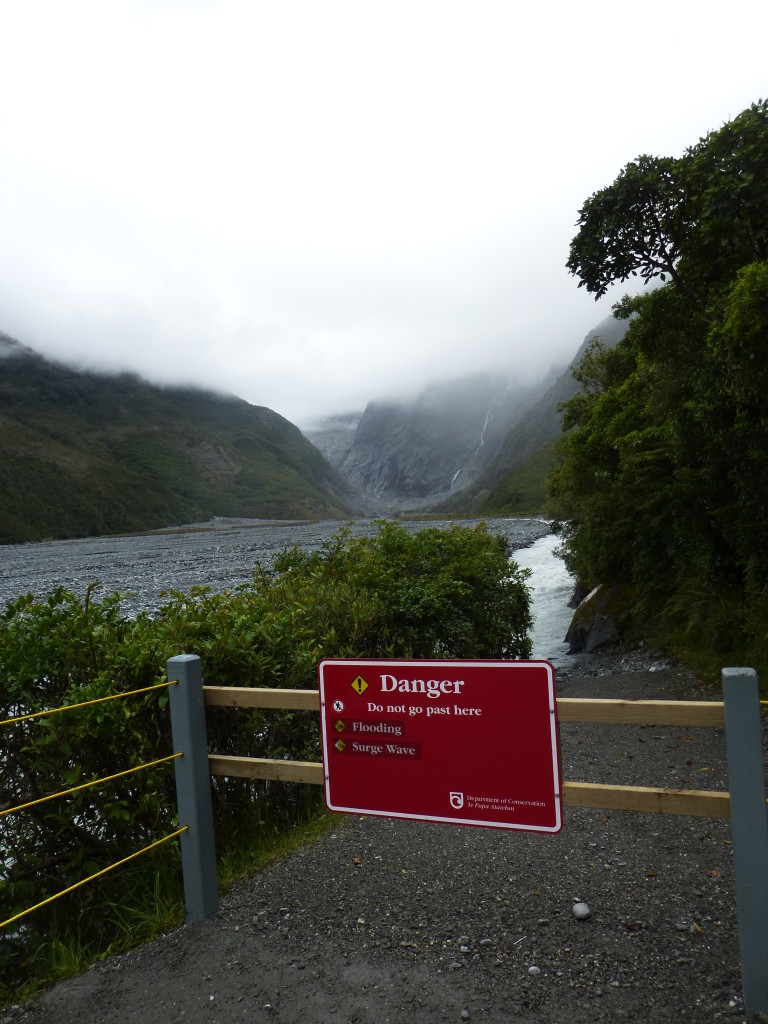 So much for that. We drive back out to the coast, go over yet another single lane bridge…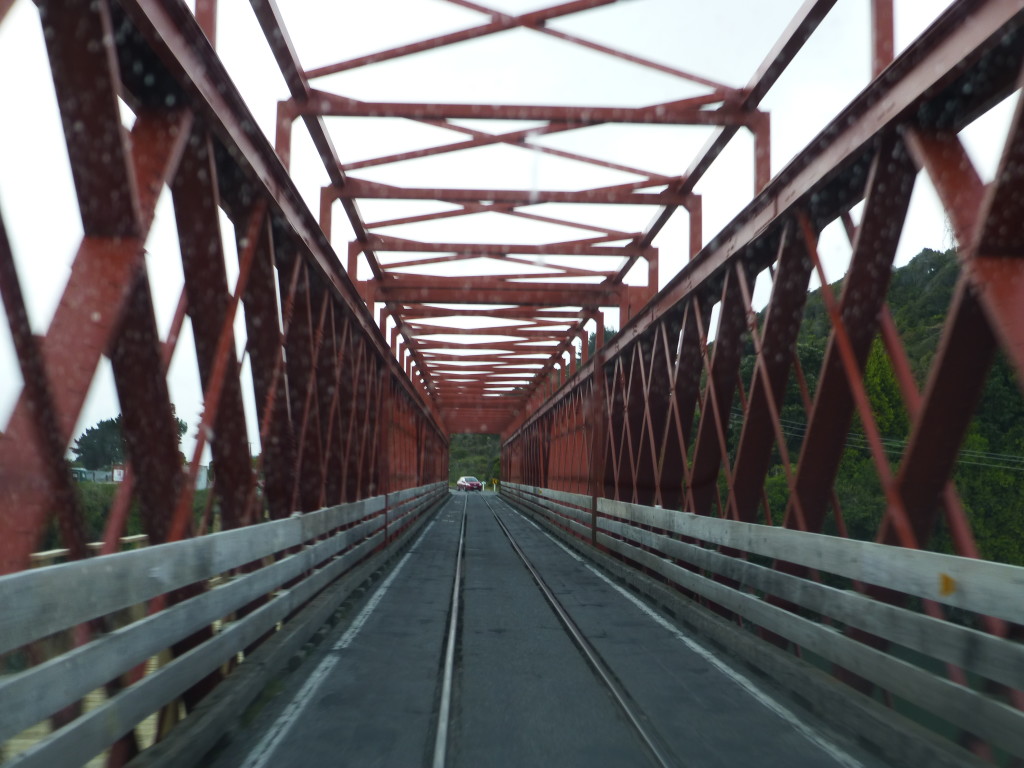 …and arrive at Rapahoe Bay Holiday Park , a private oasis set up in an old one room schoolhouse right on the beach. It is run by a woman who lives in a tiny building connected to the camp who obviously loves to garden. She has a handyman on site as well. There is nothing fancy or upscale about the place but it is  welcoming , restful and full of charm.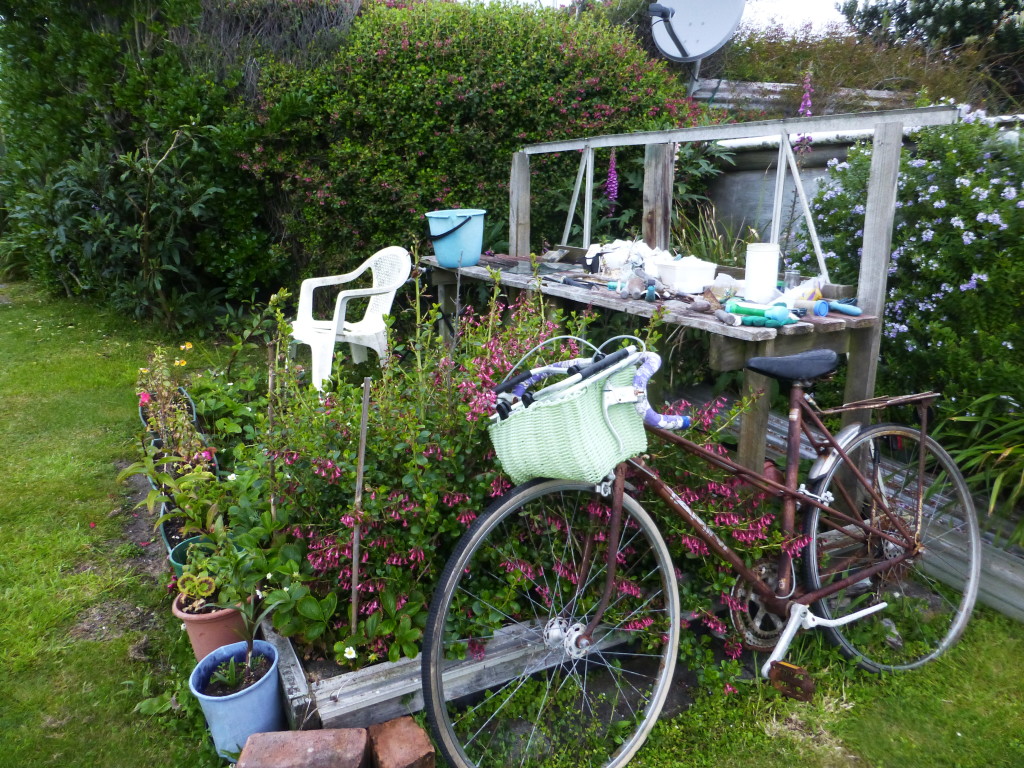 Our site was tucked away in a corner and surrounded by tall green hedges with a wild sort of path through the shrubs onto the beach.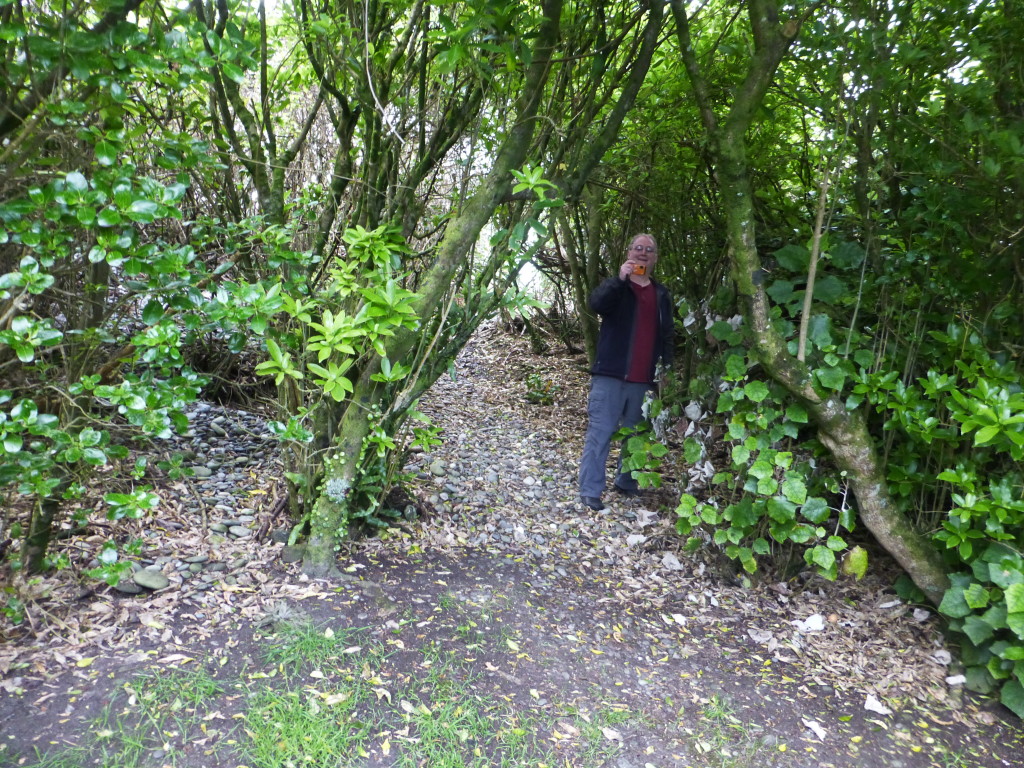 It was only a few steps through the brush to reach the pebble beach.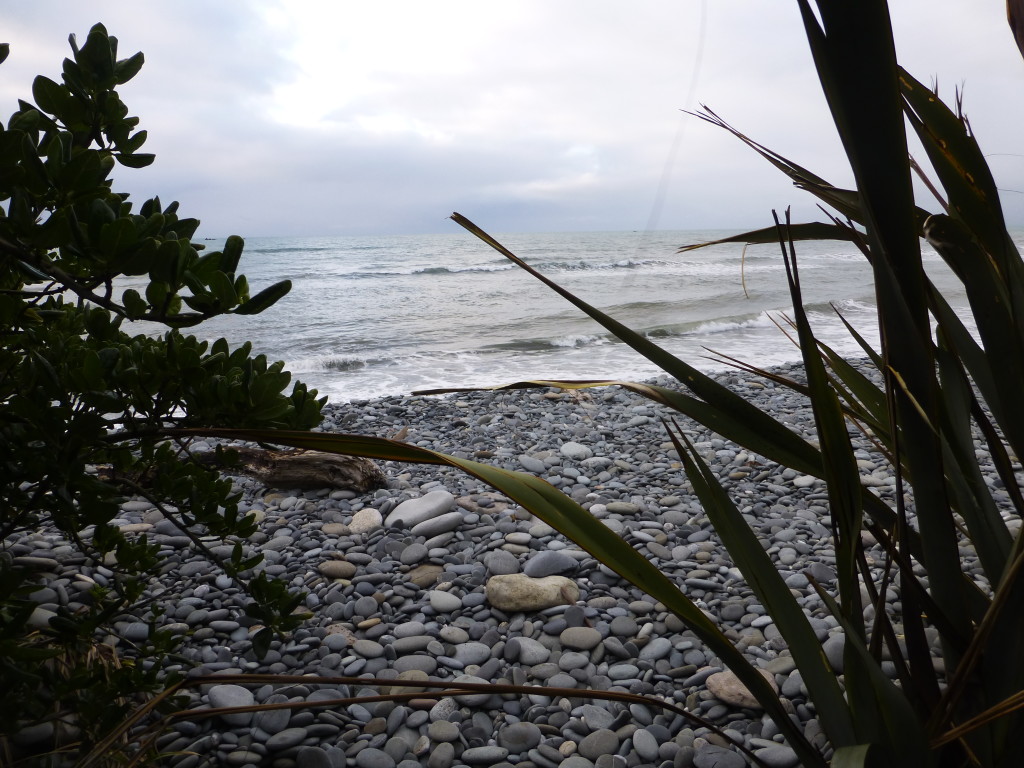 The entire beach is covered in super smooth grey rocks, which makes me think that the sea is really rough here and it might not be such a great place to swim, if it was warm enough, which it is not.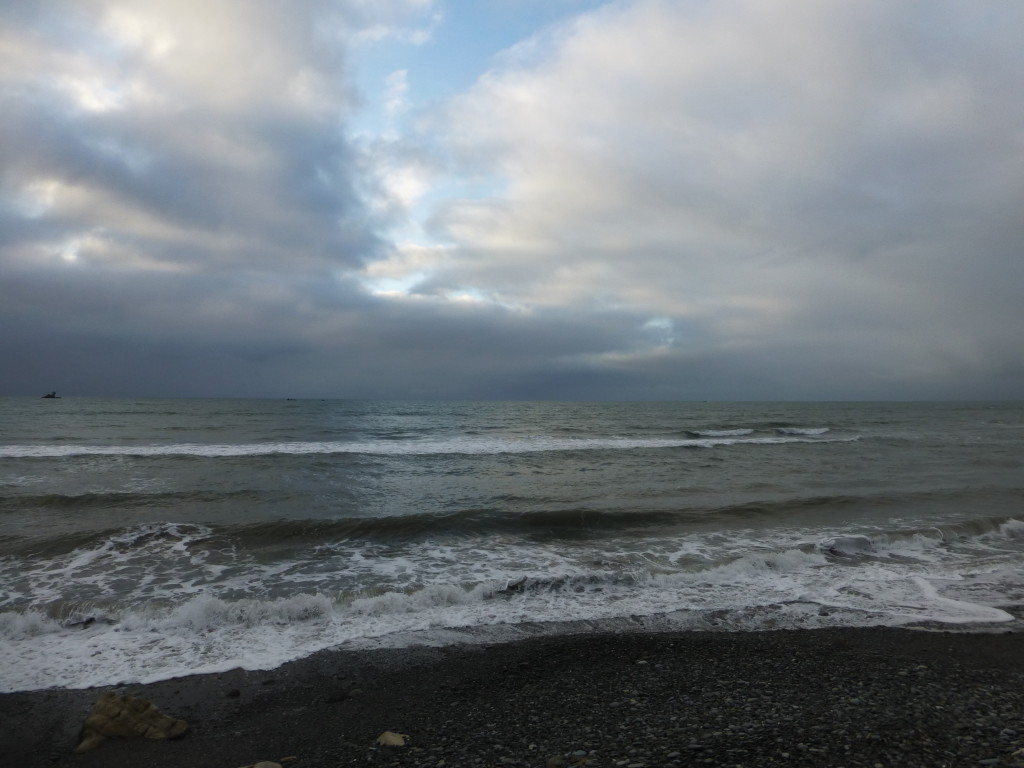 The school house has a well outfitted kitchen, easily set up to share pots and pans and all kinds of hanging utensils. We join the other folks in there and get to talking as we cook. One woman is by herself and this is the first time she has ever gone "camping" or even away by herself. She is hesitant to join in the group conversation but warms up after awhile.
One woman of a couple has stories to tell about being the 111 operator in Christ Church during the big earthquake a few years ago. She tells us that if we knew how limited the emergency services on the South Island were we would not want to come. She had to pull help from anybody she could think of to get people help. If she knew somebody with a good tractor or a chainsaw or a winch, she lined them up. Friends with 4 wheel drives became ambulances, people who knew somebody with a helicopter got called in. She ended up leaving her job because of the stress, 12 hour shifts, and low pay, and is much happier now. But she says just about everybody quit and now help gets routed through the North Island and they don't know any neighbors who can help down here.
There were nine of us at dinner, sharing tables to eat. The ex 111 operator brought out a homemade banana cake and shared it all around. We sat, drank wine and talked until way past bedtime.
The sound of ocean waves on the loose stones rocked me to sleep.
Next Post- Pancake Rocks and beyond.
-Wendy lee , writing at edgewisewoods