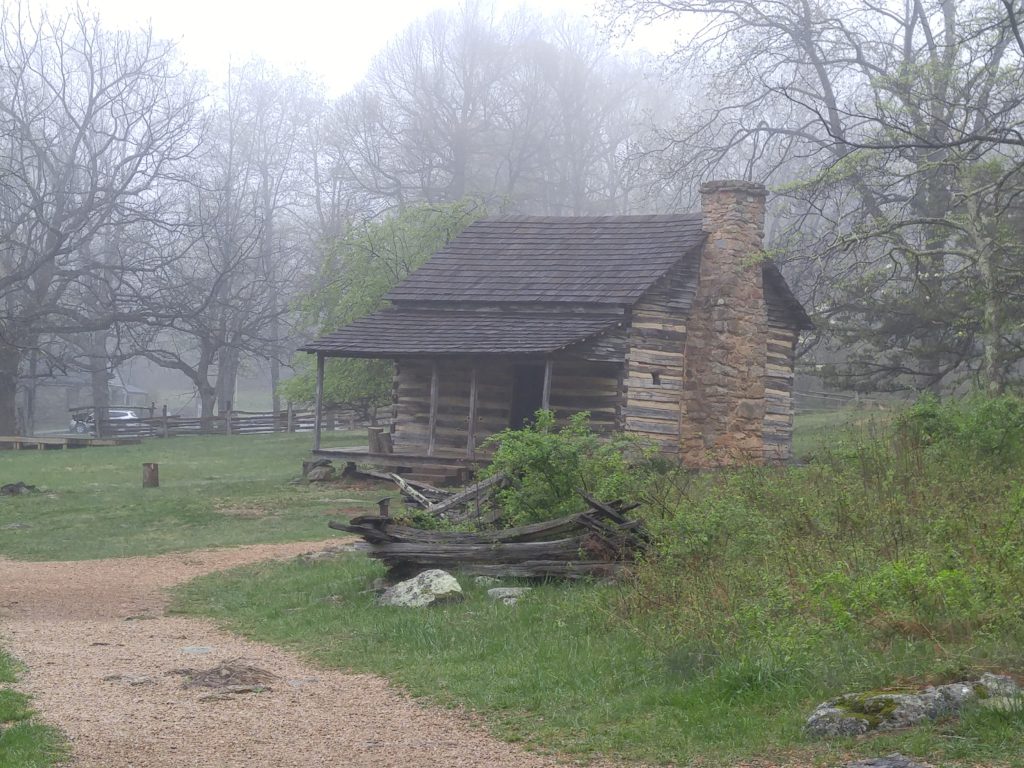 It can be hard to find time for all the springtime chores and harder yet to write about it, especially when the weather and my thoughts turn foggy and gray for days on end. I am much more productive when the sun is shining.
Wild Critters v Chickens
Our resident Mama Fox has six babies this spring, and they are more than the usual degree of hungry. She usually only takes about three chickens each spring before the babies learn how to hunt on their own, but we have lost seven hens, a duck and my rooster, who I have had for many years. He was such a good boy. The hens don't seem to miss him but I do.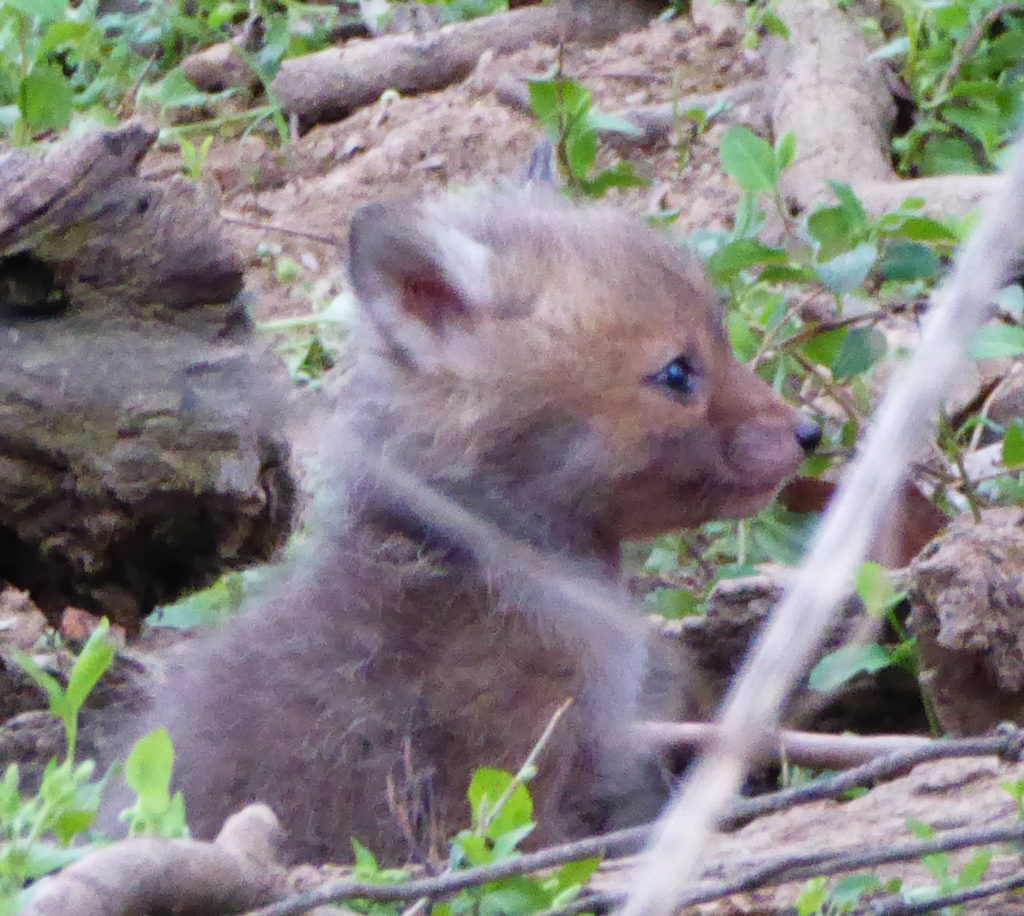 The electric fence around the chicken pasture works great as long as there is no long grass zapping it's energy away. It also helps to remember to plug it back in after clearing the grass off the bottom. The fox was able to dig under the fence because it was not plugged in. My fault. I feel so guilty when I fail to protect my flock.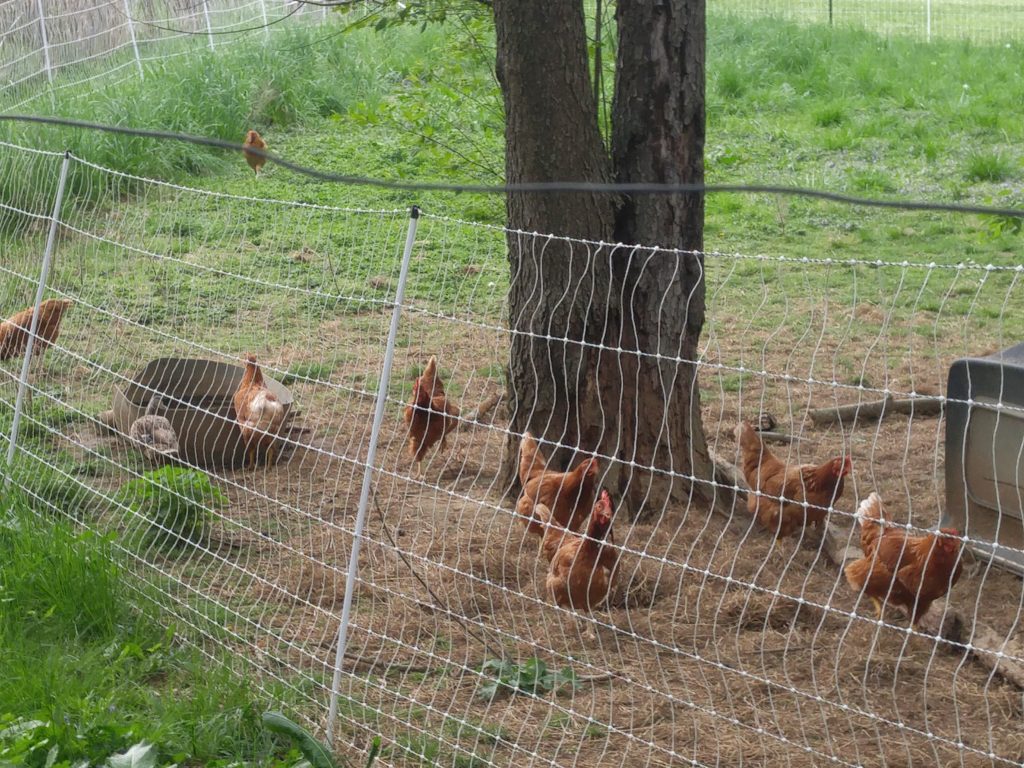 Meanwhile, I am feeding the fox kits cat food over by their den in an attempt to stave off their hunger and hopefully prevent more chicken losses. The babies roll around and tussle with each other just like puppies and are fun to watch. I just hope they learn how to eat rabbits and mice soon.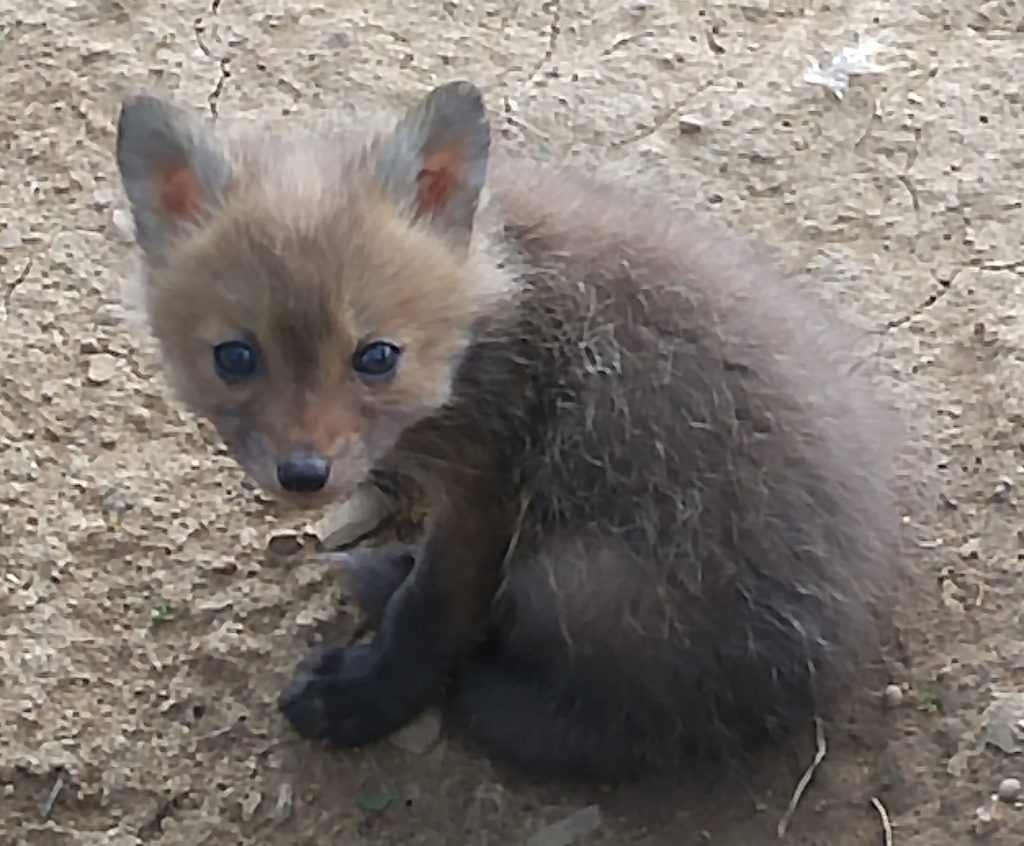 Yesterday I was finally getting around to cutting down the last dried Miscanthus grass and discovered a bird nest with five eggs in it. I had to prop the cut grass back up to protect it. The eggs were blue with brown speckles. I walked close later when I did chores and the mama was back on the nest but I did not get a good view and am not sure what kind of bird it is yet. I was glad she came back though.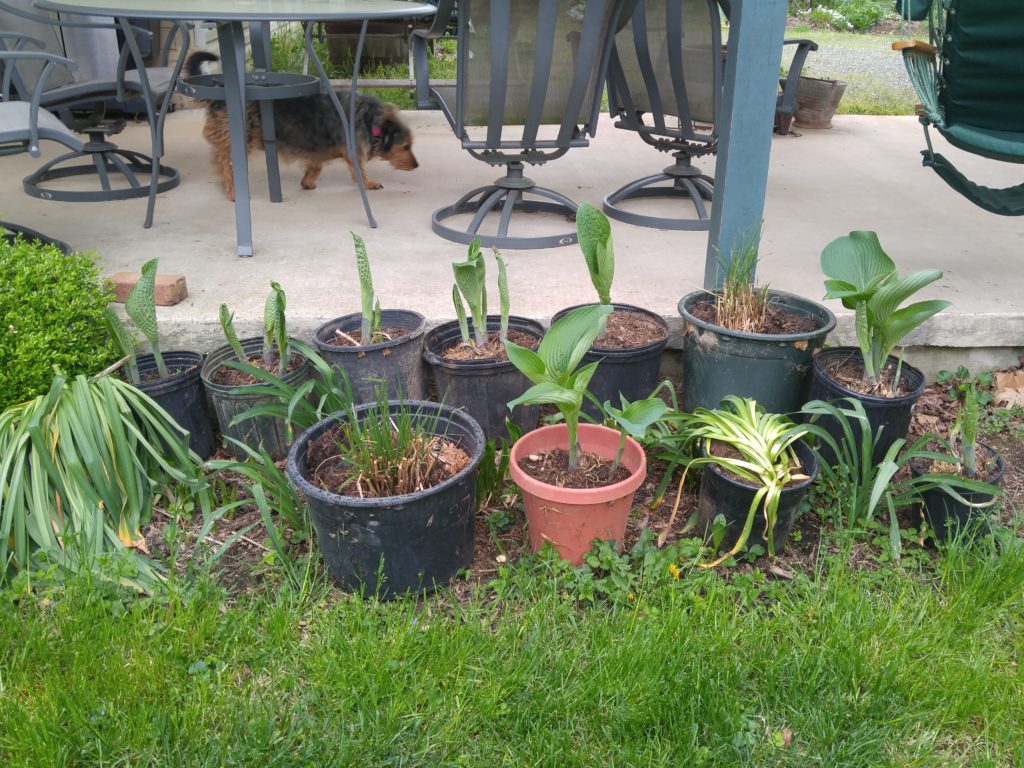 I managed to divide two of my Big Blue Hostas and the other giant Miscanthus grass recently and potted them up with compost from last years barn cleaning. Two Hostas yielded 12 extra plants which I can trade.
The Veggie Garden
The week of April 15, it was still getting down in the 30's (F) and 40's at night, but getting up in the 70's and 80's during the day. Frost was still possible, so tender plants needed the protection of the hoop house .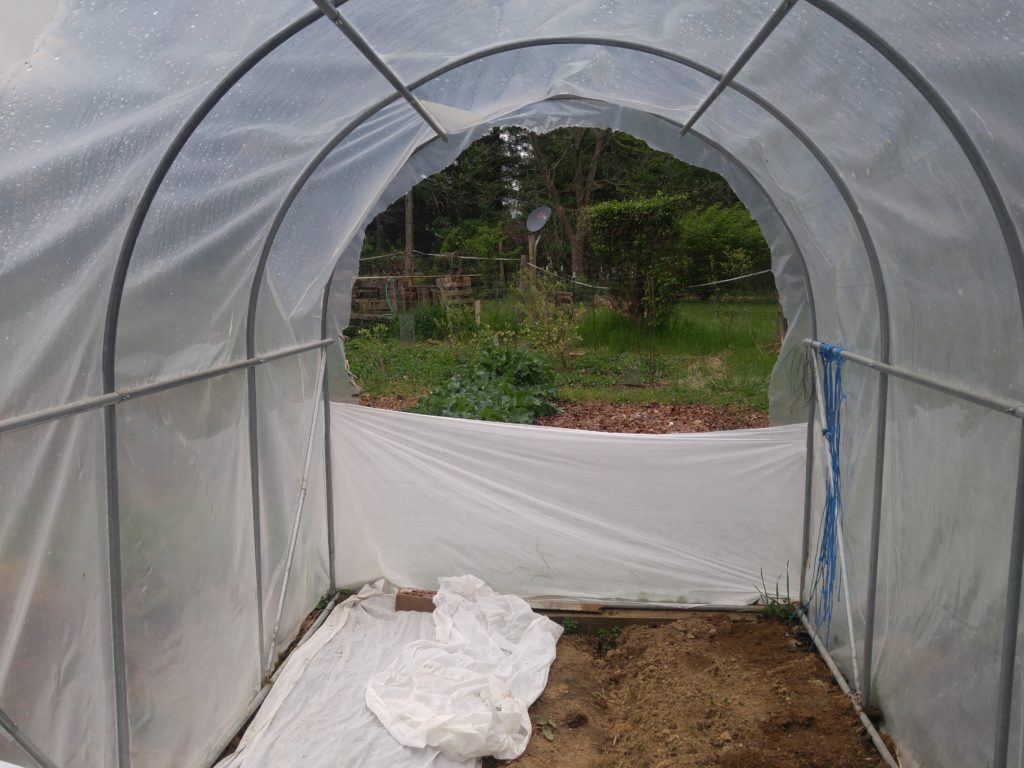 I worked some compost into the beds and sowed tomatoes, basil, cauliflower,  lettuce, and peppers for transplanting out later. After covering them with a protective layer of cloth (a recycled wedding runner) I watered them in. The hoop house is open on both ends but I attached some cloth near the bottom to keep a little wind out.
My grandson got the tiller working again (rusty magneto) so I finally planted potatoes April 17th. I usually try to plant them around St Patricks Day in March but we had snow that week. I planted 6 short rows of Yukon Golds and Norland Reds leftover from last years bumper crop where I had buckwheat last year. This plot is outside the garden fence but deer don't like potatoes, so it should be OK.  They are up as of April 26th.
A few days later,I planted two rows of pole beans along the insides, figuring on removing the plastic after frost danger, allowing the vines to climb all over the frame. The tomatoes and cauliflower are all up as of April 26th.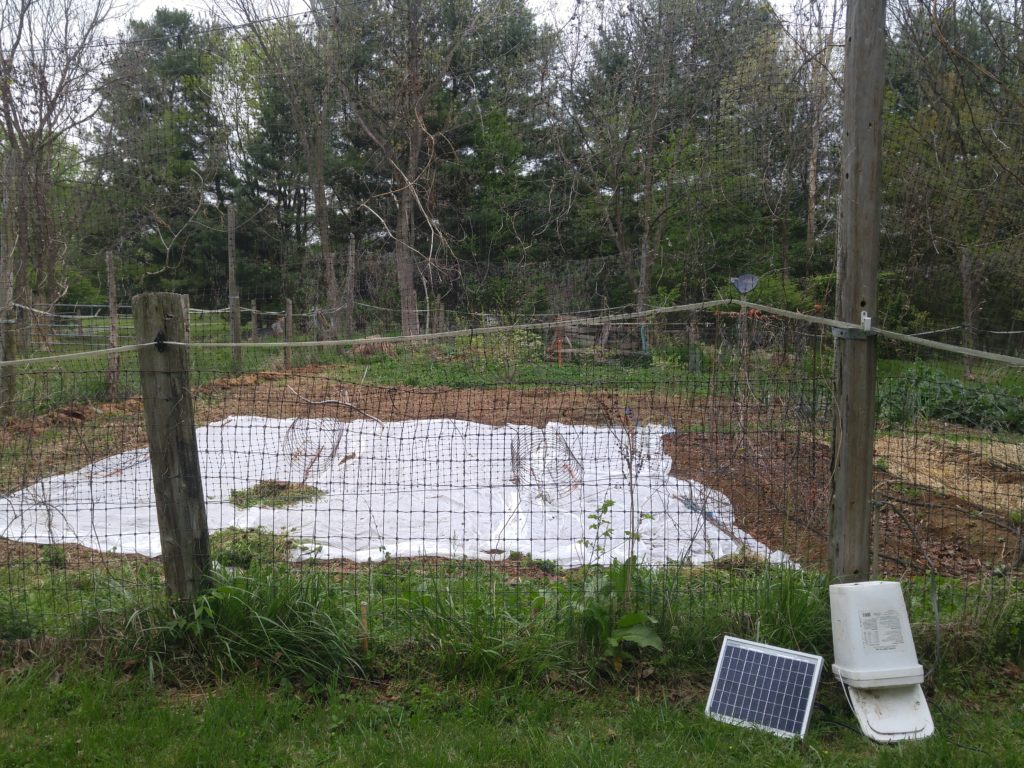 The ground was a still little  cool for planting corn April 18th, so I covered the whole area with Remay cloth to help warm it and also to keep the crows from eating the sprouting seeds.
We are eating a little asparagus from the bed I planted last year along the fence and we are still eating the Kale that overwintered really well. The garlic that was planted last fall is also doing well.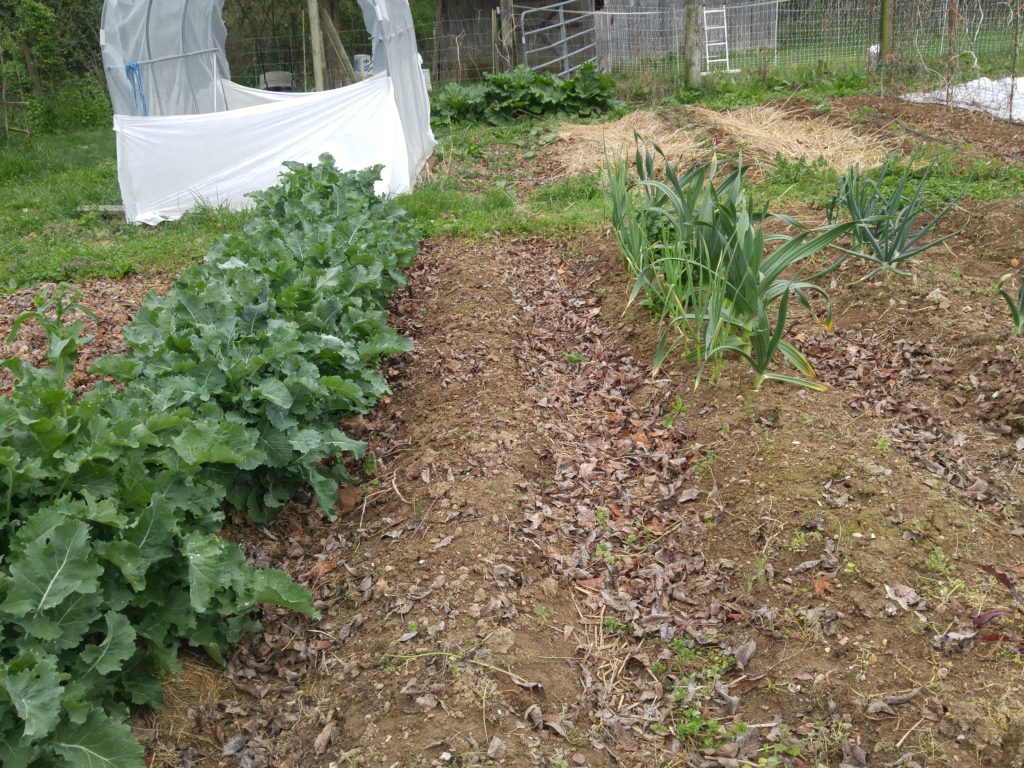 If the blossoms on the blueberries and strawberries all turn into fruit we will have a great crop. Last year frost damaged the blooms and we did not get as much as usual. I actually had to buy 🙁 some frozen strawberries this winter for Jeff's morning protein shakes.
 New Dog Fence
After finally cleaning out the front barn, I set up a new solar powered, electric, woven fence for visiting dogs to play in. I ordered the 160 feet of poultry netting, the 10 watt solar panel, a 12 volt, 18 amp hour battery and the Hotshock charger ( uses either 110V or 12 volts) from Premier 1Supplies. I recommend this company. They answer all kinds of questions via chat so you can figure out your best plan, such as,  how big of a solar panel and what kind of battery are needed for your job.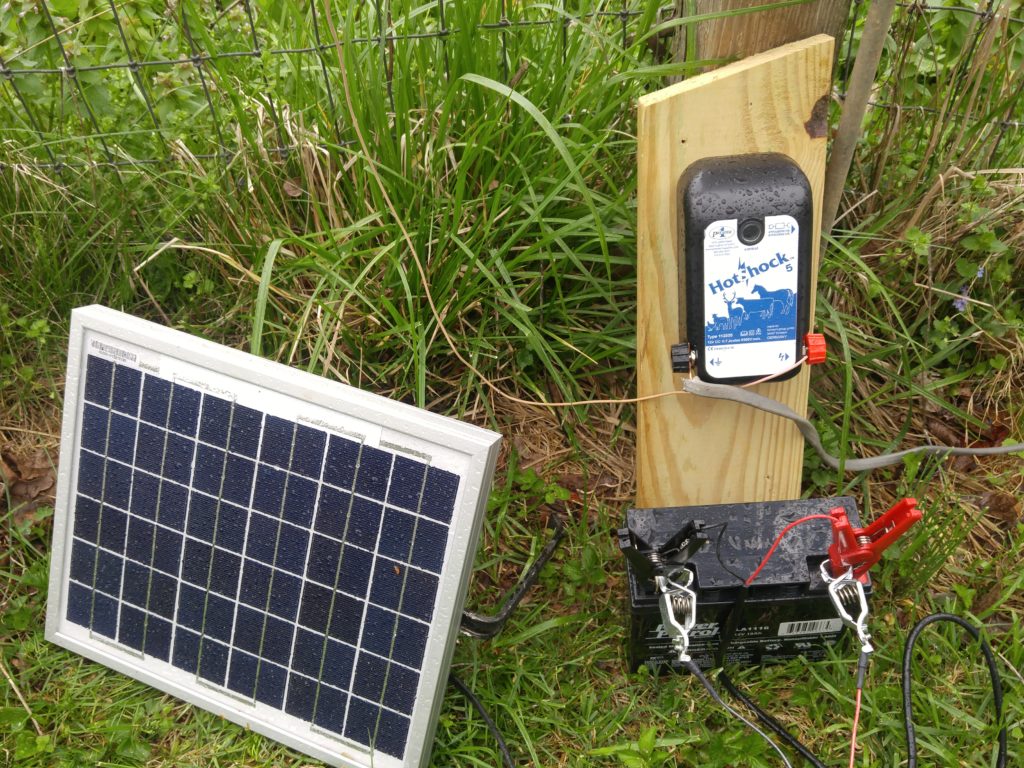 I am using a ladder as the people access until I make a real gate. I take care of other peoples critters  and bringing the dogs home with me can make it easier to give them outside time. They are safely away from the chickens and have shady trees, grass,  sun and barn space.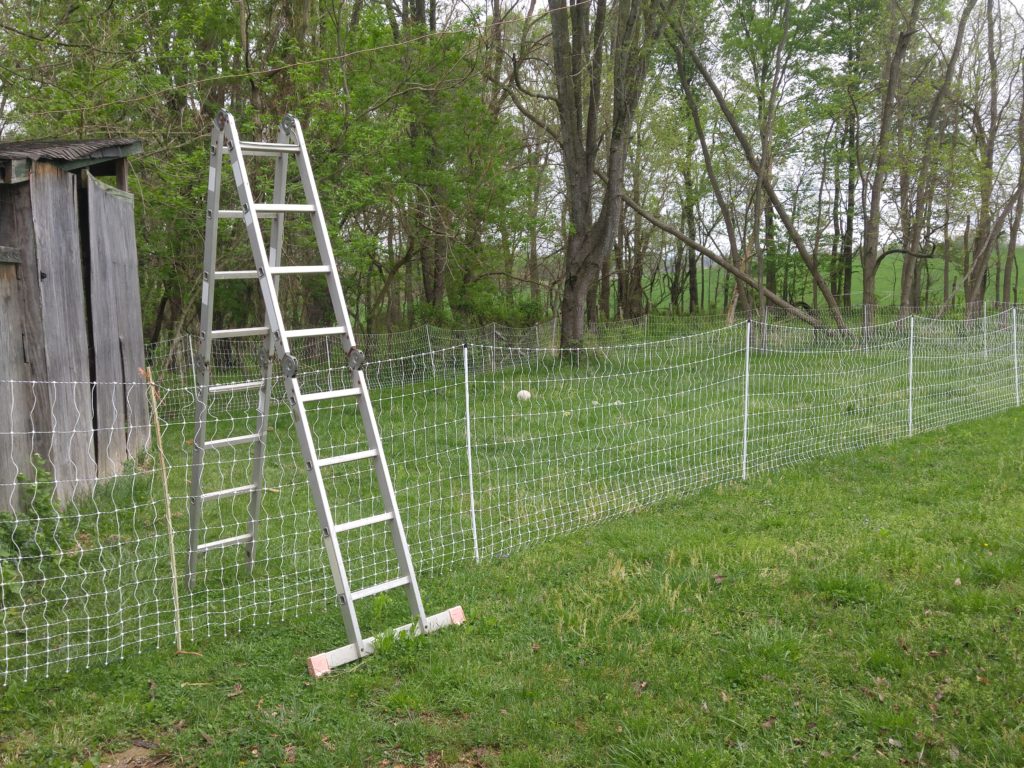 Spring is one of my favorite times of the year but there is so much to do before the hot weather sets in. In the meantime, it is gorgeous just walking around the yard and enjoying the flowers.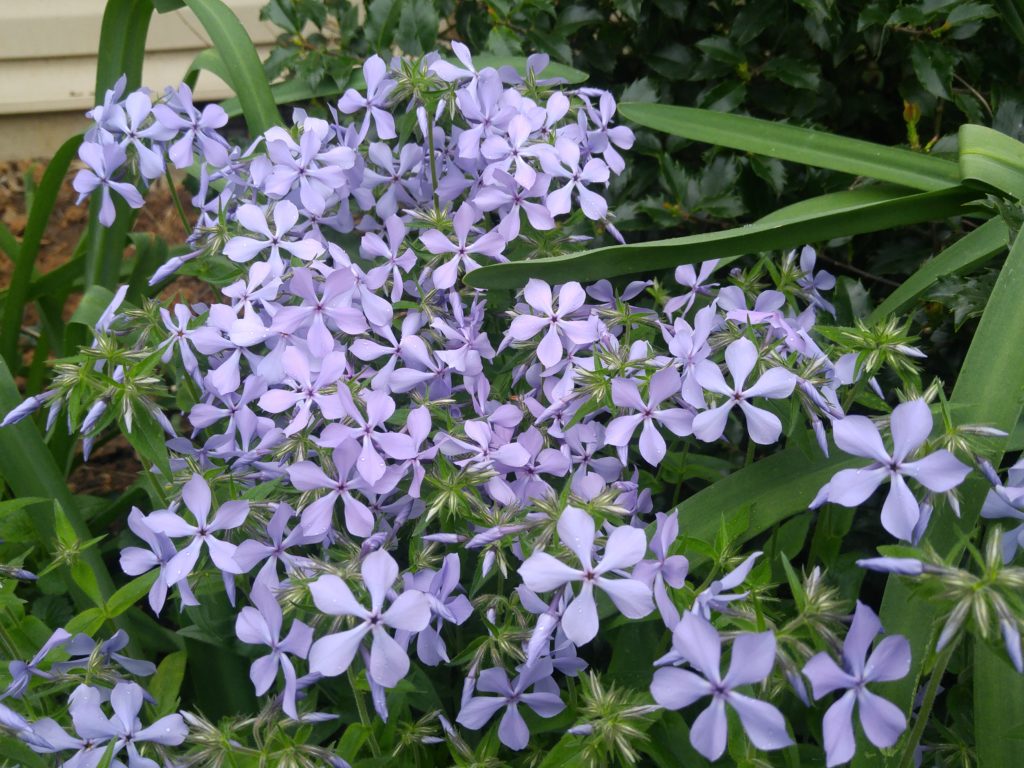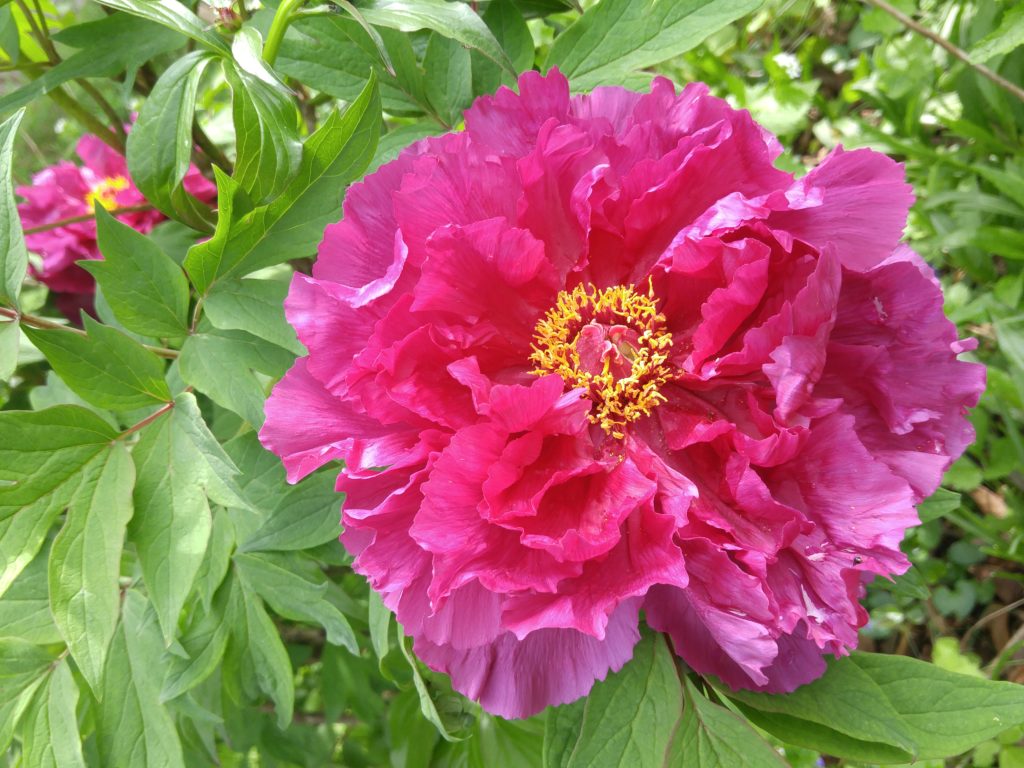 On the long rainy days, I must remember the lush green growth and flowers that will emerge because of the dreary days.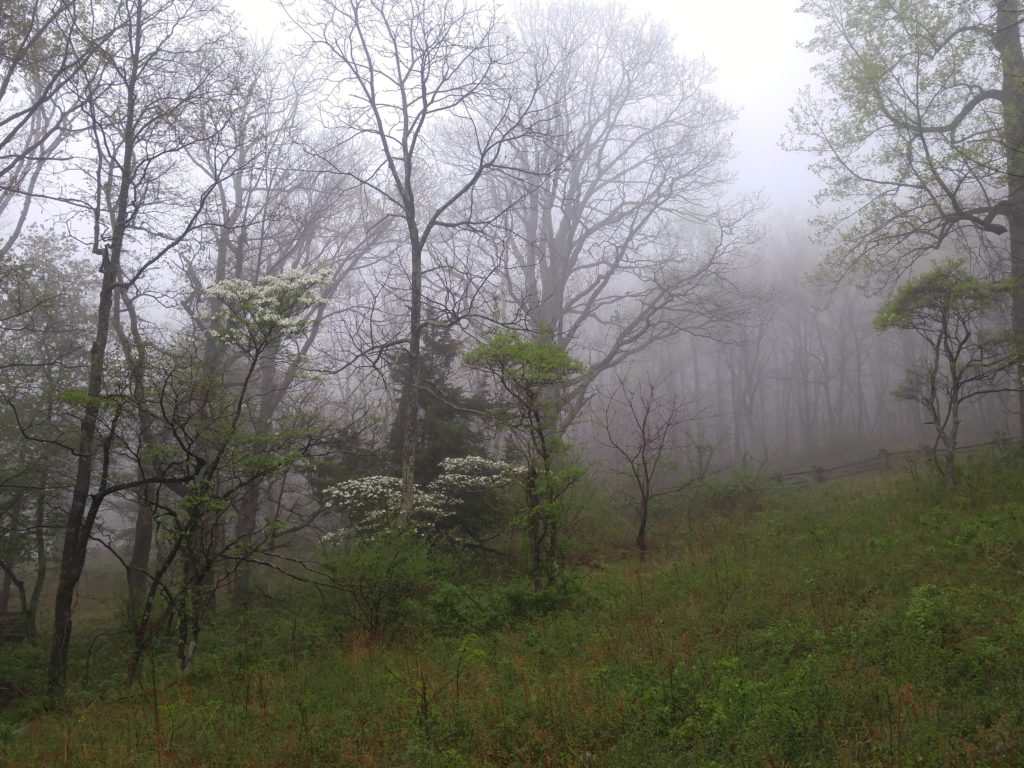 Wendy lee Maddox, writing at Edgewise woods, Gardens and Critters