March Garden Maintenance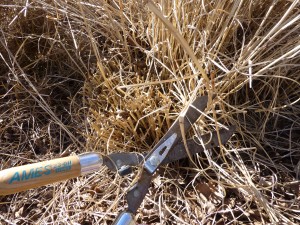 It is time to cut your ornamental grasses down before they shatter all over the yard. Use either pruning shears, hand pruners, or electric/gas hedge trimmers, start about six inches off the ground and form a mound. I usually go the hand shear route because I like peace and quiet. Take a small section at a time and lay each cut group neatly over to the side. You can bundle it up and use it for mulch in the veggie garden. Grab hunks of loose, dead stalks from the center of the mound. Now is also a good time to divide the clump if it is rotting out in the center or has gotten too big for the space. Use a sharpened pointed shovel or a mattock and cut it into 6-12 inch sections and replant or pot up to share. This needs to be done before the plant greens up.
Prune your fruit trees. Use freshly sharpened hand pruners or loppers and cut just above a bud.  If you leave a long stub  it will tend to die off there and allow disease entry. Good apple pruning fact sheets at http://ohioline.osu.edu/hyg-fact/1000/1150.html     and     http://ir.library.oregonstate.edu/xmlui/bitstream/handle/1957/22166/pnw400.pdf
Prune your grapes     http://ohioline.osu.edu/hyg-fact/1000/1429.html
Prune your Blueberries  http://www.growveg.com/growblogpost.aspx?id=227   If your soil is not acidic enough (Ph of 4.5-5.5), which is likely where I live , you will need to add sulphur. Mulch is very important as the roots are quite shallow. I have a soaker hose running through my blueberry bed under the mulch and they are doing well. I only attach it to the hose when it is very dry and when I have a new planting. One source for plants is www.noursefarms.com  where I ordered my 18 new bare root plants from for this year( to arrive mid April) The last ones have done very well even though I made them share a bed with my strawberries. http://www.organicgardening.com/learn-and-grow/blueberries?page=0,1
Put up new or clean up old birdhouses. I have some bluebirds and Carolina Wrens who seem to be demanding this although I have never supplied them with one before. We have a lot of hollow trees they must be using as there are quite a few pairs here. http://www.wikihow.com/Build-a-Bluebird-House
As Perennial planting beds dry out some, start cleaning up by weeding, pruning out old growth, dividing overgrown plants and laying down fresh mulch. I don't rush this but wait for the soil to warm some and leave it alone when its wet. April is not too late.
Since I have a bed that sits too low that I have been wanting to

Bunches of Daffodils ready to divide

add topsoil to, and the daffodils are starting to come up in it, I dug them all out, divided them and replanted them under the big Hickory tree. I limbed it up last year and now it is looking naked under there and  the many, many uncounted daffodils should solve that problem. It is not the ideal timing but I have done it before and they bloomed as usual and looked great the following Spring. I will mulch them today before it snows again tonight.

On the lawn (bear in mind, I am not into the perfect lawn) pick up winter debris, reseed and spread limestone if needed ,fall is really better for the lime .
Veggie Garden- Normally I plant my potatoes on or about St Patrick's Day but I am going to wait a bit as it is supposed to snow again tonight. The ground was actually workable yesterday so I  tilled up the area where I had corn last year (or where the Stinkbugs had corn) and will plant my Yukon Golds maybe next week. The seed potatoes I bought need to form some good eyes anyway before I cut them into pieces to plant.

Tilled and ready to plant Potatoes and Early veggies

The main point of getting them in early is to avoid insect problems like the Colorado potato beetle .  If you have raised or permanent beds you can usually get in your garden sooner than I can as they drain and warm up a little faster and you do not have to worry about compacting  the soil by walking on it.
Considering my Stinkbug problems last year, with my corn, beans and tomatoes being wiped out, I am not sure what I will do this year. If I can get some corn in early and have it ready by the first week of July, I will plant one planting. After that it is pointless. I suppose I might be able to build a 'Remay' tunnel for the beans but I am not sure it is worth it. I am giving over more space to blueberries and strawberries since they are producing well and so far the Stinkbugs have left them alone.
I ended the day with a ride on my horse and a full moon rising.